By

Belinda Sanmiguel
Updated 10/31/2023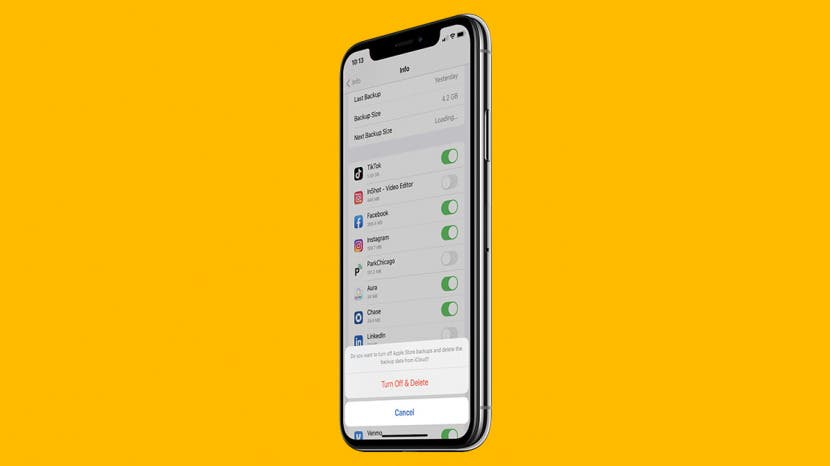 What would you do if you lost all of your data? Scary thought. Our devices are more than just for communicating with friends and family. We use our iOS devices for work, to purchase items, and to plan travel. But as much as we love our apps, they take up large amounts of space. So if you have limited iCloud storage space, you might not be able to sync everything. Below, we'll explain your options to manage iCloud storage, as well as how to sync specific apps to iCloud and which apps you should prioritize backing up.
Jump To: 
How to Manage iCloud Storage
When you purchase a device, such as an iPhone or iPad, it comes with a set amount of storage space. However, if your device is lost or damaged, this data can be lost forever. Because of this, using Apple iCloud to backup your device data is important! Apple offers 5 GB of free iCloud storage space to any Apple device owner, but to get more storage you need to pay a subscription fee. 
If you're running out of iCloud storage, you have two options: you can either upgrade your iCloud data plan to purchase more storage or free up iCloud storage. If you opt to free up storage space, you can start by deleting unneeded data, such as apps you no longer use or photos and videos you don't want to keep. However, sorting through your data can be a time-consuming process! Instead, you can limit the data you sync to iCloud by disabling certain apps so they don't back up to iCloud. This is one of the most economical ways to free up iCloud storage. 

Discover your iPhone's hidden features
Get a daily tip (with screenshots and clear instructions) so you can master your iPhone in just one minute a day.
Related: How to Retrieve Deleted Text Messages on iPhone
Which Apps Should I Backup on iCloud?
You might be asking, "which apps should I backup to iCloud?" The answer depends on which apps are most important to you. Below, we've compiled a list of some guidelines to help you determine whether or not to sync an app to iCloud. 
Prioritize backing up native Apple apps that don't have data stored online. An example of this would be your Photos app, Messages app, or Notes app. This way, if your data is lost, you'd still have your photos, videos, notes, and text messages. 
Prioritize syncing any third-party messaging apps that you often use. This is especially important if it is a secure messaging app (such as Signal) that does not store data online. 
You should also sync apps with a lot of customized settings and data. For example, I keep a lot of reminders on my iPhone, so always keep my Reminders app synced to iCloud. 
You can disable apps linked to online platforms, such as Facebook, YouTube, Instagram, Amazon, or TikTok. In this case, if something happens to your device, you can simply re-download the app. Your data will still be available. This includes email apps, such as the Apple Mail app or your Gmail app, which can simply be downloaded again or re-synced to your device.
Avoid syncing apps with non-essential data. For example, I have several cooking and plant identification apps I often use and enjoy, however, if I were to lose this data, it would only be a minor inconvenience. 
Another factor to consider is how much storage space an app uses. We'll show you how to check this in the steps below. Now, let's discuss how to enable and disable apps from syncing to iCloud. Also, it can help to learn how to delete photos from your iPhone but not iCloud!
How to Back Up Apps to iCloud (or Disable Syncing)
For more handy tips on managing your Apple device, consider signing up for our free Tip of the Day Newsletter. If you're having trouble backing up to iCloud, check out our iCloud Backup troubleshooting article! Now, here's how to enable or disable apps from syncing to iCloud: 
Open the Settings app.


Tap [Your Name].



Tap iCloud.


Tap Manage Storage.



Tap Backups.


Tap on the device you wish to adjust iCloud settings for.



Tap Show All Apps.


The amount of iCloud storage used by each app is listed beneath the app name. 



If you want to sync an app to iCloud, tap the toggle to enable it. (Toggles are green when enabled.) 


If you don't want to sync an app to iCloud, tap the toggle to disable it. (Toggles are gray when disabled.)



To confirm, tap Turn Off & Delete to remove the backup data from iCloud.


It's important to note that when you tap Turn Off & Delete, you're simply deleting the data from iCloud. This frees up additional iCloud storage space, but keeps the app's data on your device.