By

Becca Ludlum
Updated 07/12/2021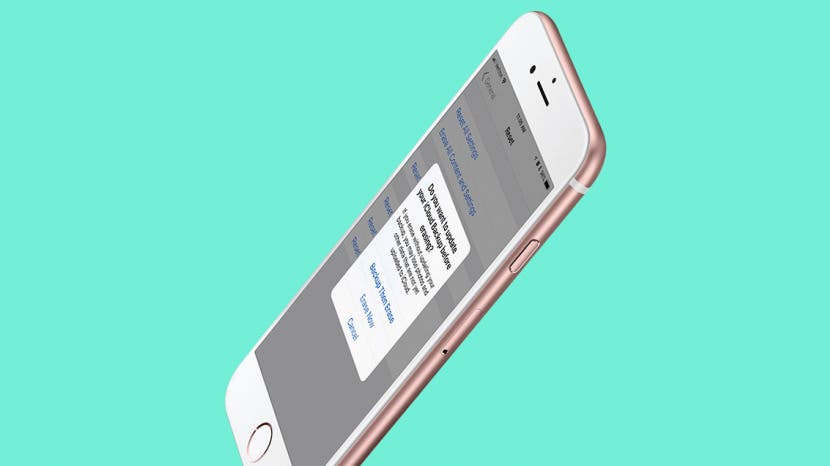 We'll go over how to retrieve deleted messages from an iCloud backup, as well as a few other tips and tricks for getting back those important iPhone text messages. If you've ever needed more storage space on your iPhone, you might have noticed that the Messages app file is quite large, and wondered how to delete messages on your iPhone. The next problem you might have is learning how to recover deleted text messages after you overzealously delete texts you meant to save while trying to free up room! Fortunately, there are methods to recover deleted text messages, so you can officially breathe again. There are actually a few different ways to recover deleted texts on your iPhone. Let's get started learning a few quick and easy ways to find and recover deleted text messages on your iPhone. 
Related: How to Search Your Message History on Your iPhone: iMessage, Facebook, and Whatsapp
Recover Missing Messages from Facebook, WhatsApp, or Messages
If you don't think you deleted the text or iMessage, Facebook message, or WhatsApp message you're looking for, there are different steps you can follow to locate those missing messages. You can search for old WhatsApp messages, search through Facebook messages, or search for text messages fairly quickly. 
How to Recover Deleted Messages with iCloud Recovery
iCloud backups are a great way to recover deleted text messages from an iPhone. If you regularly back up up your iPhone to iCloud, you should be able to use this method to get your deleted text messages back. If you're not already, you should be doing regular iCloud backups. It's a good idea for saving ALL of your important stuff, not just messages that might potentially get deleted.
Open the Settings app.
At the top, under your name, tap Apple ID, iCloud, iTunes & App Store. 


 
Tap on iCloud.
Scroll down and tap on iCloud Backup.


 
Now check to see if the time of your last backup was before or after you deleted the texts you want back.


 
If the iCloud backup predates the deletion of your text messages, you're in luck. Now you'll need to erase your iPhone and restore it with the backup predating your accidental text deletion.
Open the Settings app.
Tap on General.


 
Choose Reset.
Select Erase All Content and Settings. Note: most of your settings will be safe when you restore your iCloud backup, but you may have to log in to your apps as if for the first time.


 
In the confirmation menu that pops up, choose the second option: Erase Now. It's important that you do not choose Backup Then Erase, or you will lose the previous backup and won't be able to recover the deleted text messages!


Now your iPhone has been totally erased and will begin as though it's a new device. Follow the step-by-step instructions until you come to the Apps & Data page.
On the Apps & Data page, choose Restore from iCloud Backup.
Enter any passwords asked for from iCloud Backup, then sign in to iCloud.
Proceed to Choose backup, then choose from a list of available backups in iCloud. There may be even older backups to choose from besides the one you verified before starting. Choose the most recent one that predates the deletion of the text messages. Keep in mind that the older the backup, the more likely it is that it will not contain other important data that you've added to your iPhone since that backup was made.
You may have to sign back into all your accounts after the iPhone is restored. 
How to Recover Deleted Text Messages on the iPhone: Restore from Your Computer
If the previous method of recovering deleted text messages didn't work, don't worry; there is another means to your end, namely your computer. Similar to recovering from a backup on iCloud, you should be able to access any saved messages via your local backups, as long as you have been doing regular backups to your computer. This is why it is recommended to periodically back up your iPhone to your computer even if you have automatic iCloud backups enabled. Follow these simple steps to try to recover deleted texts.
It is possible that you have disabled this feature of the PC / Mac syncing process, so if you don't have access to your text messages here, that could be why. You may want to update these settings, so that going forward, it is easier to recover deleted text messages on your iPhone.
The first thing you need to do is disable the Find My iPhone feature. You cannot restore an iTunes backup while Find My iPhone is on.
Open the Settings app.
Tap your Apple ID just like before.


 
Tap Find My.
Tap Find My iPhone.


 
Toggle Find My iPhone off. You'll have to enter your Apple ID password.


 
Next, connect your iPhone with the computer you usually sync it with. If you are running an older version of macOS or have a PC, you will restore from iTunes. If you have macOS Catalina installed, you will restore from Finder.
Restore Your iPhone from Finder (macOS Catalina)
When your iPhone is connected to your Mac, it should appear in the Finder under Locations. Click on it.


 
Click Manage Backups and a list of backups on your computer will appear. 


 
Check the list to make sure your backup was made before you deleted those text messages, but after you sent them. Then click OK.


 
Now you're ready to perform the restoration. Click Restore iPhone...


 
This process takes some time, especially if the backup is large. As long as your backup was made after the text messages were sent and before they were deleted, this should recover them for you. Just follow the prompts, and the iPhone will restore to it's backed up state.
Restore Your iPhone with iTunes (PC & macOS Mojave & earlier)
Connect your iPhone with the computer you usually sync it with.
iTunes will open automatically if it's not already running. If not, just click the program and open it up.


 
Click the phone icon next to the media category dropdown on the top left. If it's not there, then your iPhone probably isn't connected to your computer.
Make sure you're on the Summary page.


 
To get back the data backed up from your iPhone, including your deleted text messages, you will need to click Restore Backup. If this option is grayed out, you may need to change your backup preferences from iCloud to This Computer. You can always change this back after you have restored your iPhone.


 
This process can take a while if you have a lot of data stored on your phone or Mac. If you have synced with this PC or Mac since deleting your text messages, this process will not work. iTunes only saves your most recent backup data for a restore.
Assuming you have not done a sync with iTunes since you deleted your text messages, this method should restore your missing messages back to your Messages app!
Recover Deleted Texts: Contact Your Cell Phone Service Provider
In some instances, you can recover deleted text messages by contacting your cellular service provider. They occasionally will have access to a backup if it has not yet been overwritten or updated. If you are in a bind and really need messages back, I would recommend you contact them before trying to use a third-party app or some other drastic measure.
When you call, you will need to ask for technical support and then ask to speak to a representative as there probably won't be accurate menu prompts to take you to the right department. Remember, when dealing with customer service representatives, you will want to be polite and reasonable. They may not be able to help you, but they will be more likely to try if you are pleasant and appreciative of their efforts!
Restore Deleted Text Messages: 3rd-Party Apps
This is the last resort for retrieving deleted text messages on your iPhone, and it's NOT the first choice I would use. There are some third-party apps out there that will help you recover deleted files and text messages from your iPhone, but they can be sketchy.
Personally, I would hesitate to use any of these apps to recover deleted text messages. But if you are really in a bind, there are a few that have some good reviews and popularity online. PhoneRescue by iMobie has a platform for both iPhone and Android devices, Tenorshare iPhone Data Recovery has a paid version and a free trial, and WonderShare Dr.Fone for iOS also has a free trial and a paid version available online. There are no guarantees, and you are opening yourself up to the mercy of these apps and their creators, so even trusted sources online should be carefully considered before you jump right in out of desperation.