By

Rhett Intriago
Updated 09/12/2023
What to Know
AirPods charging case battery drain is normal when the case is charging your AirPods.
If power is draining at an abnormal rate, you might want to try resetting your AirPods.
Some users have reported less battery drain when removing AirPods from Find My.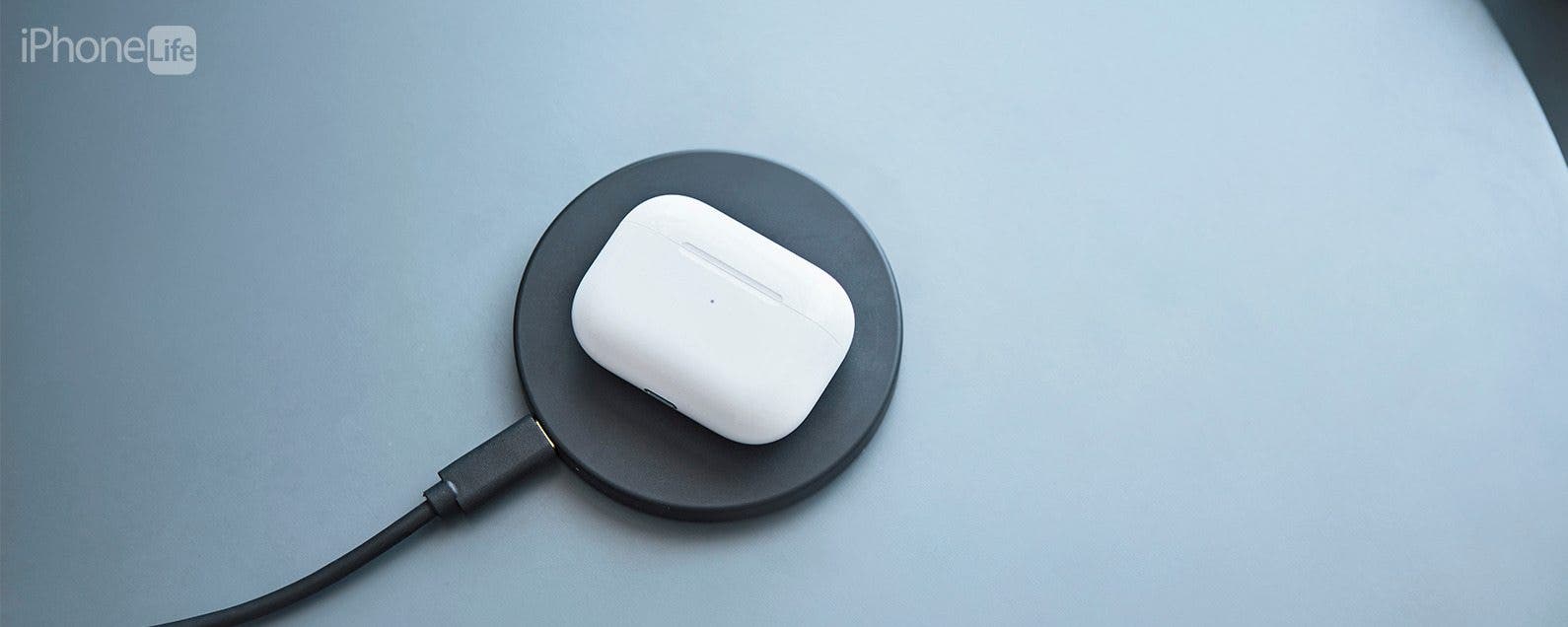 AirPods are undoubtedly some of the best-sounding and most convenient wireless earbuds on the market. However, some users have reported trouble with their AirPods charger case battery draining quickly or even draining when the case is not being used. No one is really sure what is causing this issue, but there are some steps you can take to mitigate the battery drain issue.
Jump To:
Troubleshooting AirPods Charger Case Battery Drain
Your AirPods charger case supplies power to your AirPods when they are inside it, ensuring they never run out of juice. So if you notice the battery life of your case is going down, it might simply be because it is charging your AirPods. However, if you are wondering, "why are my AirPods dying so fast?" you are not alone.

Discover your iPhone's hidden features
Get one daily tip each day (with screenshots and clear instructions) so you can master your iPhone in just one minute a day.
If your AirPods or AirPods Pro charging case seems to be losing power at a faster-than-normal rate, there might be a more serious underlying problem. For more AirPods advice and tips, be sure to sign up for our Tip of the Day newsletter. Now, let's get started with how to fix AirPods case battery drain.
Test Your AirPods Charger Case with Another Cable
Depending on the model, Apple boasts that AirPods battery life can last for up to 30 hours of listening time when using the charging case. If you don't feel like you're getting the most time out of your AirPods or that your charging case is draining battery quicker than normal, there might be an underlying issue that needs to be addressed. 
The first thing you should do is confirm that your AirPods charger case is actually charging. If you are using a bad cable or wireless charging pad, your case might simply not be receiving enough power to hold a full charge. Check your cable for any damage, and try using another charging cable to confirm that the issue persists. If you find that your AirPod case is not charging, then the problem may be bigger than just the battery draining quickly.
Reset AirPods If Charger Case Battery Is Draining
When any electronic is malfunctioning, it's usually a good idea to try resetting it. This allows all of its data and settings to return to the factory default. Then, you can re-pair the AirPods with your iPhone. There are two ways to do this. First, with the AirPods in the case, you can press and hold the setup button for fifteen seconds. That should be enough to factory reset your AirPods. Alternatively, you can reset them on your iPhone.
After you've done that, check out this guide on how to check AirPods battery without the case. The batteries widgets in that article can also be used to monitor your AirPods case battery life throughout the day. By checking the batteries widget, you can see if the issue has been resolved or if the battery seems to still be draining quicker than usual.
How to Remove AirPods from Find My
Some users have reported success with removing their AirPods from Find My. Since they constantly send their location to Find My, it could be causing your AirPods to die fast or drain the AirPods charger case battery.
Note: This is only supported by anecdotal evidence and is not a definite solution to the battery drain problem. If you remove your AirPods from Find My, you will not be able to use the app to help find them if you lose them. However, if you are not worried about losing your AirPods, there is no harm in turning off Find My.
With your AirPods connected to your iPhone, open the Settings app.


Tap your AirPods.



Scroll down and tap the toggle next to Find My Network so that it turns gray. This toggle will only appear if you have third-generation AirPods, AirPods Pro (all generations), or AirPods Max. If this toggle does not appear for you, skip to step 5.


Wait a few second while your AirPods are removed from Find My.



Tap Show in Find My to open the Find My app.


Tap Remove This Device.



Tap again to confirm.


Tap OK after you have entered your Apple ID password.


The AirPods will be removed from Find My and you will no longer be able to track the location of your individual AirPods or the charging case. You can add them back to Find My at any time.
If you still find that your AirPods charger case is draining battery at a faster-than-normal rate after trying the above fixes, there might be a more serious issue. You may need to reach out to Apple Support for further assistance with your AirPods battery troubles. In more severe cases, they may be able to offer an AirPods replacement case. In the meantime, check out these tips on how to improve your AirPods battery life. If you're not sure which AirPods you have, find out how to identify them here.
Top image credit: stock_wichel / Shutterstock.com