By

Olena Kagui
Updated 07/25/2023
What to Know
Find My uses your iPhone's GPS, cellular and Wi-Fi signals, and Bluetooth to determine the location of your device.
The accuracy of Find My depends entirely on those factors to provide you with an exact or approximate location.
To improve the accuracy of Find My, you can enable features like Location Services and Precise Location.
Is Find My iPhone accurate? It depends. There are several factors that can impact accuracy and understanding them can help you potentially locate your device. I'll answer all your burning questions and give you tips that will make it easier to recover your iPhone in an emergency.
Jump To:
How Does Find My iPhone Work?
There are several factors that make it possible to find your lost phone, like the strength of GPS, cellular towers, Wi-Fi signals, and Bluetooth signals. It can also depend on your phone's settings and battery life, obstacles like trees or buildings, bad weather, and other factors. To discover more ways to improve your iPhone experience, sign up for our free Tip of the Day newsletter. We love to share helpful tips and articles with our readers, such as how to find someone else's iPhone when it's lost.
How Accurate Is Find My iPhone?
Find My iPhone is extremely accurate, as long as you've properly enabled settings to allow the precise tracking of your device's location. Once enabled, the Find My app will tell you if the location shown is exact or approximate. If you see a blue dot, the location shown is exact. If you see a larger green circle, the location is approximate. If you only see an approximate location, adjust the settings below to help improve Find My accuracy. 

Discover your iPhone's hidden features
Get one daily tip each day (with screenshots and clear instructions) so you can master your iPhone in just one minute a day.
How to Make Find My iPhone More Accurate
Before getting started, you'll want to make sure you have Find My enabled. Once you've done that, here are five things you can do to make locating your iPhone easier in case of an emergency:
1. Enable Location Services
For Find My to locate your iPhone, you need to have Location Services turned on. To enable Location Services, open the Settings app, tap Privacy, tap Location Services, and tap the toggle to enable Location Services. (The toggle is green when enabled.) This allows apps to access your location, so if your iPhone is ever lost, Find My will be able to tell you where it's located.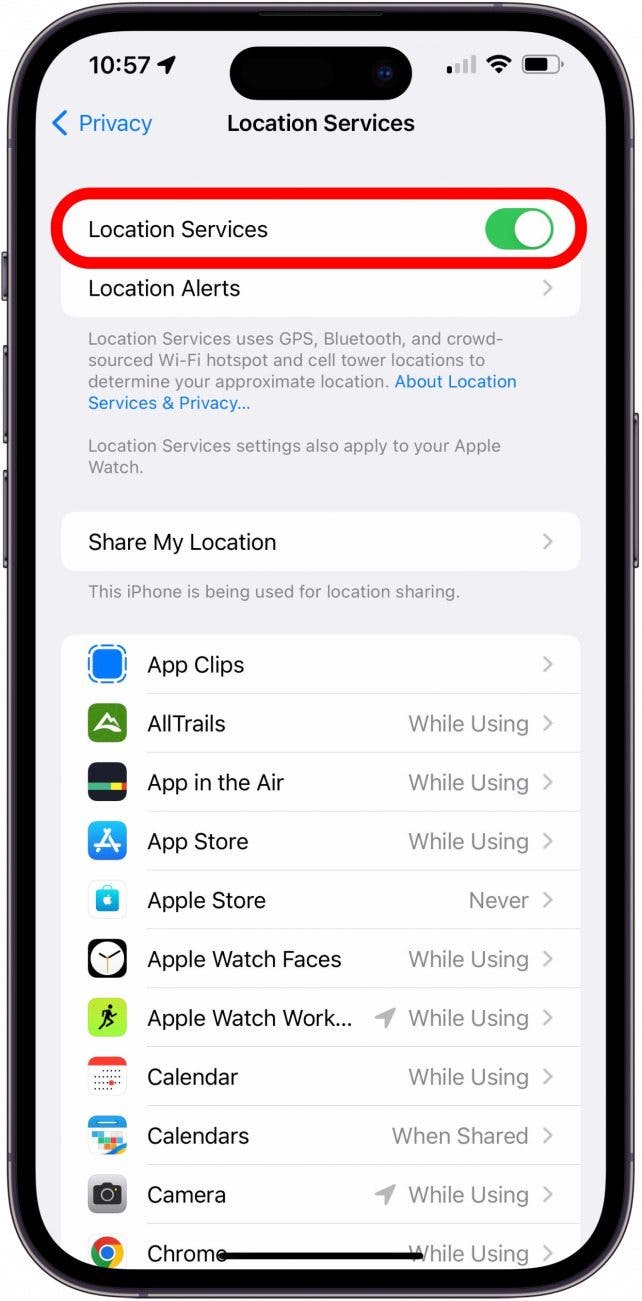 2. Enable Precise Location on iPhone
While enabling Location Services allows apps like Find My to access your location, you will need to enable Precise Location on your iPhone to ensure the location data is as accurate as possible. Here's how:
Open the Settings app, and tap Privacy & Security.


Tap Location Services.



Tap Find My in the list of apps.


Tap the toggle next to Precise Location to enable or disable it.


This will allow the app to access your iPhone's exact location if you ever lose it.
3. Check for Updates
When troubleshooting issues with your iPhone, always make sure it is updated to the latest iOS. To quickly check this: open the Settings app, tap General, and tap Software Update. If you see an available software update, tap Download and Install. This will help to resolve any bugs that are preventing proper location tracking.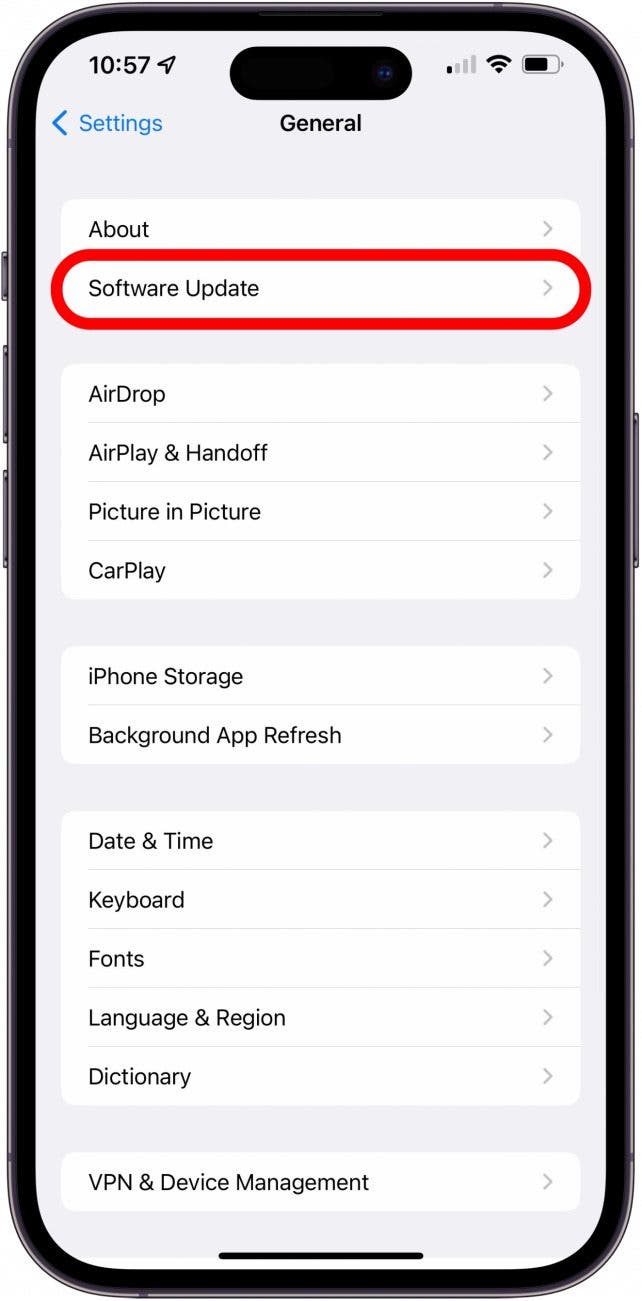 4. Set Date & Time to Automatic
The Date & Time settings for your iPhone can affect different things, including your location, so make sure your date, time, and time zone is Set Automatically.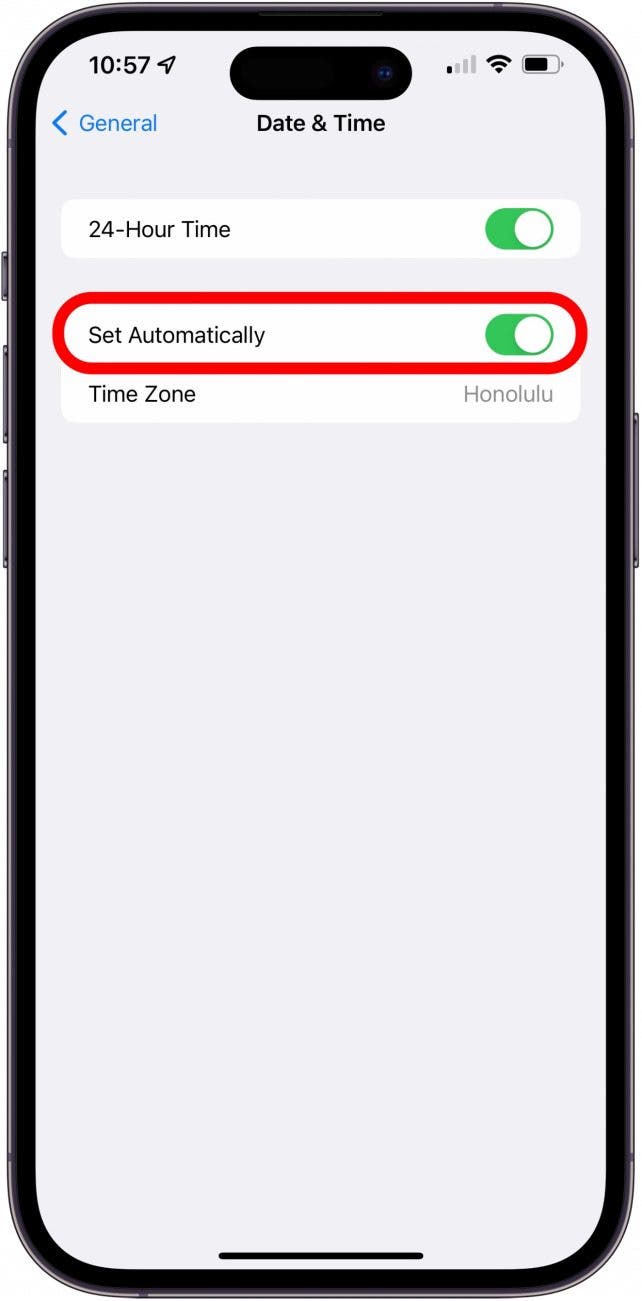 5. Enable Last Known Location
If your phone runs out of battery, you may still be able to find it as long as the Last Known Location has been set up. This feature will automatically send the location of your device to Apple when its battery is low. This setting should be enabled by default when setting up Find My, but here's how to check just to make sure:
Open the Settings app, and tap your name at the top of the screen.


Tap Find My.



Tap Find My iPhone.


Tap the toggle next to Send Last Location to enable or disable it.


While these steps can help make Find My iPhone more accurate, it still isn't guaranteed to be perfect. Don't forget that you can use the Play Sound feature in the Find My app when you think you're close enough to your lost iPhone to hear it.
FAQ
Is Find My iPhone accurate?
Yes, as long as your device settings are properly enabled. If you set up Find My and follow the steps above, this will ensure that it is as accurate as possible! If you are extra worried about losing your phone, consider buying a phone case that can hold an AirTag. While AirTags use the same Find My network, they have a much longer battery life and Precision Finding feature.
How accurate is Find My AirPods?
The accuracy of the location of your AirPods, largely depends on the same factors as your iPhone, as well as which model of AirPods you have. With AirPods Pro, you can track the individual AirPods in addition to the case. For more information, check out our article on how to track your AirPods.
What does approximate location mean?
If you check Find My, and you see a larger green circle, the location is approximate. This means that your device is located in the general area somewhere within that green circle. It could be on the very edge of the circle, at the very center, or anywhere in between.
What are Frequent Locations on iPhone?
Significant Locations (formerly Frequent Locations) is a feature that allows your iPhone to make suggestions about certain locations, such as telling you how far you are from home when your phone connects to your car's Bluetooth. Check out this article to find out more about what Significant Locations does and how to turn it off.
Why is Find My location wrong?
Depending on some of the factors explained in previous sections, your iPhone's location may not display correctly in Find My if the app cannot determine the exact location. This could be due to a weak connection, not having Location Services enabled, the device not being updated, or one of the other factors in the previous sections.