Adjust Siri's response time to give you more time to finish speaking your voice commands.
By

Rhett Intriago
Updated 09/01/2022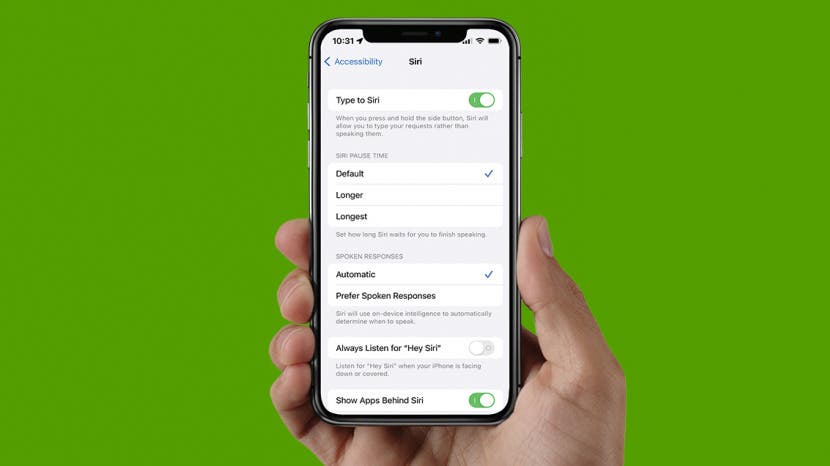 * This post is part of iPhone Life's Tip of the Day newsletter. Sign Up. *
Siri is one of the most useful iPhone features because it allows you to use your voice for a wide variety of tasks. However, sometimes Siri starts responding before you've finished talking, which can make it difficult to get the most out of voice commands. We'll show you how to change Siri's voice-recognition response time.
Why You'll Love This Tip
Give yourself more time to finish speaking before Siri responds.
Easily communicate with Siri even if you have a speech impairment or occasionally pause mid-request.
Adjusting Siri's Response Time in Accessibility Settings
To customize Siri's response time, you'll need to have updated your iPhone software to iOS 16. To learn more about your iPhone's customization options, sign up for our free Tip of the Day newsletter. Now, here's how to adjust Siri's response time:
Open the Settings app.


Tap Accessibility.


Scroll down and tap Siri.


Under Siri Pause Time, you can set how long of a pause Siri will take when you are speaking. Default is the normal pause time (about two seconds), Longer will make Siri wait about three seconds, and Longest will make the virtual assistant wait roughly four seconds before responding.


Now that you know how to set Siri to your preferred response time, you can avoid having Siri interrupt you before you finish speaking your requests! If you use Siri often, you can also check out how to view your most recent conversation with Siri.