Should I upgrade to Monterey? We look at the pros and cons of updating to the latest MacOS.
By

Amy Spitzfaden–Both
Mon, 08/02/2021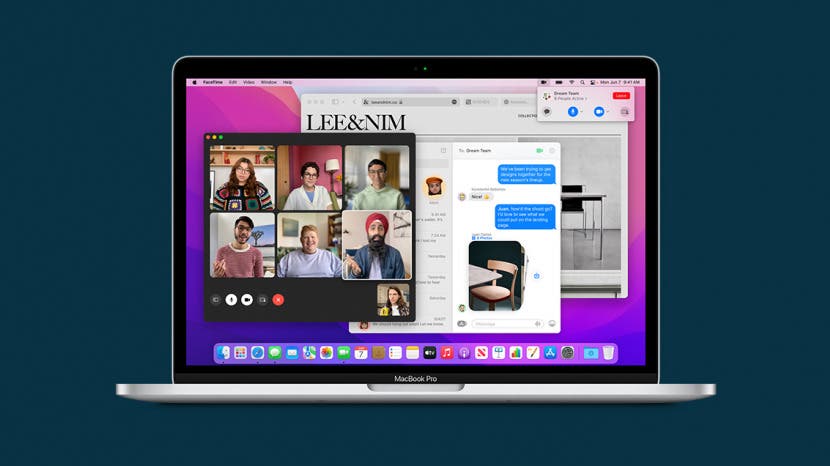 Should I upgrade to Monterey? The new Mac software update certainly looks appealing, but there are reasons some people might not want to upgrade to it, at least not yet. Bugs, compatibility issues, and the fact that only the beta profile is currently available contribute to the hesitancy, but there are also many benefits to the update. Let's take a look at whether it's time to upgrade MacOS.
Jump To:
Should I Upgrade to Monterey?
The latest Mac update brings many exciting new features, but there are a few things to consider before taking the plunge. Let's explore what macOS Monterey will bring to you, what are the risks, and if this upgrade it right for you.
Big Sur to Monterey Changes
MacOS Monterey is really focusing on unifying all Apple devices. Many of its features are either aimed at synchronizing your devices or are shared with iPadOS 15 and iOS 15. These are all pretty exciting features, so just at face value, Monterey feels like a win. Here are some of the new macOS Monterey features:
Universal Control: A new feature that allows you to use your computer and iPad with the same mouse and keyboard, a step-up from the Side Car iPad option.
Safari Tab Groups: A way to sort tabs in Safari to reduce clutter and keep relevant tabs together and out of the way.
AirPlay: While you could already AirPlay from your Mac to your smart TV, you can now cast from your other devices to your Mac.
Shortcuts: You can now create app shortcuts on your Mac. You could already create keyboard shortcuts, but apps are a different ballgame.
FaceTime Updates: FaceTime now includes Spatial Audio that mimics the sound distribution you experience when talking with several people. You can also use Portrait mode in FaceTime and enjoy Voice Isolation features to keep background noises out of your call.
Focus: Focus is a new feature of iOS 15 that lets you set up customized Do Not Disturb settings across your devices for when you want to ignore notifications, such as if you are working or in a social situation.
Notification Changes: With macOS Monterey, you'll be able to do things like mute notifications based on smart suggestions, see time sensitive notifications, and more.
Quick Note: Quick Note lets you jot something down no matter the app you're in and can be set up as a hot corner, so all you have to do is move your mouse to a corner of your screen to jot something down without leaving the app or webpage you're using.
Live Text: Your device can now read text from photos. This helps with searching, tagging, and even calling phone numbers displayed in an image.
Maps: Maps has a whole host of new features including directions based on scans of your area (only available in a handful of cities), an interactive globe, and improved search.
Privacy: MacOS Monterey has many new features focused around privacy. 
iCloud+: iCloud+ offers additional privacy features to anyone with a paid iCloud storage plan at no extra cost.
As you can see, there's a whole bundle of cool new features. What's not to love? There are a few things to consider before making the switch, though. For more on when and how to upgrade your operating system, check out our Tip of the Day.
Is Your Computer Compatible with the Mac Update?
MacOS Monterey isn't available to everyone. If your computer is too old, you won't be able to update to Monterey at all.
MacOS Monterey is compatible with:
Late 2015 and later iMac
2017 and later iMac Pro
Early 2015 and later MacBook Air
Early 2015 and later MacBook Pro
2019 and later Mac Pro
Late 2014 and later Mac Mini
2015 and later MacBook
Late 2013 and later Mac Pro
If your device isn't on this list, you won't be eligible for this Mac update.
Should You Download the Beta?
Currently, only the Monterey beta version is available. This basically means people can download it early to test it out, but they might encounter bugs and glitches. This feedback is helpful to Apple to smooth out the OS before the full release this fall, but it can be frustrating to users. Another thing to note about the beta is that while you can remove the beta profile from your device after you've downloaded and installed it, the MacOS beta itself won't be deleted until the next update, which is normally the full version of the new OS, unless you do a full factory reset. So, unless you are absolutely sure you want to try the beta and then commit to MacOS Monterey, you might want to give the beta a miss, or at least make sure you have a full backup of your Mac before you download and install MacOS Monterey beta.
Bugs & Glitches
Beta testers have been experiencing some bugs and glitches with the MacOS Monterey beta, which is normal for any beta release. The idea is the people using the beta will report these issues, and Apple will smooth them out before the full release. These bugs have included, lag, issues with FaceTime, problems connecting external monitors, crashes, and issues with some third-party apps. Again, these will likely be fixed before the release, but if you are hesitant, you might want to wait for reviews of the full version before the download.
M1 Chip Optimized
Most of the exciting new features of MacOS Monterey are exclusive to computers with the M1 chip. That means if your computer doesn't have the new M1 chip, you won't get as many of the exciting new features, like Portrait Mode, Live Text, some of the cool Maps updates, and more. Still, there are plenty of cool updates without these specific features, so even if you don't yet have an M1 Mac, it might be worth the switch.
The Bottom Line
The Big Sur to Monterey change is one that is a good idea for most people, though unless you're very eager, it might be best to wait until the public release. Those who do not have compatible computers will have to miss this update, and those without the M1 chip might have lesser benefits from this update. Still, overall it's a low-risk upgrade, and it's always a good idea to keep up to date with the latest OS updates of any device, as they frequently patch security risks and make your device safer to use.