There could be several reasons why your Apple Music won't play. Learn the fix for each.
By

Amy Spitzfaden–Both
Mon, 01/24/2022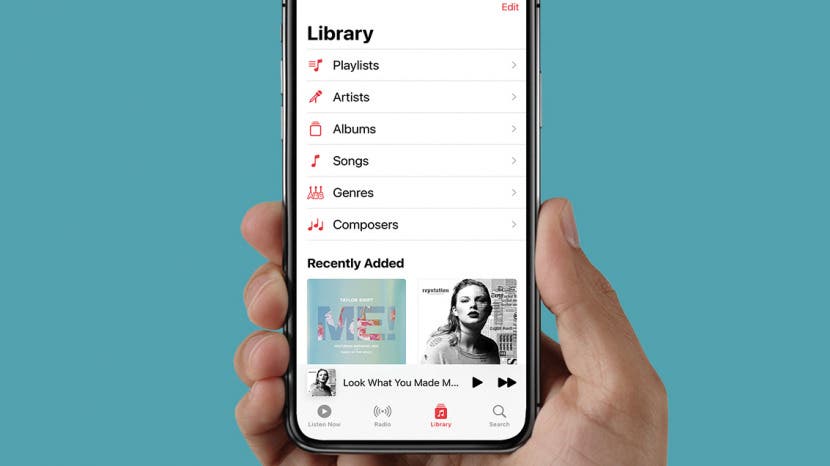 Why is my Apple Music not working?  This question usually hits at the most inconvenient of times, like when you're just getting into the car and want your road-trip playlist or when you're about to hit the treadmill and want upbeat tunes to keep you going. Here are all the reasons why your Apple music isn't working and how to fix each one.
How to Fix Apple Music Not Playing
If you find yourself asking, "Why isn't my Apple Music working," you'll be glad to know there are several possible reasons, and most of them are easy fixes. Let's go over them now to get you back to your music as quickly as possible.
Check Your Apple Music Subscription
The first thing to do when your Apple Music isn't working is to make sure your Apple Music subscription is active. An expired credit card can mess up your auto-renewal, or you might have canceled without remembering. If you signed up for a free trial and then canceled, your subscription will end after your trial. Learn how to check subscriptions on iPhone to see if you Apple Music Subscription is still active.
Restart the App
Sometimes apps glitch, so one of the first things to try is to restart your app. If you have an iPhone without a Home button, swipe up on your screen to open the App Switcher. If you have an iPhone with a Home button, double tap your Home button. Then, swipe up on your Music app to close it. Reopen it and see if it starts working.
Check Your Wi-Fi or Network Connection
If you haven't downloaded your music, Apple Music won't play it without a Wi-Fi or data connection. When songs or albums aren't downloaded, they're streamed, so poor service or no Wi-Fi could be the culprit of why it won't play.
Check Apple Music's Status
Occasionally, an Apple service will go down temporarily, and you won't be able to use it until it's back up. If Apple Music isn't working, you can check its status on Apple's System Status page and make sure the service isn't down.
Delete & Re-Add the Song or Album
If just one song or album won't play, try deleting and re-adding it. Sometimes a glitch like this will happen, and this will resolve it. Learn how to remove music from Apple Music and add it again.
Update Your iOS
Sometimes an outdated iOS can keep apps from functioning correctly. If you're asking "Why isn't my Apple Music not working?" and have tried the other steps, make sure your iOS is up to date. You can learn how to update your iPhone to the latest iOS and see if that resolves your issue.