By

Abbey Dufoe
Updated 05/09/2019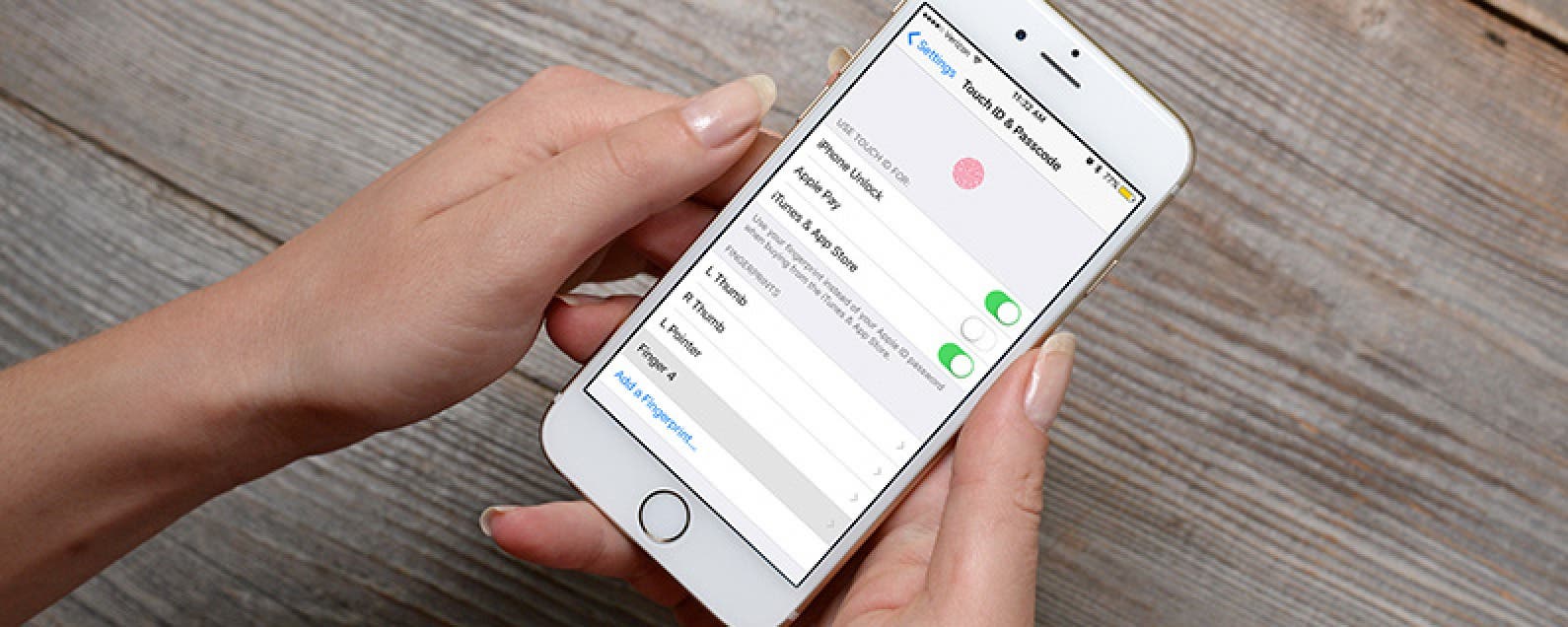 * This post is part of iPhone Life's Tip of the Day newsletter. Sign Up. *
If you have an iPhone 5s or later, and that iPhone has a Home button, or if you have an iPad that offers Touch ID, you can set it up to work as a passcode for your iPhone or iPad and App Store purchases and for apps like 1Password or Notes. If your iPhone or iPad doesn't have a Home button, you'll want to read our article on how to set up Face ID instead. If you're not sure if your device has Touch ID, see the full list of compatible devices at the end of this article. Using Touch ID is as simple as placing your finger on your Home button, which is where Touch ID resides. Touch ID recognizes your fingerprints, up to five of them. But first you'll need to set up Touch ID and allow it to be used across your device. 
Related: Easiest Way to Lock Apps on Your iPhone with Touch ID
If you skipped the Set up Touch ID screen in your initial iPhone set up, you can set up Touch ID in the Settings app. To do this:
Open Settings and tap Touch ID & Passcode. 
Enter the passcode you have set on your device.
To set up a new fingerprint, tap Add a Fingerprint.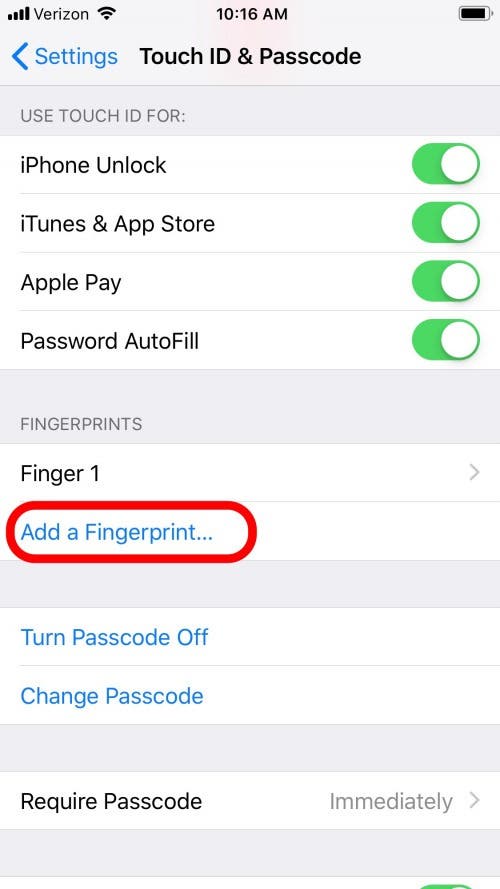 Follow the prompts for adding a fingerprint: place your finger on the Home button, but don't press!
​Make sure to move your finger in all directions around the Home Button so you'll always be able to open your phone, no matter which way your finger is facing.
You'll have to place your finger on the Home Button multiple times to get it stored in your phone. You'll feel vibrations when you're calibrating your fingerprint, so you'll know when to lift and place your finger.
Make sure you add at least one finger from each hand. You can also have your significant other or family member add a fingerprint if you want them to have access to your iPhone or iPad.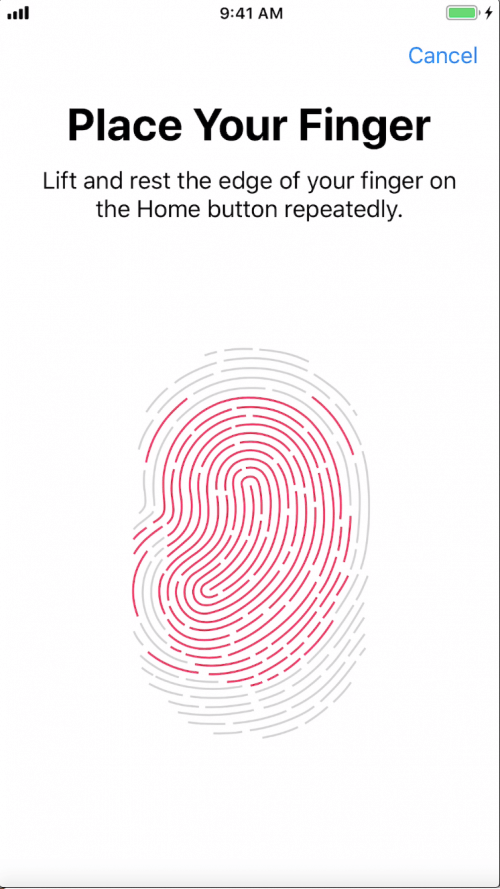 Once you've added your fingerprint, Touch ID will automatically be enabled for iPhone Unlock, Apple Pay, and iTunes and App Store purchases.

Under Use Touch ID For, toggle off any of those you don't wish to use Touch ID for.
To name your fingerprints:
Tap on the fingerprint name in the list above the Add a Fingerprint option and type the new name.
Then tap Done in the keyboard.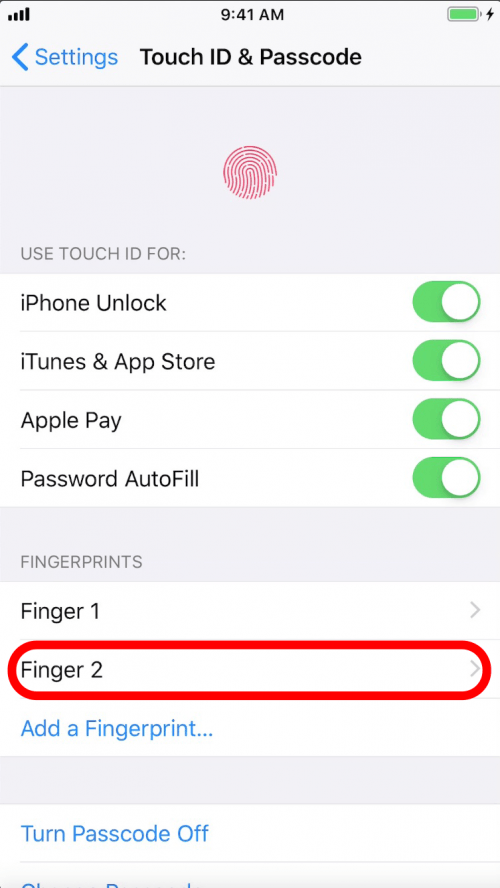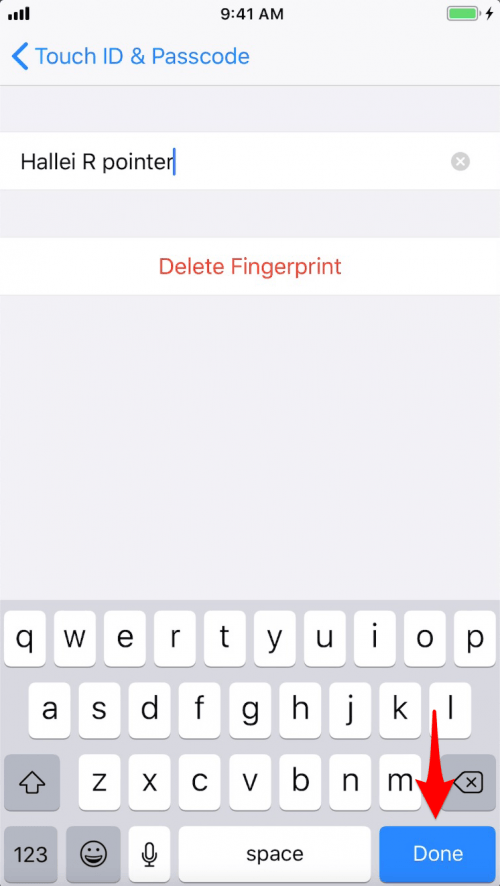 This can be handy for knowing which fingerprint to delete and redo if Touch ID stops working with that finger; especially when multiple people have added a fingerprint, such as might be the case for a family iPad.
One thing to remember is that if your Touch ID isn't working (due to rain on your screen, or the fact that you're wearing gloves), or someone else needs to access your phone, your iPhone can still be accessed via the passcode.
*Touch ID works with: 
iPhone 5S
iPhone 6
iPhone 6 Plus
iPhone 6S
iPhone 6S Plus
iPhone 7
iPhone 7 Plus
iPhone SE
iPhone 8
iPhone 8 Plus
iPad Pro 9.7
iPad Pro 10.5
iPad (2017)
iPad (2018)
iPad Air 2
iPad Air 3
iPad mini 3
iPad mini 3
iPad mini 5
You can also add a Macbook fingerprint on some models.
*For iPhone X and later, along with iPad Pro 12.9 3G and iPad Pro 11, you'll be using Face ID.
Top image credit: Real Life Design / Shutterstock.com