The MacBook Pro and MacBook Air both offer Touch ID. Learn how to set it up and enter additional fingerprints.
By

Amy Spitzfaden–Both
Updated 02/24/2021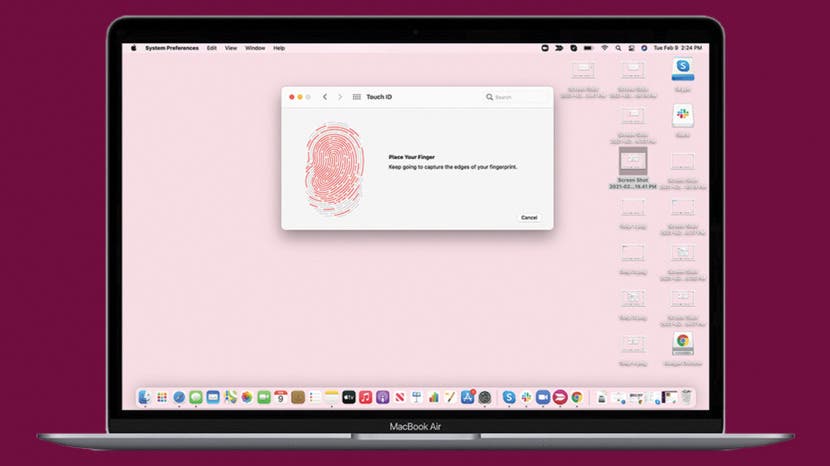 * This post is part of iPhone Life's Tip of the Day newsletter. Sign Up. *
Touch ID allows you to unlock your computer using your fingerprint, creating an additional level of security for your device. You may be familiar with Touch ID on your iPhone or iPad, but it is also available on the MacBook Pro and MacBook air. Here is how to create a MacBook fingerprint for your MacBook Pro or MacBook Air Touch ID.
When you first set up your new computer, you will have the option when you boot it up for the first time to set up Touch ID. If you choose to do it then, the steps are the same when you enter a Fingerprint as listed below, but you will also have the option to set it up later. The following steps are for if you choose to set it up later, or if you want to add another fingerprint. For more Mac tips, check out our free Tip of the Day.

Related: How to Lock Apps on Your iPhone & iPad with Touch ID
Click on the Apple icon to open your Apple menu.


Click System Preferences.


Click Touch ID.


Click Add Fingerprint.


Enter your computer's password (not your Apple ID), then press your finger several times on the Touch ID button (located at the top right of your keyboard).


At a certain point you'll be prompted to touch the edge of your finger to the button.


Tap Done.


Back at the Touch ID screen, make sure everything you want to use Touch ID for is checked.