By

Conner Carey
Updated 01/10/2023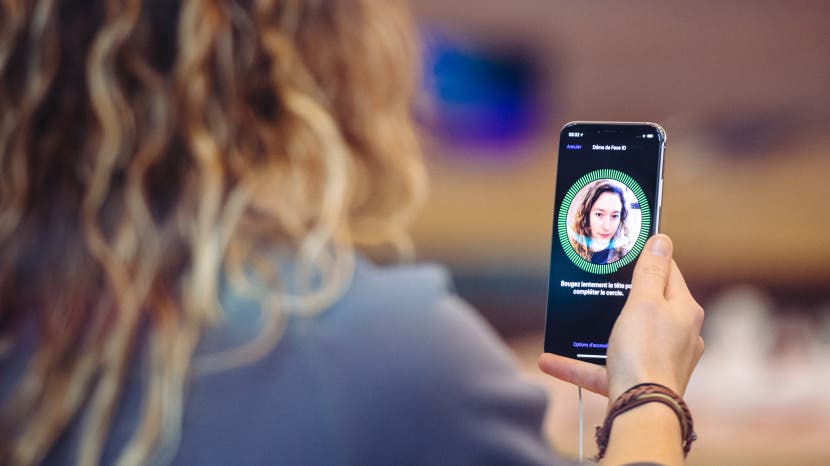 Apple has long used biometric identification as a privacy and security feature for the iPhone, but it's since switched over to Face ID from Touch ID. Once you set up Face ID on your iPhone, you will have the option to look at your screen to unlock it, unlock and open apps, and many other options. Let's get started learning how to set up face recognition on your iPhone. 
Related: How to Allow a Second Person to Use Face ID on Your iPhone
Jump To:
How to Set up Face ID (Facial Recognition) on the iPhone
Face ID is available for the iPhone X and later iPhone models. To get started:

Discover your iPhone's hidden features
Get a daily tip (with screenshots and clear instructions) so you can master your iPhone in just one minute a day.
Open the Settings app.


Select Face ID & Passcode.



Enter your passcode.


Scroll down and tap Set Up Face ID; if you've already set up Face ID, you'll see the option to Reset Face ID.



Your iPhone will ask you to position your face within the frame and slowly move your head around in a circle so it can get a map of your face. It will ask you to do this twice, and then you'll be set up!


Interestingly enough, Face ID will continue to learn your face as time goes on. So if it doesn't work at a certain angle, don't reposition the phone and try again. Instead, enter your passcode so that your phone will learn more about the shape and angles of your face.
This also applies to aging or growing out a beard—if you go from having a beard to suddenly clean-shaven, you'll need to enter your passcode, so the phone takes note of how your face has changed. But if you go from clean-shaven and slowly grow a beard over time, the phone will unlock at every stage and already be accustomed to your face by the time your beard has fully grown out.
How to Use Face ID to Unlock Apps
Now that you've set up Face ID, it's time to learn how to use Face ID for apps. One way that Face ID is used for apps is to unlock certain apps. In addition to unlocking apps, the feature can also be used to access your saved usernames and passwords that are stored on your device. You can also learn how to add Face ID to apps and how to use Face ID with a mask. Here's how to turn on Face ID for apps.
Go to your app's settings.


Each app will be different in regards to setting up Face ID. However, there will likely be a toggle to enable Face ID.


 

Return to the Home Screen, and open the app back up.


Face ID will attempt to unlock the app.


 
What If You Can't Find Face ID Settings within an App?
If you can't find the Face ID setting within the app or are unsure if the app allows Face ID unlocking, you can enable Face ID within an app from the Settings app. Also, read our article to learn how to see lyrics on Spotify.
Open the Settings app.


Select an app.



Turn on Face ID toggle.


It's good to note that some apps will have this on by default, so don't be surprised if you open an app and it automatically tries to use Face ID. Check out our article on what to do if you see the Apple ID connection error on your iPhone. 
Top Image Credit: Hadrian / Shutterstock.com