Face ID is useful for opening apps when your hands aren't available and for adding extra security. Learn how to set it up and how to use Face ID for apps.
By

Conner Carey
Updated 11/08/2020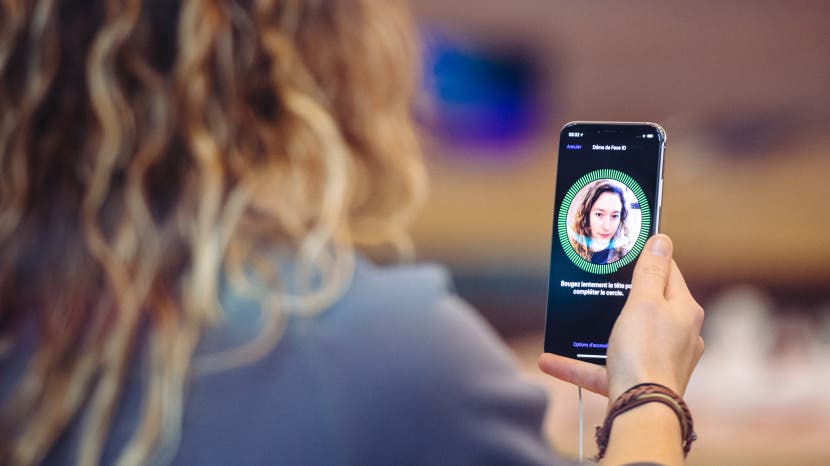 This article will tell you how to set up Face ID and how to use Face ID for apps. Apple has long used biometric identification as a privacy and security feature for the iPhone and iPad. The iPhone X was the first to use facial recognition or Face ID instead of Touch ID, and it's now incorporated into all the most recent iPhone models and iPad Pros. If you haven't set up Face ID or you're wanting to set it up again, read on for a step-by-step. Once Face ID is set up, your device will give you the option to look at your iPhone or iPad to unlock it, pay for purchases with Apple Pay, download apps from the App Store, buy music from iTunes, and unlock and open apps. Let's get started learning how to enable facial recognition on your iPhone or iPad. 
Related: New for iOS 12: How to Allow a Second Person to Use Face ID on Your iPhone X, XS, XS Max or XR
What's in This Article
Face ID is available on the iPhone X and later, and this technology is extremely accurate. Plenty of YouTubers have attempted to fool Face ID, with only very identical twins able to do so. Once you set up Face ID and become accustomed to it, there will be no going back. 
How to Set up Face ID (Facial Recognition) on the iPhone & iPad
You can use Face ID in the iPhone X and later, as well as the iPad Pro 11-inch and iPad Pro 12.9-inch (3rd generation). To get started:
Open the Settings app.
Select Face ID & Passcode.


 
Enter your passcode.
Scroll down and tap Set Up Face ID; if you've already set up Face ID, you'll see the option to Reset Face ID instead.


 
To set up Face ID, your iPhone will ask you to position your face within the frame and slowly move your head around in a circle so it can get a map of your face. It will ask you to do this twice, and then you'll be set up!


Interestingly enough, Face ID will continue to learn your face as time goes on. So if it doesn't work at a certain angle, don't reposition the phone and try again. Instead, enter your passcode so that your phone will learn more about the shape and angles of your face.
This also applies to aging or growing out a beard—if you go from having a beard to suddenly clean shaven, you'll need to enter your passcode, so the phone takes note of how your face has changed. But if you go from clean shaven and slowly grow a beard over time, the phone will unlock at every stage and already be accustomed to your face by the time your beard has fully grown out.
How to Unlock Apps with Face ID
Now that you've set up Face ID, it's time to learn how to use Face ID for apps. One of those ways is to unlock certain apps. For our example, I'll use the Day One app. However, Face ID can be used to unlock many other apps and also to access your saved usernames and passwords that are stored on your device. You can also learn how to add Face ID to apps. Here's how to unlock apps with Face ID.
The first step of unlocking an app with Face ID is making sure you've turned that setting on within the app. To do this, you want to locate the settings in whichever app you want to unlock with Face ID.
If it's possible to unlock the app with Face ID, you'll see an option in the app's settings regarding Passcode, and there will likely be a toggle to flip on for allowing Face ID. Again, this will look slightly different in different apps, but you can always find it in the app's settings.


 
Once you've allowed the app to use Face ID to unlock, it will happen automatically. Simply open the app and Face ID will attempt to unlock it; it's likely that it will work so quickly it will have already unlocked by the time you realize it's looking for your face.
If you can't find the Face ID setting within the app (or you're not sure if the app allows Face ID unlocking), you can enable Face ID within an app from the Settings app: open your iPhone's settings, select Face ID & Passcode, and tap Other Apps under Use Face ID For; then toggle on the correct app.


It's good to note that some apps will have this on by default, so don't be surprised if you open an app and it automatically tries to use Face ID. 
How to Use Face ID to Buy Things (Apple Pay, iTunes, App Store, Etc.)
How to Use Face ID for In-Store Apple Pay Purchase
To use this option, you'll need to set up Apple Pay. Once it's set up:
To open Apple Pay, double click the Side button.
First, authenticate the purchase with Face ID, then hold the phone up to the contactless reader.
The word Done and a checkmark will appear on-screen to confirm you've paid.
How to Use Face ID for Online Apple Pay Purchase
Select Apple Pay as your payment method.
Once you've confirmed your payment information, double click the Side button.
Then glance at your phone to authenticate with Face ID. Once the Done and checkmark appears, you're good to go. 
How to Use Facial Recognition for In-App Purchases
When you're making an in-app purchase, such as when buying an app from the App Store, music from iTunes, or an e-book, there will be an on-screen prompt to Double Click to Install or Pay; double click the Side button.
Once you double click, your iPhone X will use Face ID to confirm it's you and complete the purchase in a couple seconds flat. The on-screen Done and checkmark will let you know the purchase was successful. 



Top Image Credit: Hadrian / Shutterstock.com