Does Spotify have lyrics? Yes, if you're on an iPhone or iPad. Here's how to see and share them.
By

Amy Spitzfaden–Both
Updated 08/04/2022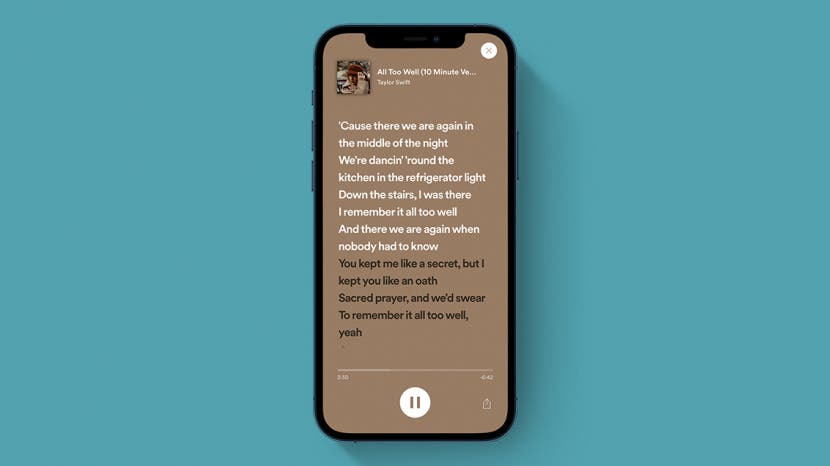 Curious about what a certain lyric in a song is, or just want to sing along? You can now view Spotify lyrics when listening on their mobile app or desktop app. It's only available for songs that offer that feature, though, so you might not have this option for every song. Still, it's easy to view, and even share, lyrics, so let's learn how to find lyrics on Spotify whenever they're available.
Jump To:
How to View Lyrics on Spotify
If you want to see the lyrics to a song, whether you want to sing along, check a lyric you're uncertain about, or share a verse you're particularly excited about, you can now do that on Spotify. As of writing this article, the rollout is not yet complete, so this feature isn't available to every single account yet. But many do have it already, so here's how to get lyrics on Spotify. For more ways to share and listen to music on your Apple devices, check out our Tip of the Day.
How to See Lyrics on Spotify Mobile App
It's easy to get Spotify lyrics on the mobile app. Just:
Open your Spotify app.


Open the song you want and play it. Since the mobile app often shuffles songs, you might need to skip to your desired song if you don't have Premium.


Tap the Now Playing bar at the bottom of the screen.


Swipe up on the screen if you see Lyrics. If this doesn't show up, either the feature is not yet available to you or lyrics are not available for that song.


You'll see the lyrics of the song displayed on the screen. Lyrics in white are the ones currently or already sung, and black lyrics are upcoming.


To view the lyrics full screen, tap the More icon.


Related: How to Buy Kindle Books on iPhone & iPad
How to View Lyrics on Spotify Desktop App
To view Spotify lyrics on your desktop app:
Open the Spotify desktop app and select the song you want to play.


On the Now Playing bar click the microphone icon.


View the lyrics to the song on your screen.


How to Share Lyrics on Spotify
I regularly tweet lyrics that are meaningful to me, but sharing an image of them from Spotify is another great option! To share Spotify lyrics:
Open the lyrics to your song as listed above.


Tap the More icon on the top right of the lyrics box.


Tap the Share icon at the bottom right of the screen.


Scroll to the lyrics you want to share and select up to four lines.


Tap Share.


Tap the icon of the platform you want to share to, and follow the instructions for that app.


Spotify Lyrics Not Showing?
If lyrics aren't showing up on your Spotify there could be two different reasons: either that song doesn't have lyrics available or the feature is not yet available to you. Check to see if you can find lyrics on other songs. If you can, it's an issue with that song. If you can't, it's likely because that feature hasn't been rolled out to you yet. You can try logging out and back into Spotify and even uninstalling and reinstalling the app to see if it appears then, but you might just have to be patient. Also, if you frequently use both Spotify and Apple Music, check out our article on how to import Spotify playlists into Apple Music and vice versa!