By

Paula Bostrom
Updated 04/03/2023
What to Know
If an app keeps crashing, start by closing and reopening the app.
Turn your iPhone off and on again and check for software updates.
You may need to delete and reinstall an app to get it working again.
If multiple apps keep crashing, try clearing out space on your iPhone.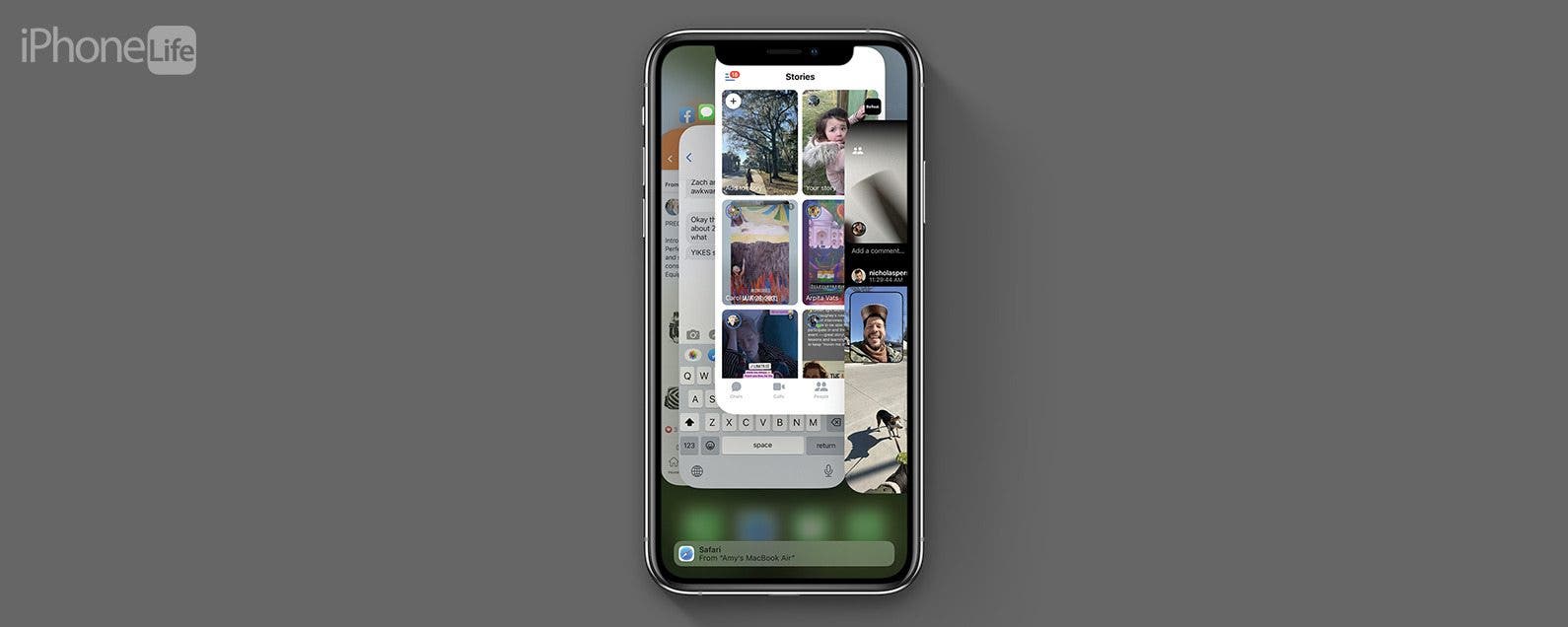 * This post is part of iPhone Life's Tip of the Day newsletter. Sign Up. *
If one or more apps keep crashing or not loading on your iPhone, there are multiple solutions you can implement to fix the issue. Here's how to troubleshoot unresponsive apps on your iPhone to get them working again.
How to Fix iPhone Apps That Keep Crashing
There are many possible reasons why your iPhone apps won't open or keep crashing, and a few easy fixes you can try to get you back on track.

Discover your iPhone's hidden features
Get a daily tip (with screenshots and clear instructions) so you can master your iPhone in just one minute a day.
1. Close & Reopen Your App
An easy way to fix this is to quit the app and open it again. If you have an iPhone without a Home button, swipe up on your screen until you get to the App Switcher, then swipe up on the app you want to close. If your iPhone has a Home button, press the Home button twice to get to the App Switcher. Once you've closed the app, find it and open it again to see if it's responding better.
2. Restart Your iPhone
If multiple apps are buggy or slow and you suspect the problem is your iPhone, try turning your iPhone off and then on again. This hard reset might set your iPhone and your app right and get you smoothly back on your app. For more simple troubleshooting tips, check out our free Tip of the Day newsletter.
3. Check for iPhone Software Updates
If the above solutions haven't fixed your buggy apps, check for an available iPhone software update. To do this, open the Settings app, tap "General", and tap "Software Update". If there's an available update, tap "Download and Install". If there's a software bug causing your apps to crash, this will likely resolve it. 
4. Check for App Updates in the App Store
Sometimes the issue is with the app software. Developers are constantly working to improve apps and fix bugs. If many people are having the same issue with an app, there might be an available update that resolves this issue! To check for an available app update, open the App Store app, tap your profile icon in the top right corner, and see if there's an available update for the app you're struggling with. 
5. Delete & Reinstall the App
If the app still isn't working, you may have to delete the app and download it from the app store again. Be aware that with some apps, you may lose any data saved, such as levels completed in a game. With other apps, like Facebook, you'll just need to log in again. To delete an app, press and hold the app icon until a menu appears. Tap "Remove App", then tap "Delete App". Then, open the App Store app and reinstall the app you just deleted. 
6. Clear Space on Your iPhone
If many apps won't open or keep crashing when they do, you may need to clear space on your iPhone. An iPhone's performance goes significantly down when its storage space is close to full, so now is the time to delete unused apps, duplicate photos, and more.