By Sarah Kingsbury updated on 04/22/2016
The number one tip suggestion we get at iPhone Life is to write up your emergency contact and health information, take a picture of it, and set that image as your lock screen. However, you can easily do this via the Health app instead.
Open the Health app and tap Medical ID in the bottom right. Next tap Edit in the upper right corner. You will be taken to a screen where you can enter important emergency medical information like any medical conditions you might have, medications you are taking, allergies, and emergency contact information.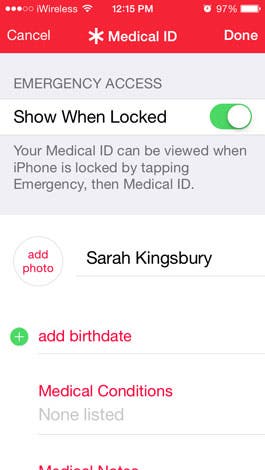 If you toggle Show When Locked on, anyone who is checking your phone while aiding you in an emergency will be able to access this potentially life-saving information when accessing the Emergency dial pad.