By

Hallei Halter
Fri, 07/05/2019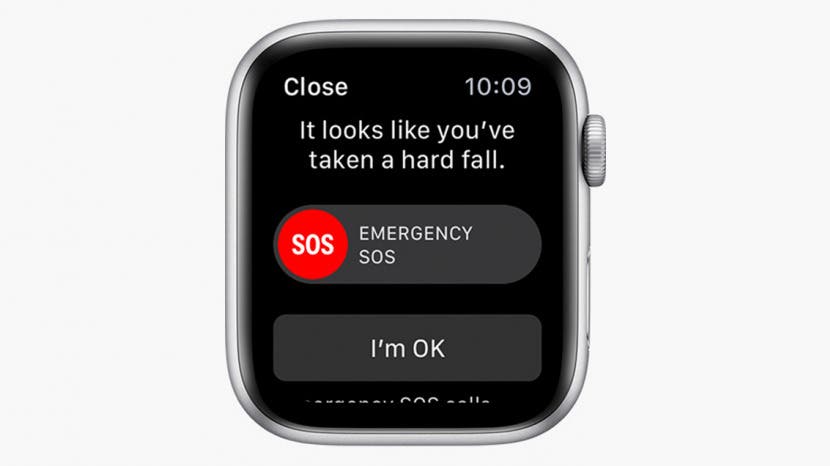 The Apple Watch Series 4 and later has a feature that will contact emergency services when you fall if you either confirm that you need help or you remain immobile for thirty seconds. Fall Detection on the Apple Watch can be enabled in your watch's Emergency SOS settings, which can be found in the Watch app on your iPhone. It's important to keep in mind that while the Apple Watch has an intuitive accelerometer and gyroscope, it won't register all falls. Also, if you participate in high-impact activities such as sports, those activities may register as falls. If you've previously entered your age in the Health app or while setting up your Apple Watch as 65 or older, Fall Detection will be on by default
Related: How to Call 911 or Activate Emergency SOS on a Locked iPhone
Here's how to enable Fall Detection on your Apple Watch:
Open the Watch app on your iPhone.
Tap Emergency SOS.


 
Toggle Fall Detection on. A confirmation window may pop up. 


 
Now your Apple Watch will help detect if you've taken a fall. If you do, The Apple Watch will vibrate taps on your wrist, ring an alarm, and show a slider option to call Emergency Services.
If you don't need emergency services, you can dismiss the alert by selecting I'm OK, pressing on the Digital Crown, or tapping Close in the upper left of the screen. 


 
Additionally, if you have Wrist Detection enabled, your Apple Watch will be detecting movement. So if it registers that you've fallen, but you haven't moved for thirty seconds, it will call emergency services.
If you've set up a Medical ID on your iPhone's Health app, Apple Watch will alert your emergency contacts that you've fallen, give your location, and let them know that emergency services were called.
To turn on Wrist Detection, open Settings on your Apple Watch and tap Passcode. 

Toggle Wrist Detection to on.

 
Falls will also be recorded on the Health app unless you previously selected I'm OK when prompted. 


With Fall Detection enabled, you'll be able to get help in case of an emergency.