Hard fall Apple Watch detection is a valuable safety feature for everyone. I'll cover which models are compatible and go over the Apple Watch hard fall setup.
By

Hallei Halter
Updated 03/01/2022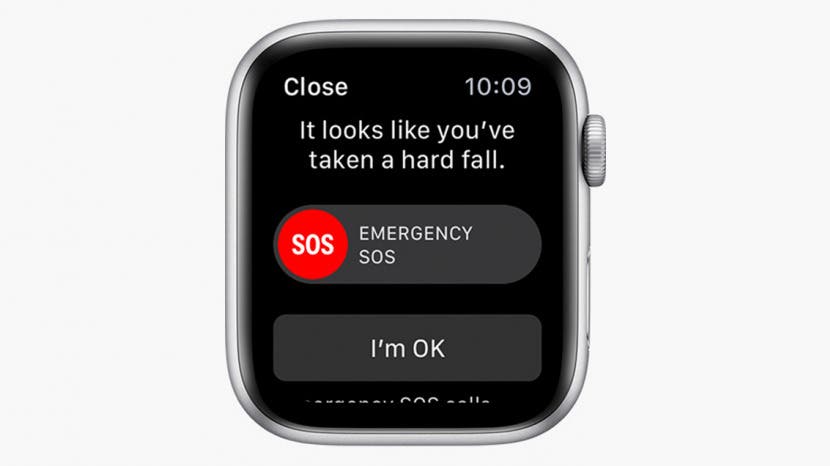 * This post is part of iPhone Life's Tip of the Day newsletter. Sign Up. *
If you take a spill while wearing your Apple Watch, the hard fall Apple Watch detection feature will automatically send alerts to emergency services and will alert your emergency contacts. But which Apple Watch has fall detection available? In this article, I will tell you which models have this feature available and teach you how to enable it.
Related: How to Call 911 or Activate Emergency SOS on a Locked iPhone
Why You'll Love This Tip
You can have peace of mind knowing your watch will alert others with your location if you are unresponsive after a hard fall.
This feature can help others know you are safe even if you are living or traveling alone.
How to Set Up Hard Fall Detection on Apple Watch
Only Apple Watch SE and Apple Watch Series 4 and later models have this feature, so before you begin, make sure your Apple Watch is compatible.
Once you are sure that you have an Apple Watch with fall detection, you can enable it by following these steps:
Open the Watch app on your iPhone.


 
Tap Emergency SOS.


 
Toggle Fall Detection on. 


 
By default, Only on during workouts will be selected.


 
You can switch this to Always on.


 
A confirmation window may pop up. Tap Confirm.


 
Now your Apple Watch will help detect if you've taken a fall. If you do, The Apple Watch will vibrate taps on your wrist, ring an alarm, and show a slider option to call Emergency Services.
If you don't need emergency services, you can dismiss the alert by selecting I'm OK, pressing on the Digital Crown, or tapping Close in the upper left of the screen. 


 
Additionally, if you have Wrist Detection enabled, your Apple Watch will be detecting movement. So if it registers that you've fallen, but you haven't moved for thirty seconds, it will call emergency services.
If you've set up a Medical ID on your iPhone's Health app, Apple Watch will alert your emergency contacts that you've fallen, give your location, and let them know that emergency services were called.
To turn on Wrist Detection, open Settings on your Apple Watch.


 
Then tap Passcode. 


 
Toggle Wrist Detection on.


 
Falls will also be recorded on the Health app unless you previously selected I'm OK when prompted.
Now we've covered which Apple Watches have fall detection, how to set up and customize Apple Watch fall detector features, and how to dismiss fall detection watch alerts if you are okay. For more Apple Watch tips like this, make sure to sign up for our free Tip of the Day newsletter.