By

Mike Riley
Fri, 08/28/2020
One of the most interesting new iOS accessories shown at last year's Consumer Electronics Show was Scosche's BaseLynx Modular Kit Pro Charging System ($209.96). Unlike so many other charging platforms on the market, BaseLynx is a modular system that allows you to specifically tailor the charging configuration to your device needs. Does this approach make sense from both a functional and economical point of view? Read on to find out.
Related: Buyer's Guide: The Best iPhone Chargers of the Year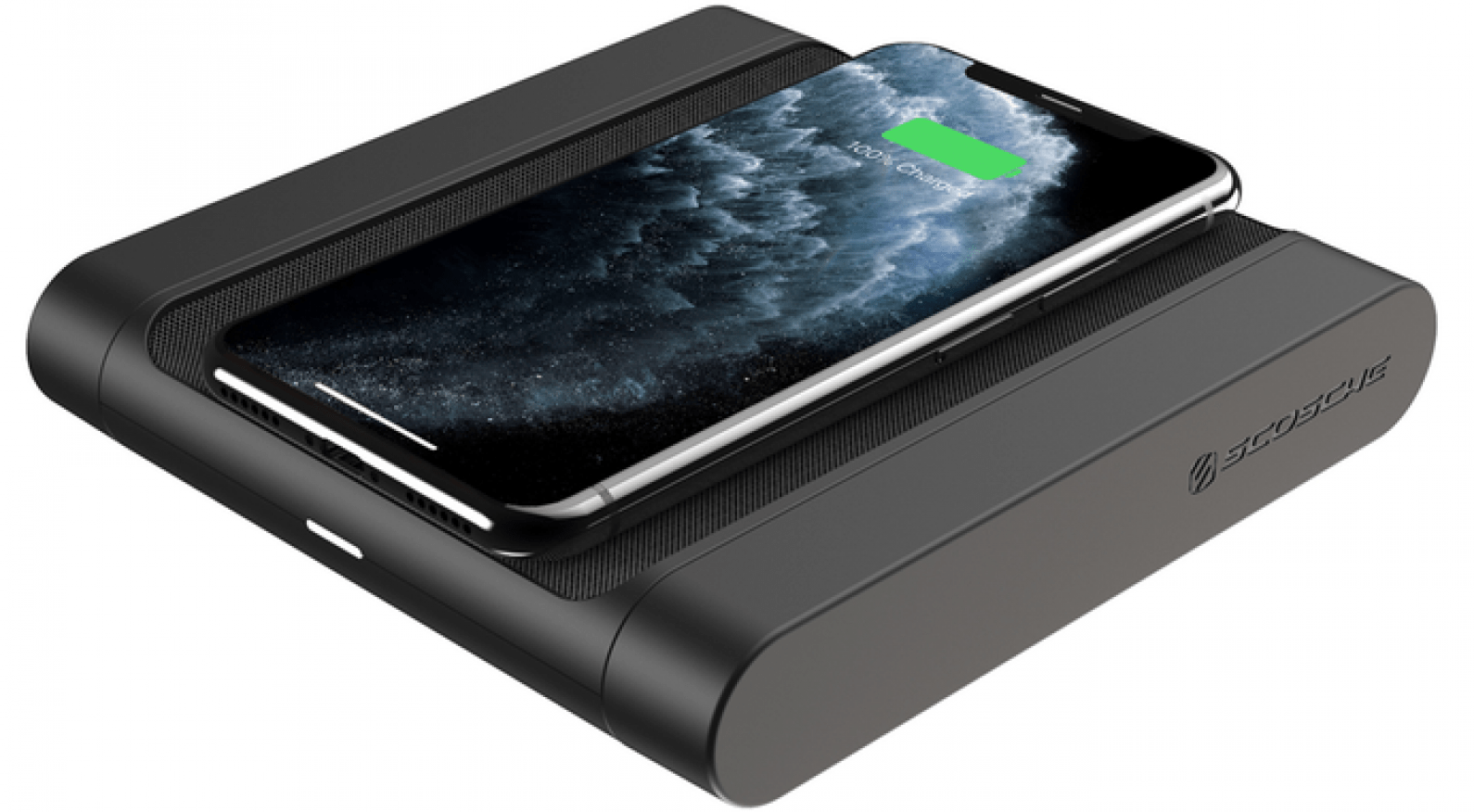 The charging station can be purchased à la carte or as a complete collection. While there is really no center piece of the BaseLynx family per se, the typical starting point is the BaseLynx Qi Wireless Charging Pad ($49.99). With the ability to wirelessly charge up to 10W, it's also safe enough to charge an AirPod case simply by placing it on the charging pad. You'll know when there is solid charging occurring when the white LED indicator in the front of charging pad illuminates. The rubberized surface also protects any polished metal or glass surfaces, and its curved sides help saddle in iPhones as large as XS Max sizes.
The BaseLynx Watch charger for Apple Watch ($69.99) is one of the few Apple Watch charging stands that actually includes the white charging disc built into the stand. What is even better is that the disc can either lie horizontally within the stand or flip up ninety degrees to hold the watch in nightstand mode. There is enough space in the stand on both sides of the disc to accommodate the wrap of your watch's wristband, continuing the theme of efficient organization.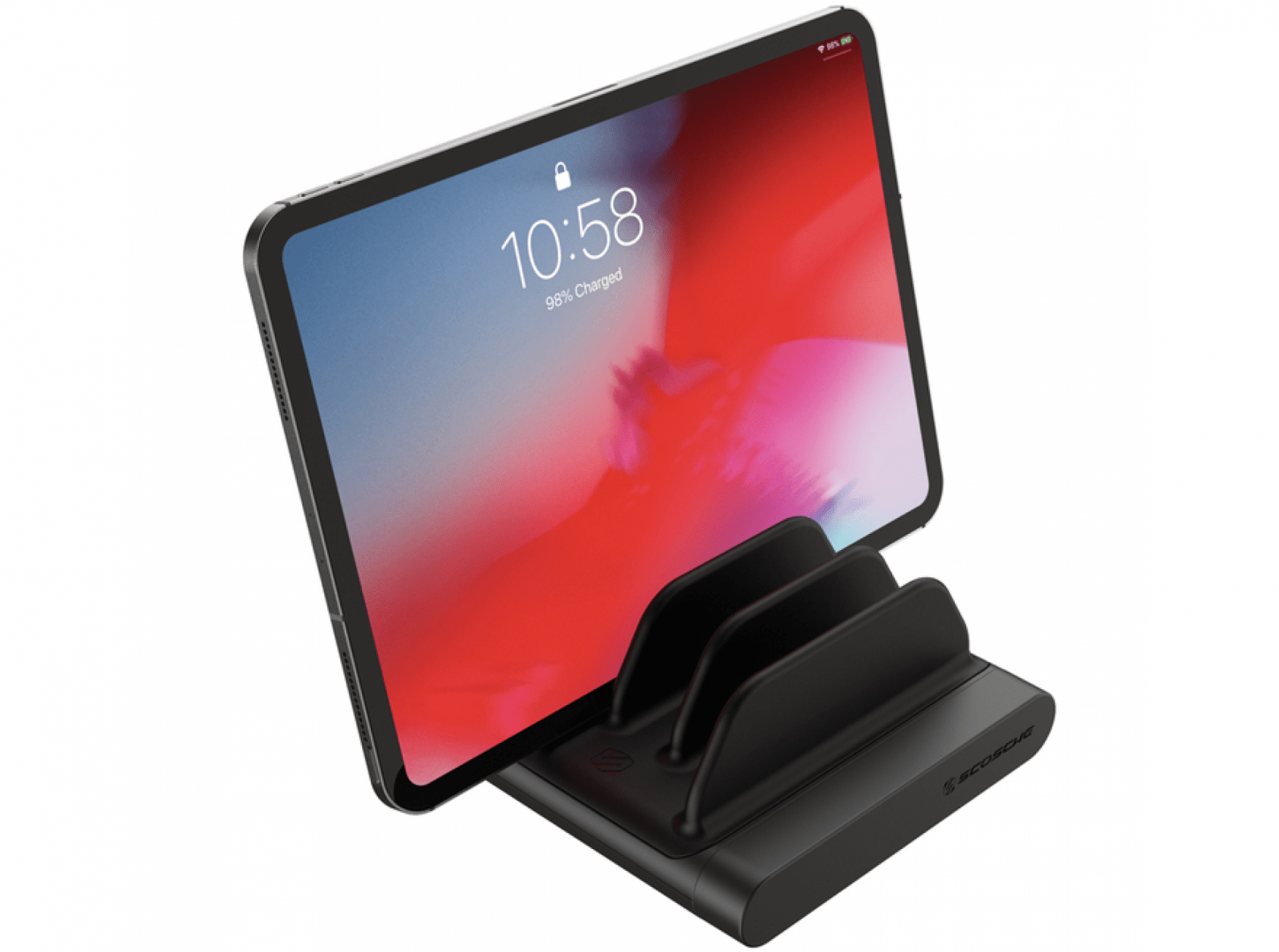 Next on the modular list is the Vert Charging Station ($49.99) that is specifically designed to accommodate iPads and other tablet-sized devices. Until iPads support wireless charging, wired charging is required. As such, the Vert Charging Station includes one 18W USB-C port and two 12W USB-A ports to connect your USB-A to Lightning cables to your devices. Since there isn't any cable management solution built into the Vert station, its best to use short cables such as Scosche's one foot USB-C to Lightning Charge & Sync ($19.99) cable. Even so, it still would have been nice for the Vert to have some kind of built-in clip to keep the cable in place so it would be easier to locate and connect to the device once placed into one of the Vert's three vertical holding slots.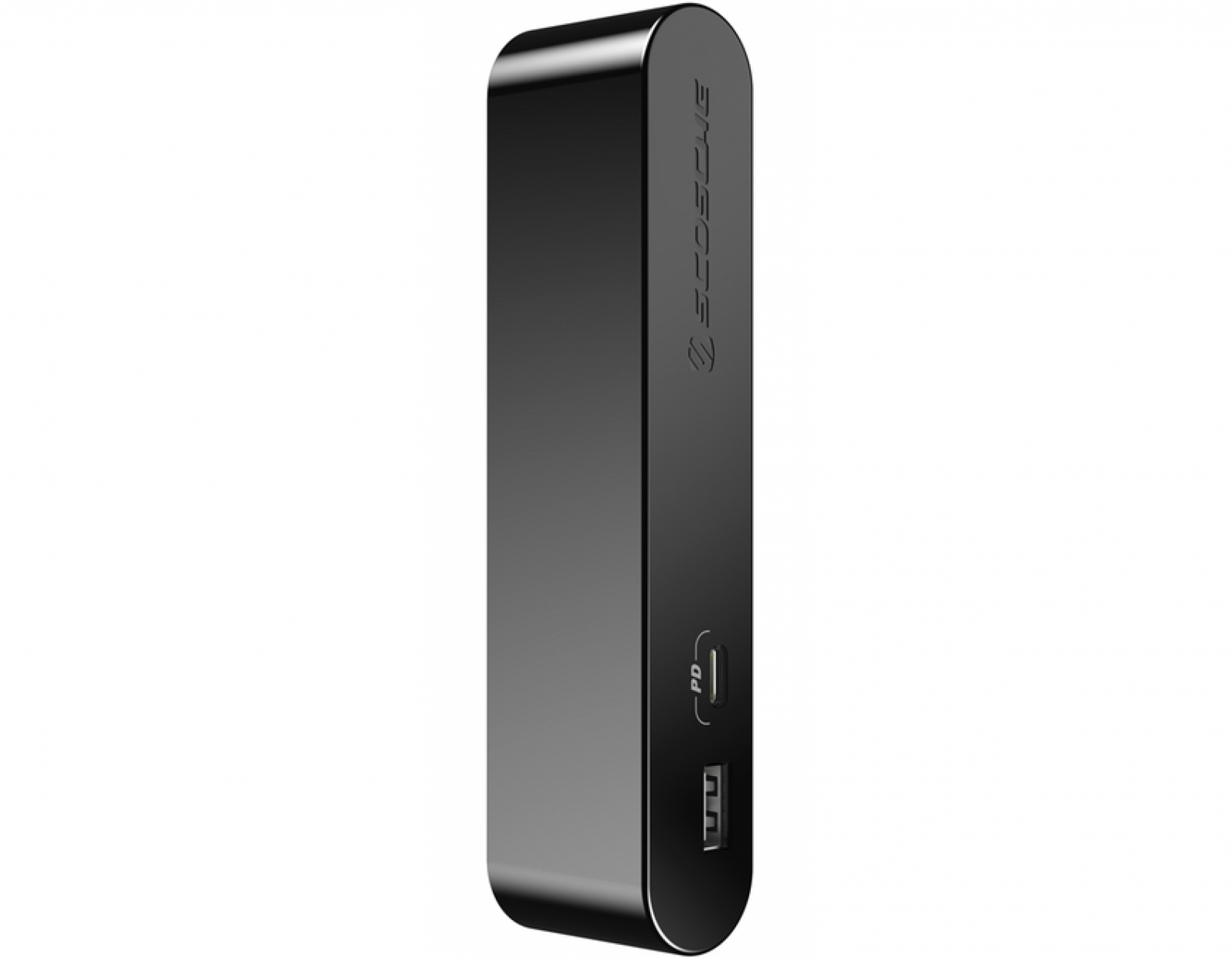 Finally, the BaseLynx system can be capped with a Dual-Port EndCap ($39.99). The EndCap adds another 18W USB-C and one 12W USB-A charging port, giving the complete Pro Kit solution the ability to charge seven devices simultaneously. Of course, even more devices can be added simply by attaching one or more wireless charging pads or Vert stations. However, only one EndCap can be used, since one end of the BaseLynx collection must be used to attach a single power cable to a power outlet.
Pros
Modular options allow you to choose exactly the configuration you need
Recharges your digital devices on a single organized power shelf
Rubberized surfaces protect your expensive devices from scratches
Cons
No built-in cable management solution for wired charge-dependent devices
Final Verdict
Overall, I am highly impressed with the profound depth of organizational optimization Scosche has designed into its BaseLynx platform. It has turned what was once a sprawling mess of tangled spaghetti bowl cables and devices half-hanging off my nightstand into a highly organized and, dare I say, attractive collection of my iOS hardware investment. And every one of those devices are fully charged, easily accessible, and ready to go. The BaseLynx is also ideal for families and even small businesses intent on organizing their device inventory while making sure their phones and tablets are fully charged when needed.