Need to delete or edit a debit or credit card in Safari AutoFill settings on your iPhone or iPad? Here's how to update and save your new credit card info.
By

Leanne Hays
Updated 11/06/2021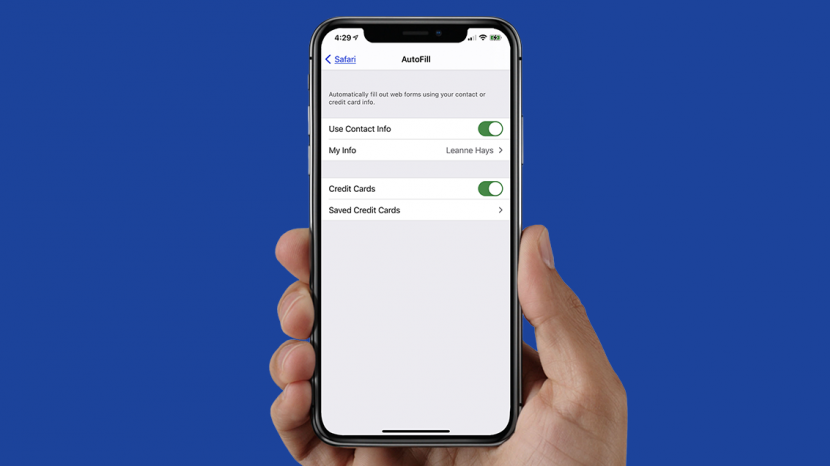 * This post is part of iPhone Life's Tip of the Day newsletter. Sign Up. *
You can save credit card information on your iPhone using AutoFill to make online purchases with the Safari browser. If you have iCloud set up and iCloud Keychain enabled, iCloud Keychain securely stores AutoFill information across all your devices. Here's how to edit and change credit card info in AutoFill.
Related: Tip of the Day: How to Set Up Autofill in Safari
How to Change Autofill Credit Card Information on Your iPhone & iPad (for Safari)
We've already gone over how to autofill credit card information in the Wallet app with your iPhone's camera, how to enable iCloud keychain on your iPhone, and how to use iCloud keychain to create strong passwords. For more great, free iPhone tutorials, check out our free Tip of the Day. Now, let's learn how to update the credit card information in AutoFill for Safari. 
Open the Settings app.


 
Tap Safari.


 
Tap AutoFill.


 
Tap Saved Credit Cards. You may need to enter your passcode or use Face or Touch ID to verify your identity.


 
Tap Add Credit Card. Tap Use Camera to scan the card, or enter the data manually.


 
When finished, tap Done in the upper-right corner of the screen.


 
To edit a credit card you've already entered, tap on the name of the card. 


 
Tap Edit, then update the card information and tap Done.


 
Or, tap Delete Credit Card, then Done to remove the card. 


Now you can save or change your credit card information with AutoFill via Safari settings!