By

Emma Chase
Updated 04/13/2023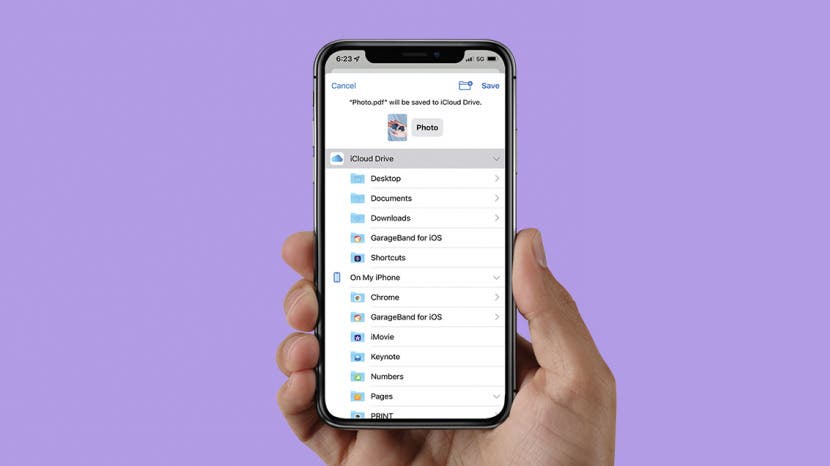 * This post is part of iPhone Life's Tip of the Day newsletter. Sign Up. *
Images on your iPhone are usually saved as JPGs or PNGs, which work well for most uses. However, sometimes it's much easier to send a PDF image than it is to upload the original file type, especially when you want to keep things like image location and other metadata private. We'll show you how to save a picture as a PDF on iPhone.
Related: 6 Easy Ways to Transfer Photos from iPhone to PC or Mac
Why You'll Love This Tip
Avoid compatibility issues when sharing across different devices and operating systems.
Group pictures together to create a digital photo album or file an insurance claim.
Keep photo metadata, such as image location tags, private.
How to Save a Photo as a PDF on iPhone
Since PDFs are a universal file type, saving an image to PDF is a simple way to ensure your file is safe and can be read by any phone or computer without an error. For more tips on making the best use of your Apple devices like how to safely eject a USB from your Mac, sign up for our free Tip of the Day newsletter. Now, here's how to use Photos to create a PDF on iPhone.
Open the Photos app and make sure you're on the Library tab.


Tap Select.



Tap the image(s) you want to save as a PDF. A blue check icon will appear in the corner to indicate selected photos.


Tap the Share icon.



Scroll down and tap Print. NOTE: do NOT tap Save to Files now. This will not convert your image to a PDF.


On the Print Options screen, tap the Share icon in the upper right, next to Print.



Scroll down and tap Save to Files.


Now the file picker interface will open. Use this to navigate to the folder on your iPhone where you'd like to save the PDF. You can tap "Photo" at the bottom to change the name of the file. When you're finished, tap Save.



Now I'll show you how to open the saved PDF file on your phone to review it or share it.  First, open the Files app.


This will open a file selection screen just like the one you used to save the PDF. Navigate to where you decided to save it.  I put mine in the Downloads folder.



In the folder you previously chose, tap the icon for the PDF file. I created a PDF of several pictures of my dog, Scarlet, I named scarlet pics.


This will open the file in a simple PDF viewer.  You can review the pictures here and if it looks good to you, you can tap the Share icon in the lower left to send it on.


Now you can use this trick to save any iPhone photo as a PDF for easier sharing without compatibility issues. Once it is in PDF format, you can still edit it directly on your iPhone (and iPad) using the Files app. Next, learn how to download a PDF from an email!