Does your iPhone screen go into Sleep Mode too soon, going dim when you're still using it? Here's how to fix it!
By

Rich Hall
Updated 01/12/2021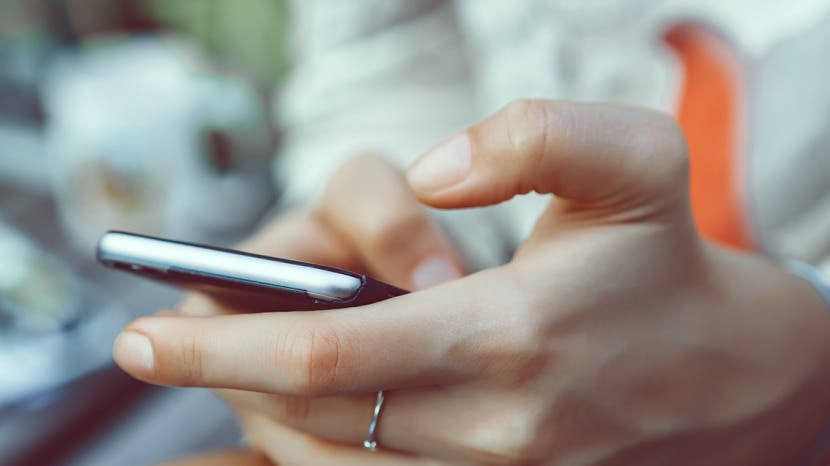 Tired of your iPad or iPhone screen going dim or dark while you're trying to watch a show? Do you want to read an article or watch a movie without constantly having to wake up your iPhone or iPad from sleep mode? Auto-lock and screen dimming are two answers to the question of how to save battery on an iPhone or iPad, but if you want to find out how to turn off auto-lock and auto-brightness, here's how.
* This post is part of iPhone Life's Tip of the Day newsletter. Sign Up. *
How to Keep Your iPhone or iPad Screen On
We've already given you the answer to "why is my auto-lock grayed out?", how to adjust your Lock Screen Notifications, and how to turn the brightness of your iPhone screen down or up from your Control Center. You can learn more about your Apple devices by subscribing to our free Tip of the Day. Now, we'll teach you how to turn off the auto-brightness feature and change your iPhone's Lock screen time, the amount of time between last use and when your iPhone and iPad goes to sleep. We've uncovered the controls for both Auto-Lock and Auto-Brightness on your smartphone and tablet; here they are.
How to Turn Off Your iPhone's Auto-Brightness Setting
To turn off the auto-dim feature, follow these steps:
Open the Settings app.
Tap Accessibility.


 
Tap Display & Text Size.
Scroll all the way to the bottom and toggle Auto-Brightness off.


 
You can turn this feature back on at any time by following the steps above and toggling Auto-Brightness to the on position.
Related: How to Switch Your iPhone to Dark Mode
iPad & iPhone Auto-Lock: How to Keep Your iPhone Screen on Longer by Turning Off Sleep Mode Settings
In addition to going dim, your iPhone is set to automatically lock after one minute. While this particular setting won't affect your Netflix viewing, it will affect your reading. If you don't want to continuously tap your screen to keep the device from locking while you read the morning paper, you might prefer to turn off Auto-Lock, or at least delay the feature. Here's how to turn off or delay auto-lock:
Open the Settings app.
Tap Display & Brightness.


 
Tap Auto-Lock. If this option is grayed out, visit this Lock Screen settings tip to learn what to do.
Set the lock feature to a time that works for you. Keep in mind, if you set your iPhone's Auto-Lock to Never, avoid leaving your screen on and running down the battery and make sure to lock your iPhone manually when not using it.


​
That's how you turn off auto-lock and auto-brightness to avoid having your screen go dim automatically. Now you can enjoy your movie viewing and book reading without the hassle of your iPhone screen going dim or turning off.
Top image credit: sergey causelove / Shutterstock.com