By

Leanne Hays
Thu, 03/05/2020
We've already shown you how to buy Kindle e-books on your iPhone or iPad, but did you know that there's a whole library of free e-books available for anyone who knows how to find them? There are literally thousands of books to read, in e-book form, and audiobooks as well, if you know where to download them. Come along, bookworm, and we'll reveal the reading apps that offer more free books to read than you can get through in a lifetime. 
Related: 7 Best Apps to Watch Free Movies & TV Shows on Apple TV, iPhone, & iPad 
Apple Books is a free, native Apple app that has a hidden section of free e-books. To find this selection:

Discover your iPhone's hidden features
Get a daily tip (with screenshots and clear instructions) so you can master your iPhone in just one minute a day.
Tap the Book Store tab at the bottom of the app's Home page, then tap Browse Sections.
Tap Special Offers & Free.


 
Scroll down, and you'll find all the free e-books Apple has on offer. There's always a great selection, including fiction, nonfiction, science fiction, fantasy, juvenile fiction, and even cookbooks.
These are actually three separate apps, but they're all public-library based. Your local library system, unless you live in an extremely rural area, will support one of these apps and offer thousands of free e-books, audiobooks, and even streaming video content to library cardholders. All you need to do is peruse your library website or visit the library to find out which e-book app your library system uses. Make sure your library card is up to date, download the app, then borrow, read, and return e-books, straight from your iPhone or iPad!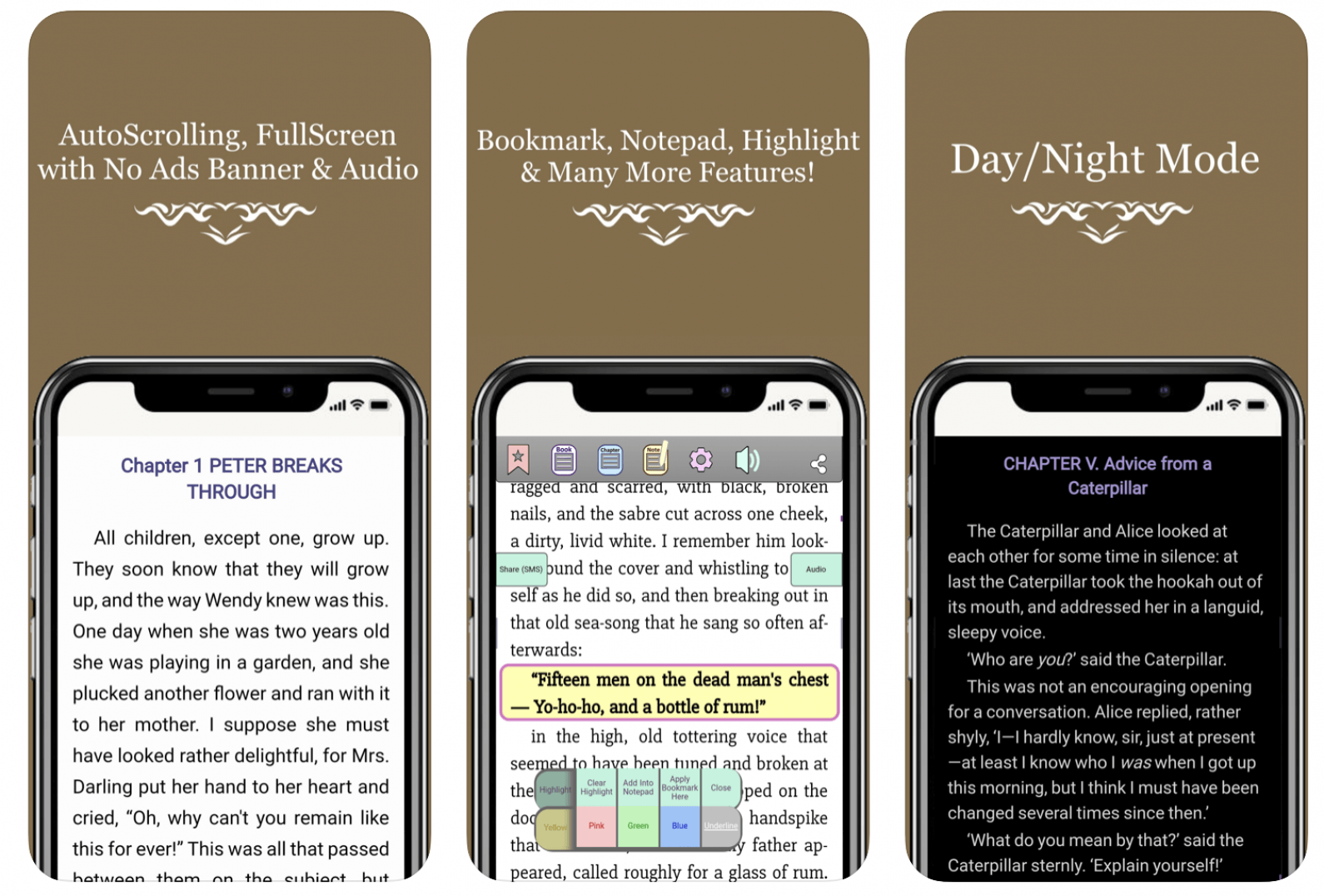 If you're working your way through the classics, this app is for you! Over 500,000 e-book titles are on offer, and over 100,000 of those are absolutely free. The variety of classic texts and novels to choose from is truly astonishing; Jane Austen, Charles Dickens, Arthur Conan Doyle, and many, many more. Readers can switch between day and night mode, change the font, font size, background color, and brightness to cut down on eye strain. The downside is that the interface is a bit primitive. However, if you're headed somewhere with spotty internet access, this app can download up to 100 books to keep you busy on your adventure.
BookBub (Free, Premium features available)
This app was the most recommended by members of our Facebook group, and after checking it out, I'm a fan as well. Once you sign up for your free account, there's a brief survey to find which categories of e-book suit you best. I chose Historical Mysteries, Historical Fiction, Literary Fiction, Biographies and Memoirs, History, Science, and Humor. There are many more categories to choose from! If you want, BookBub will send you Notifications about reduced-price and free e-books from your selected categories. Even if you don't find free e-books that you'd like to read, the recommendations from your categories can help you find new titles to borrow from other free book apps, like Libby or Overdrive.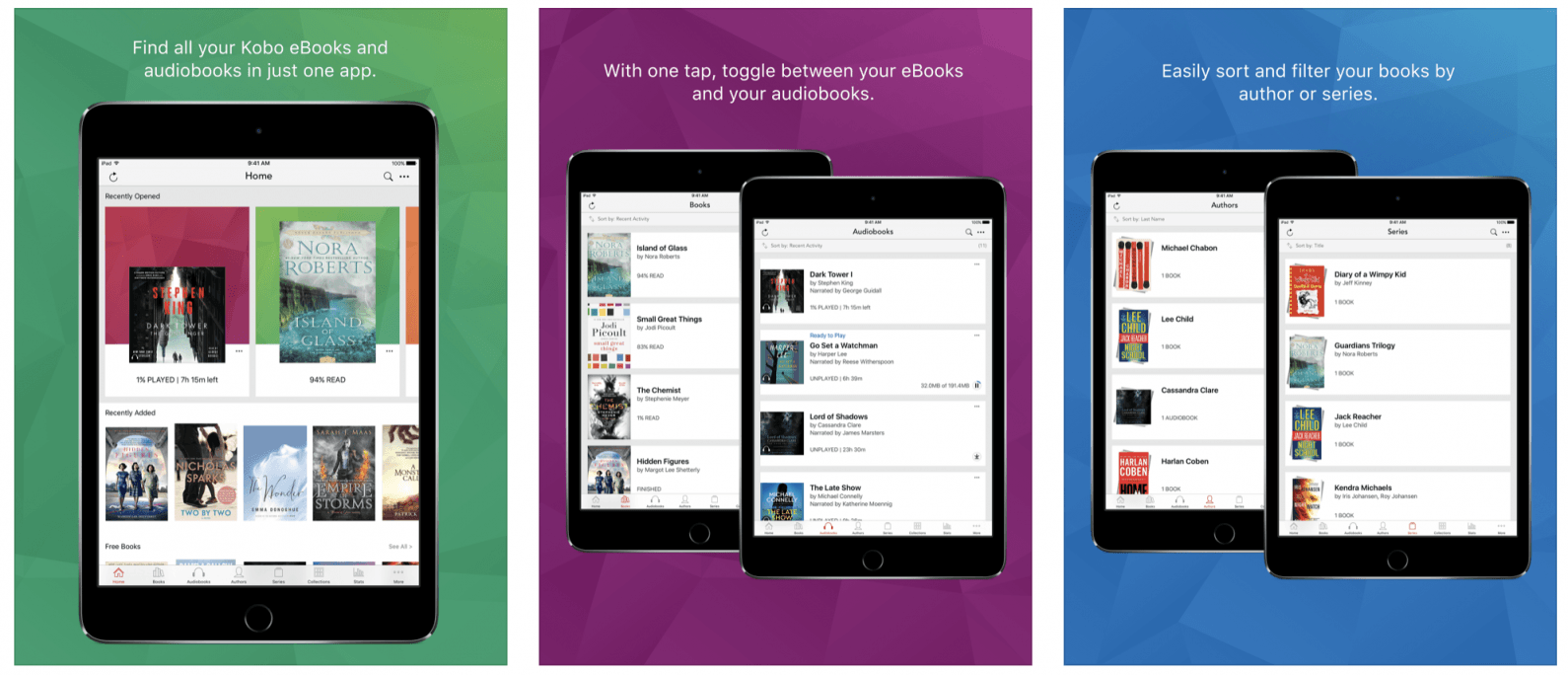 As with many of the apps featured in this roundup, Kobo Books offers both paid and free audio and e-books. The interface is beautifully designed, functional, and smooth. There are over a thousand free e-books to choose from, and users can share favorite quotes and notes from their selections on social media.  
tiReader (Free, full version $4.99)
This app was a bit confusing at first; I certainly wouldn't call the interface intuitive. Despite that, I'd recommend tiReader for the sheer volume and variety of available content; there are over a million free e-books to choose from! To actually find e-books, comics, and audiobooks:
Tap the triple bar icon at the top left of your display, then select a service to search for content. 
Tap a category to browse.


 
The free version of this app allows users to download five titles at once. To download more, you'll need to get the paid version. Of course, you can delete titles and get new ones, so unless you're trying to create a massive library on your iPhone or iPad, this app will suit you just fine. 
Amazon Kindle (Free for Amazon Prime members)
I'll categorize the Kindle app as "free-ish" because you do need an Amazon Prime membership to access over 1,000 free e-books, audiobooks, and e-comics in the Prime Reading category. Membership isn't cheap; $119 a year, or $59 a year for students, but includes free shipping, streaming video content, commercial-free music, and discounts from Amazon affiliates. In case you're wondering, I'm not endorsing Amazon, but I do want readers to know about the massive amount of free content included in their Prime subscriptions. If you find yourself struggling to get your free Kindle e-books on your iPhone or iPad, we'll show you how.  
Which Reading Apps Do You Use for Free E-book Downloads?
Have you tried one or more of these apps? If so, would you recommend them? Have I missed any e-book apps that our readers should know about? Let me know in the comments.