By

Donna Schill
Tue, 09/14/2021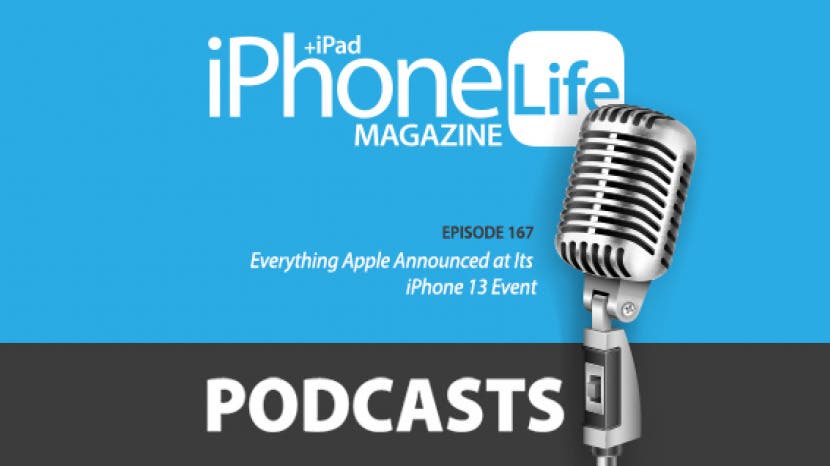 In the 167th episode, David and Donna recap everything Apple announced at its annual September event. Get their take on the iPhone 13's video features, sleeker Apple Watch Series 7, and upgraded iPad Mini. Discover what we got, what we're still waiting for, and what you should definitely buy!
Click here to listen and subscribe. If you like what you hear, be sure to leave a review. And remember to tune in every other week to hear our editors share with you the latest Apple news, best apps, iPhone tricks, and coolest accessories.
Limited time offer! Reserve a spot in our Mastering iOS 15 Live Online Course, beginning September 22! Claim 50% off your subscription to iPhone Life Insider when you visit iPhoneLife.com/PodcastDiscount.
This episode was brought to you by CASEBUDi Crossbody Phone Lanyard ($17). Losing your phone is more than just annoying: it can leave your private data in the hands of whoever finds it! Instead of worrying about someone else having access to your location, passwords, and photos, it's best to find a way to keep your phone close by. CASEBUDi's adjustable lanyard is an affordable and stylish fix for this issue. The comfortable crossbody strap pairs with a PopSockets PopGrip (not included) on the back of your phone—just slide it on and it locks into place. You can use your phone as you normally would without having to remove the lanyard. If you're the kind of person who likes to be out and about but doesn't want to shove your phone into a bag, an accessory like this will free up your hands. It's especially helpful for shopping, sightseeing, or hiking, where you want easy access to your phone without having to hold it the entire time.
Questions of the week:
What did you think of today's announcement? What new products, if any, are you planning to buy? Email podcast@iphonelife.com and let us know. 
Articles mentioned in this episode: 
Useful links: