By

Amy Spitzfaden Both
Updated 12/15/2021
Apple unveiled the iPhone 13 line, treating us to four new models: the iPhone 13, iPhone 13 mini, iPhone 13 Pro, and iPhone 13 Pro Max. While we were underwhelmed by the lack of standout new features, there's still plenty to be excited about in the 2021 lineup. Camera advancements are the highlight of this year's iPhone, with Cinematic mode (a.k.a. Portrait mode for video) and Photographic Styles that let you create a consistent look in all your photos. Add brighter screens and faster refresh rates, and we're looking at a solid upgrade this year. 
Related: Apple Debuts New iPhone 13: Which iPhone Is Right for You?
2021 iPhones Release Date
All four models will have the same pre-order and availability:

Discover your iPhone's hidden features
Get one daily tip each day (with screenshots and clear instructions) so you can master your iPhone in just one minute a day.
Pre-order: Friday, September 17
Available: Friday, September 24
iPhone 13 Prices
Value for price is a strong features of this release. For the budget models, the starting price is the same as last year but offers double the storage space. The next two tiers also offer double the storage of their 2020 counterparts for only a slight increase in price. The Pro models have kept their pricing structure the same, but now offer a 1 TB storage option.

iPhone 13
$799 or $33.29/month for 128 GB
$899 or $37.45/month for 256 GB
$1,099 or $45.79/month for 512 GB
iPhone 13 mini
$699 or $29.12/month for 128 GB
$749 or $31.20/month for 256 GB
$849 or $35.37/month for 512 GB

iPhone 13 Pro
$999 or $41.62/month for 128 GB
$1,099 or $45.79/month for 256 GB
$1,299 or $54.12/month for 512 GB
$1,499 or $62.45/month for 1 TB
iPhone 13 Pro Max
$1,099 or $45.79/month for 128 GB
$1,199 or $49.95/month for 256 GB
$1,399 or $58.29/month for 512 GB
$1,599 or $66.62/month for 1 TB
The iPhone 13 at a Glance
Both Pro models come with ProMotion, featuring refresh rates up to 120Hz.
The notch is 20 percent smaller
Expanded 5G capabilities
Compatibility with MagSafe accessories and wireless chargers
A15 Bionic chip
Cinematic mode in 1080p at 30 fps
Photographic Styles to create a curated look for photo collection 
Substantial battery life improvement
6X optical zoom & LiDar scanner in Pro models
Maco photography comes to the iPhone 13 Pro Max
The iPhone 13 and iPhone 13 mini come in pink, blue, midnight, starlight, and PRODUCT(RED)
The iPhone 13 Pro and iPhone 13 Pro Max come in sierra blue, silver, gold, and graphite
Camera Upgrades
One of the most interesting things about this year's announcements wasn't that there were exciting new camera features—this is Apple after all—but that two of the shiny new features were available to all four models. Typically, the headlining camera features are reserved for the Pro models, while the budget models get reliable yet less exciting upgrades. But both the new Cinematic mode and Photographic Styles will grace every member of the iPhone 13 line, which begs the question, is it worth going Pro this time around at all? Perhaps. The Telephoto lens is still exclusive to the Pro models, so if you've gotten used to that, you might not want to downgrade. But now, let's take a look at Cinematic mode and Photographic Styles.
Cinematic Mode
Cinematic mode is a new feature that automatically adjusts the focus of your iPhone camera while you are shooting video. Much like the Center Stage feature available on the iPad, it adapts to how many people are in the frame, and can even change focus based on who's talking. Because we all know artificial intelligence (AI) isn't perfect at deeming what should be the focus of a shot (we've all had funny Portrait mode mishaps), Apple also lets users control the depth of field and focus manually, and even edit it after recording the video. Amateurs videographers have the option of making high quality videos now, opening us up to creativity from even more corners of the world. Learn how to use Cinematic mode here!
Photographic Styles
Another feature coming to all four models is Photographic Styles. This basically allows you to set preferences—either customized or one of the four pre-made options from Apple—for things like exposure, contrast, and more. It's more customizeable than a filter and gives photographers the chance to ensure continuity between photos. If you know what you like, why change it, right? This is also beneficial to people trying to curate a consistent image for things like social media or brand building. As with Cinematic mode, you can go back in later and change your look for maximum impact.
Pro Only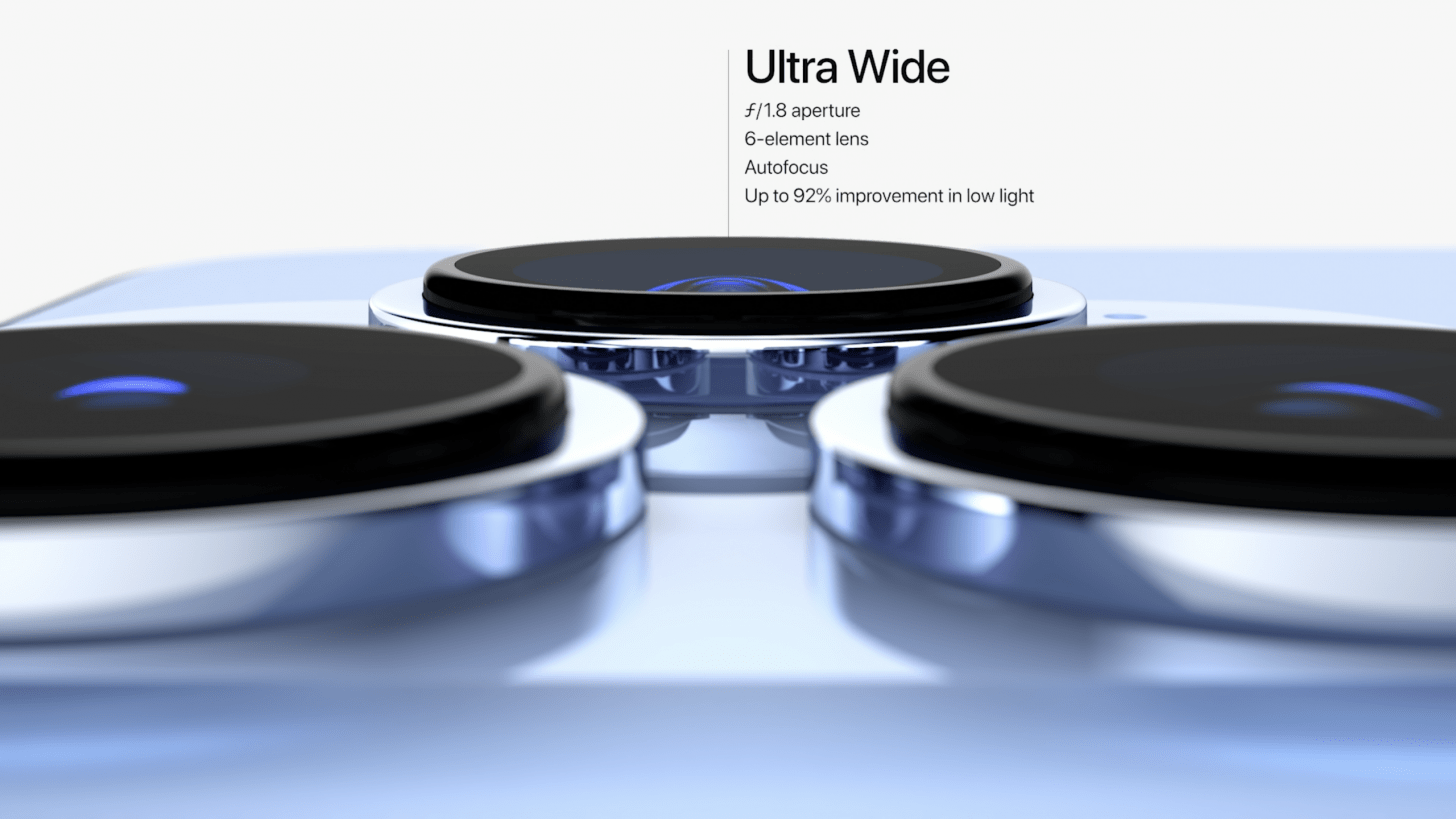 Of course, Apple saved some gems for the Pro models alone. Let's see what upgrades are coming to these heavyweights.
Macro Photography
The iPhone camera changes seem to be all about precision, so it's natural Apple chose to expand the Pro line's macro capabilities. The new macro feature on the Pro line's Ultra Wide camera allows you to take photos of subjects just two centimeters from the camera. I've struggled with macro photography on my iPhone in the past, so this is an exciting development. Smile, tiny bugs! You can also now take slo-mo macro videos, opening us up to a whole new genre of bizarre. 
Expanded Night Mode
Low light situations have always been among the most frustrating for photographers and videographers. The new iPhone 13 Pro models addres this by adjusting the apertures on each of of their three cameras, and offering Night mode on each. This expands what the photographer can do in low-light situations, though glorious moon pictures may still just be a daydream.
ProRes
ProRes is a video format first introduced in Final Cut Pro 6 in 2007. It's a format considered ideal for editing and one that takes it easy on your CPU, allowing your computer to run more smoothly while you're playing around for it. The fact that it's coming to the iPhone 13 Pro and Pro Max can mean big things for videographers who want to use an iPhone as their main way of recording. The files are smaller than uncompressed videos, even at its highest quality, enabling you to take more high quality videos without using up your storage. Though 1 TB will be hard to fill!
Battery Life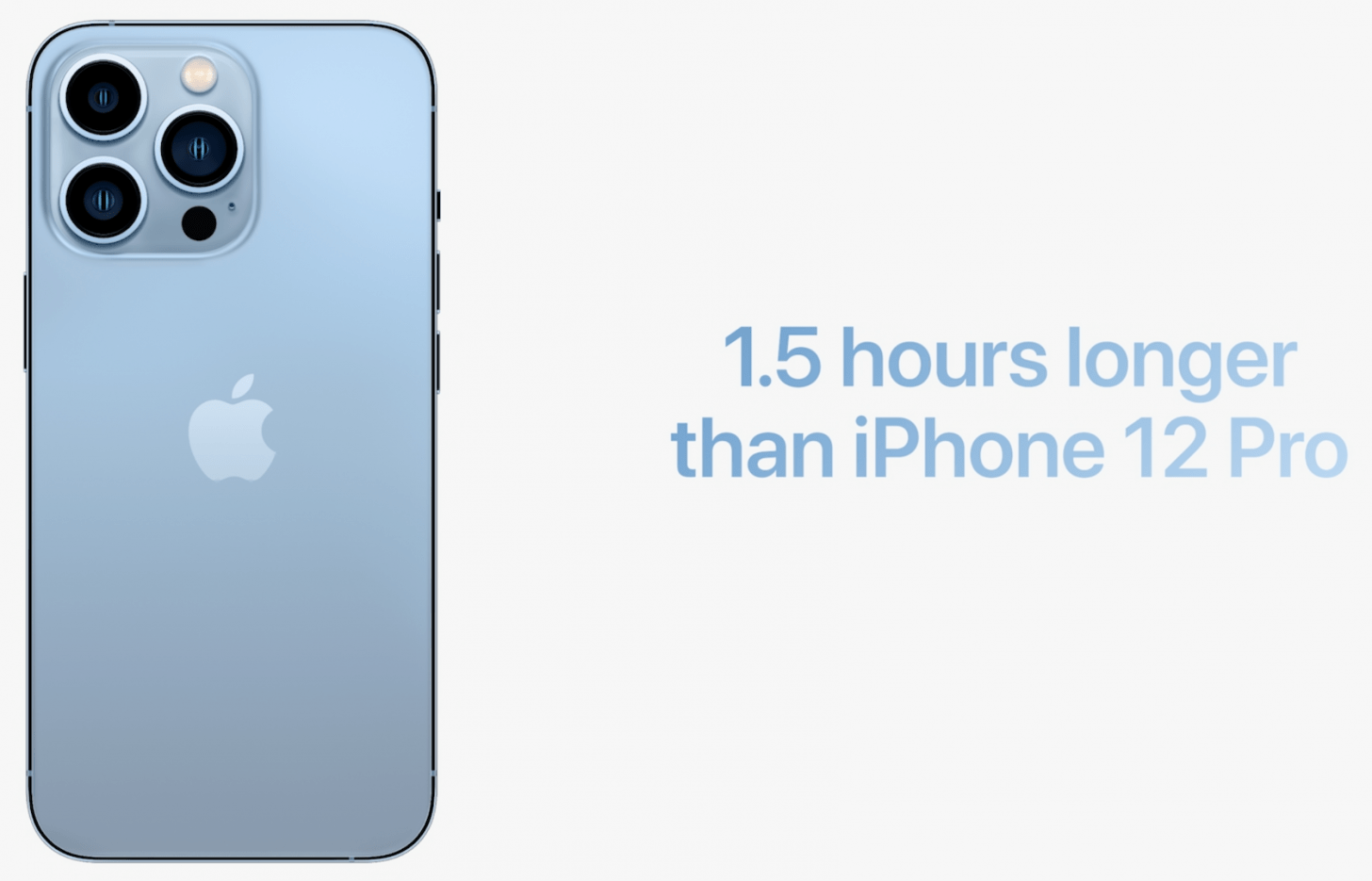 The A15 Bionic chip has battery benefits, too. The new chip, in combination with a larger battery and improved integration of hardware and software, give the iPhone 13 what Apple calls all-day battery life. The iPhone 13 provides "up to two and a half more hours in a day than iPhone 12, and iPhone 13 mini provides up to an hour and a half more in a day than iPhone 12 mini," according to Apple.
The iPhone 13 Pro and Pro Max also offer all-day battery life, and feature improvements of one and a half hours longer in a day than the iPhone 12 Pro, and two and a half hours longer than the iPhone 12 Pro Max. 
A15 Bionic Chip
Last year, Apple included the same A14 Bionic chip in all four of the iPhone 12 line. The A14 Bionic included a 6-core CPU with 2 performance and 4 efficiency cores, a 4-core GPU, and a 16-core Neural Engine. This chip could run an impressive 11 trillion operations per second. 
This year's chip, the A15 Bionic, is included in all four iPhone 13 models but with slightly different features for the Pro models. The base models include an A15 Bionic chip with a 6-core CPU with 2 performance and 4 efficiency cores, a 4-core GPU, and a 16-core Neural Engine. The Pros have an improved A15 Bionic chip. This version of the A15 has a 6-core CPU with 2 performance and 4 efficiency cores, a 5-core GPU, and a 16-core Neural Engine.
Both versions of the chip can process 15.8 trillion operations per second, improving power and efficiency for extended battery life, as well as better graphics and display appearance. The chip also enables faster machine learning capabilities to improve iOS 15 features like Live Text in the Camera app, as well as third-party app experiences. 
ThePro version of the A15 Bionic differs from the standard in just one way; a 5-core GPU vs. a 4-core one. This makes a significant difference, though, and Apple claims it's the "fastest chip ever in a smartphone." This means that the iPhone 13 Pro and Pro Max offer up to 50 percent faster graphics than any other smartphone on the market!
Both versions of the A15 Bionic chip enable increased photo capabilities, which we'll explore in a bit.
New ProMotion Display
We've been hearing rumors about ProMotion coming to the iPhone for some time now, and the iPhone 13 Line has made it a reality. ProMotion display technology means your iPhone's refresh rate is fast, and, therefore, your screen is very responsive. The standard refresh rate means your screen will refresh 60 times a second (60Hz), ProMotion refreshes at a rate of 120 times a second (120Hz), making it twice as fast. It also adjusts according to your use, saving battery life in your downtime. You can also enjoy greater responsiveness in games, leading to a better gaming experience.
In response to Apple's ProMotion announcement, Samsung took to Twitter to state, "We've been refreshing at 120Hz for a while now..." While it is true they've been using a 120Hz refresh rate since March 2020, they don't offer the variable refresh rate, meaning it's either/or with 60Hz and 120Hz, which could really drain your batter if you use the latter.
Body, Durability & Display
The composition and durability of the iPhone 13 line is nearly identical to that of the iPhone 12. Apple introduced the Ceramic Shield display last year and called it "the biggest jump in durability ever on iPhone." The iPhone 13 line features this screen type as well. Apple has also carried over its iPhone 12 choice of aerospace-grade aluminum for base models and surgical-grade stainless steel for the pro versions into the iPhone 13 line. All iPhone 13 versions are water-resistant at a depth of up to 6 meters for up to 30 minutes, the same protection the iPhone 12 line offered. 
A few things that have changed include the rear camera layout for the iPhone 13 and 13 mini, as well as the sensors and lenses on the iPhone 13 Pro and Pro Max cameras. 
Display features between the iPhone 12 and 13 lines remain largely unchanged, except for improvements in Super Retina XDR OLED contrast and brightness. All four of the iPhone 13s offer a 28 percent increase of maximum outdoor brightness, a higher peak brightness for HDR content, and an improved contrast ratio between colors. One more small difference that many may appreciate is a smaller "notch" at the top of the display. The notch is 20 percent smaller on iPhone 13 models than on their iPhone 12 equivalents!
Expanded 5G Network
With this iPhone release, Apple promised an expanded 5G network. They treated us to an array of providers they claim to be working with and promise doubled availability all over the world. As 5G's network was very limited to begin with, we might not be seeing the widespread availability the announcement implied. While we can depend on the 5G network growing over time, though if you're in a rural area, don't hold your breath.
Apple Trade In 
Something to consider when deciding whether or not to purchase a new iPhone 13 is Apple's Trade In program. iPhone owners can exchange their current device for credit toward their next iPhone. The newer your current phone, the more credit you'll get! If your current iPhone is too old to exchange for credit, Apple will recycle it for free.
Here's what you can expect to get for your iPhone if you use Apple Trade In:
iPhone 12 Pro Max - Up to $790
iPhone 12 Pro - Up to $640
iPhone 12 - Up to $530
iPhone 12 mini - Up to $400
iPhone SE (2nd generation) - Up to $170
iPhone 11 Pro Max - Up to $500
iPhone 11 Pro - Up to $450
iPhone 11Up to $340
iPhone XS Max - Up to $320
iPhone XS - Up to $240
iPhone XR - Up to $230
iPhone X - Up to $200
iPhone 8 Plus - Up to $180
iPhone 8 - Up to $110
iPhone 7 Plus - Up to $110
iPhone 7 - Up to $50
iPhone 6s Plus - Up to $60
iPhone 6s - Up to $30
This article was co-written by Leanne Hays.