Apple added ports and ditched the Touch Bar on the 2021 MacBook Pros, while the redesigned AirPods 3 feature shorter stems and water resistance.
By

Sarah Kingsbury
Mon, 10/18/2021
Apple introduced new MacBook Pros at its October 18 'Unleashed' event, with the option to purchase with the M1 Pro or M1 Max chip. While the latest iterations of the M1 chip are impressive, Mac fans will probably be just as excited about all the new ports, the 1080P FaceTime camera, mechanical function keys in place of the Touch Bar, and the return of MagSafe to MacBooks. While the MacBook Pro was the main event, Apple also unveiled third-generation AirPods, additional color options for the HomePod mini, and a voice-only Apple Music subscription tier. Here's everything you need to know about the latest MacBooks, AirPods, and HomePod minis, including when you can get your hands on them!
MacBook Pro: Price, Availability, New M1 Chips, Notch, & More Ports
Availability: Pre-order: October 18. Available in stores: October 26.
Price: 14-inch starts at $1,999. 16-inch starts at $2,499.
The new MacBook Pro comes in two sizes and with two possible chips, the brand new M1 Pro and M1 Max! While Apple says these chips will offer better performance and lower power use, the most notable changes are on the outside, including a notch in the display, more ports, and a MagSafe charger. The new MacBook Pros also have a larger Liquid Retina XDR thanks to smaller bezels and a camera-housing notch similar to the newer iPhone models. 
Both the 14-inch and 16-inch MacBook Pros have three Thunderbolt 4 ports, an HDMI port, an SDXC card slot, and a MagSafe charging port. Although users can still charge via Thunderbolt 4 port, Apple has brought back the popular fast-charging MagSafe 3 port. This lets you charge up to 50 percent in just half an hour. Speaking of battery, according to Apple, the 14-inch MacBook Pro boasts 17 hours of video playback, and the 16-inch offers 21 hours. 
The new MacBook Pros have 100 percent recycled aluminum casing available in Silver or Space Gray. Despite being powerful on the inside, the MacBooks are compact in size (though actually thicker and heavier than their predecessors). The 14-inch MacBook Pro has a 14.2-inch display, is 15.5 mm thick, and weighs 3.5 pounds. The 16-inch MacBook Pro is slightly bigger and heavier, as expected. It has a 16.2-inch display, is 16.8 mm thick, and weighs 4.7 pounds. Neither laptop has a Touch Bar; instead featuring a full-sized row of function keys. 
On the inside, these MacBook Pros offer many new performance-enhancing features. These include better built-in speakers and microphones, a higher-quality 1080P camera (finally) that captures better low-light videos, a retina display that shows one million colors, and a CPU and unified memory perfect for video editing and other heavy-duty computer tasks. Plus, ProMotion offers refresh rates of 120Hz per second, making everything you do on your Mac faster. Finally, the improved display makes Dark Mode look even better while hiding the notch if you don't like how it looks.
MacOS Monterey Coming October 25
The long-awaited macOS Monterey software will finally be available for download starting on October 25, the day before the new MacBooks land in stores. Significant software updates for the iPhone, iPad, and Apple Watch are expected around the same time. Check out our macOS Monterey article to learn which Mac features you'll have access to right away and which ones will be delayed.
M1 Pro & M1 Max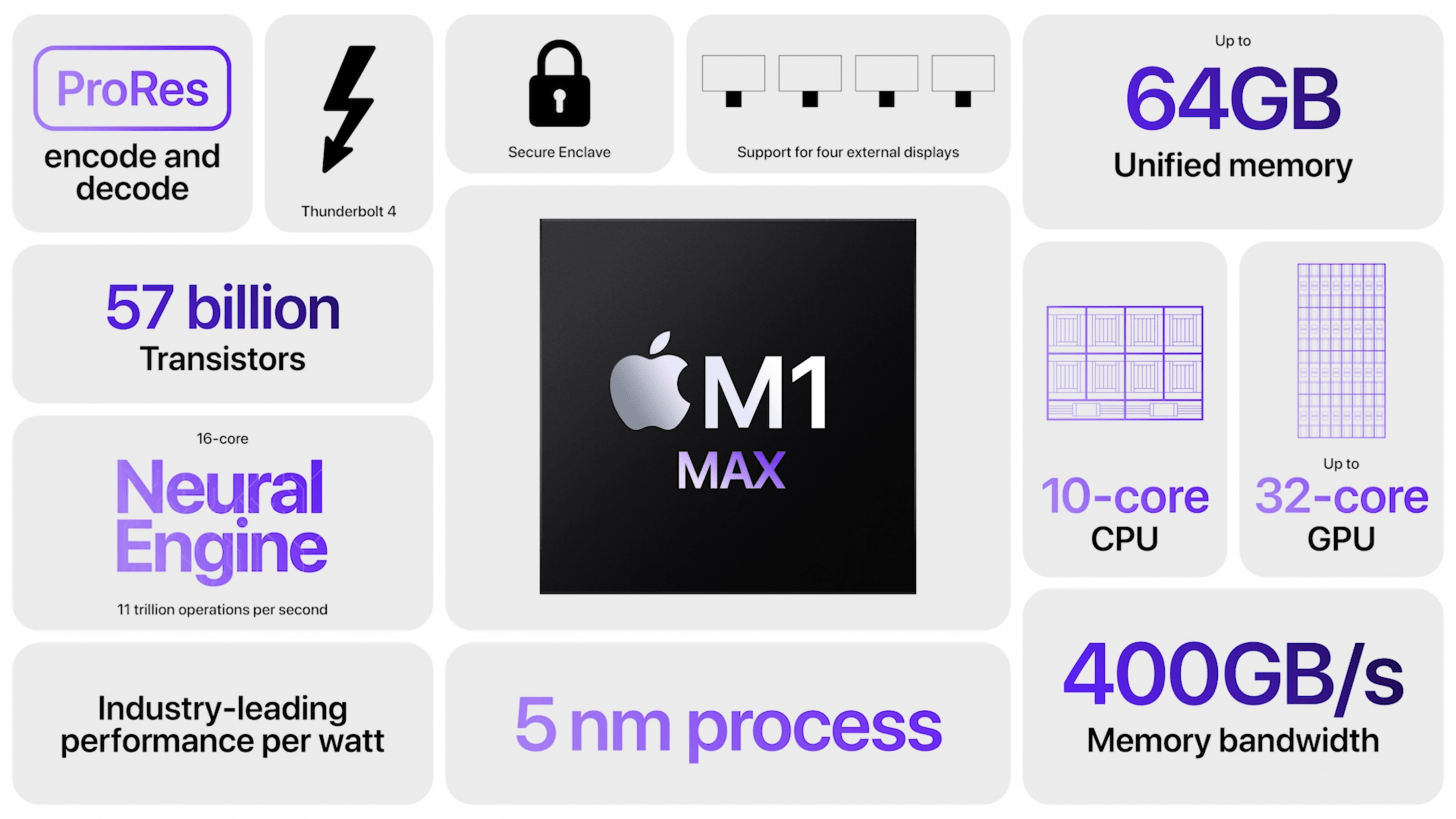 Perhaps the most significant part of the October announcement was the new generation of Apple silicon chips: the M1 Pro and the M1 Max. Both feature System-on-Chip (SoC) architecture, meaning all the different processing parts of a computer are included on one chip, leading to faster processing, more efficiency, and reduced space. Apple claims this is the first time SoC architecture has been introduced to Pro systems, but this appears to be false, as SoC architecture was introduced with the M1 chip, which was included in the 2020 13-inch MacBook Pro. Still, these new chips are faster and stronger than the original M1. Both feature many more transistors, the fundamental building blocks of computing, than the original M1 chip (the M1 Pro has twice as many, the M1 Max has three times as many), which means good things for processing power. They also offer up to 32 GB (Pro) and 64 GB (Max) of unified memory, compared with the 16 GB limit of unified memory on the M1. Apple boasts about the potential for graphics performance with these higher memory capacities; but they compare it to a processor with 16 GB of graphics memory, which isn't a one-to-one comparison. Since graphics and CPU share the memory in the M1 chip line, it does leave more potential for graphics processing. Still, the increased memory of the M1 chip is nothing to sneeze at in the least, and the efficiency of SoC architecture does tend to mean an overall performance increase. The new chips also feature new ProRes accelerators, offering new levels of support for video processing. More and more, the MacBook Pro line seems to be targeting video makers.
Should You Buy the New MacBook Pro or Wait for an Updated MacBook Air?
The new MacBook Pro comes loaded with improvements and updates that make it "the world's best pro notebook," according to Greg Joswiak, Apple's senior vice president of worldwide marketing. But those high-end features come at a hefty price; a 2021 MacBook Pro will set you back anywhere from $1,999 to $6,600. Do the features warrant the price? Or, is it a better idea to wait for the refreshed MacBook Air that's sure to arrive in a year or less?
The 2021 MacBook Pro is powered by either the M1 Pro or M1 Max chip, upgrades from last year's first-gen proprietary silicon chip, the M1. The 2020 MacBook Air is powered by the M1 chip, so we'll doubtless see an upgrade to the M1 chip in the 2022 Air.
Beyond these powerful upgrades, the latest MacBook Pro includes convenient features sure to please Apple's most demanding customers. The function keys are back (in place of the Touch Bar), and so is the MagSafe charging cable connector. A major gain for those of us tired of hauling around a variety of adapters (everyone) is the reintroduction of a variety of ports, including three Thunderbolt 4 ports, an HDMI port, an SDXC card slot, and a MagSafe 3 port. What's more, the camera, sound system, mic array, and display are all upgraded. But we can't help wondering, while lower in cost, how many of these features can we expect to find in the 2022 MacBook Air?
Water-Resistant AirPods 3 with Pro Style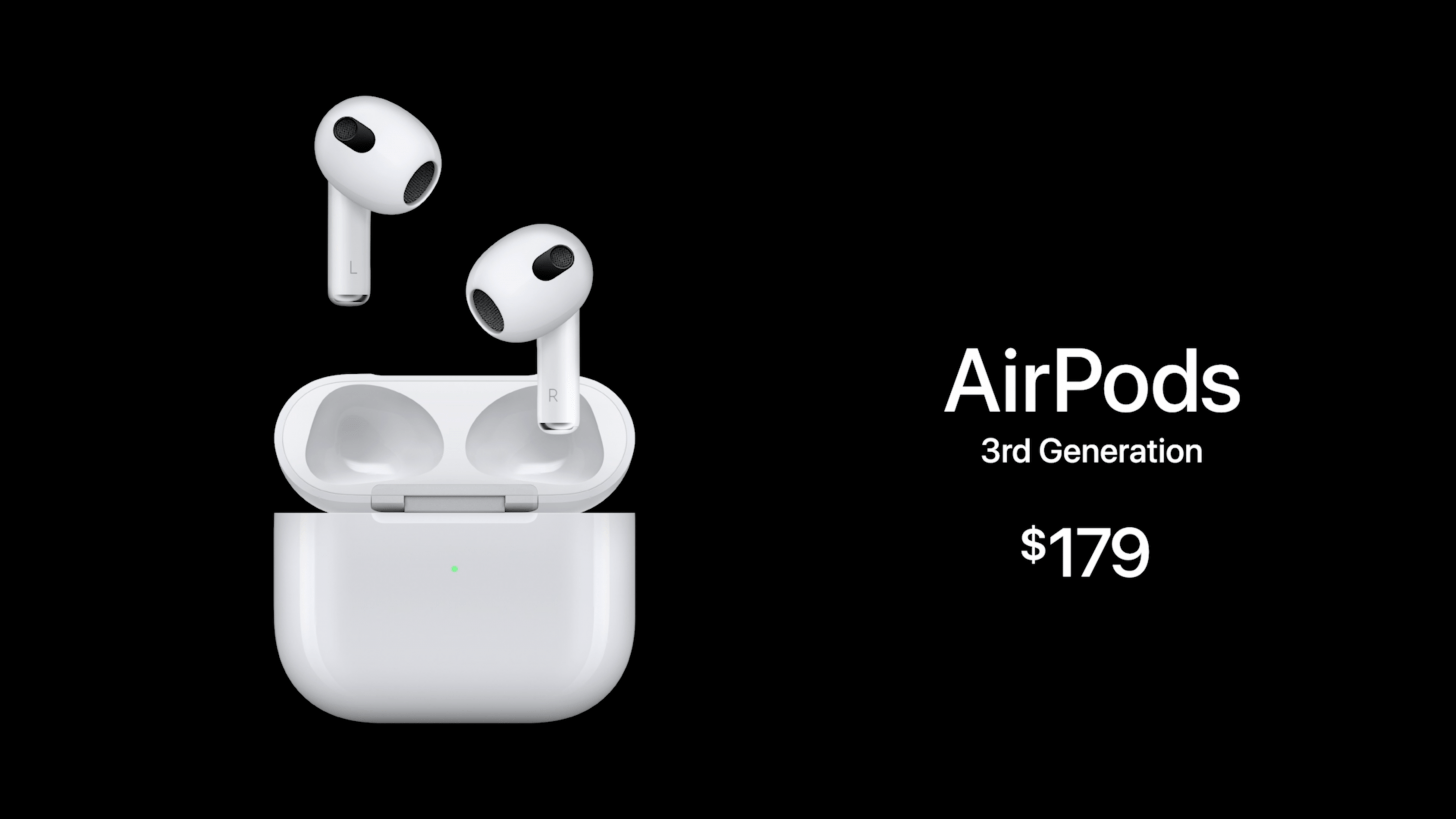 Availability: Pre-order October 18, in stores October 26
Price: $179
The third generation of Apple AirPods is here. The new AirPods got a redesign with shorter stems and more angled earpieces, giving them a look that more closely resembles the AirPods Pro. Also, like AirPods Pro, the third-generation AirPods come equipped with spatial audio, featuring Dolby Atmos and Adaptive EQ. To better serve those who love to work out with their AirPods, AirPods 3 are water- and sweat-resistant, and they come with a force sensor to enable AirPods Pro-style touch controls for listening to music and taking phone calls. Another notable improvement is the increased battery life: now, users can enjoy up to six hours of listening from a single charge (up from four), and the charging case can provide up to 30 hours of total listening time. 
Colorful HomePod Minis & a New Apple Music Subscription Tier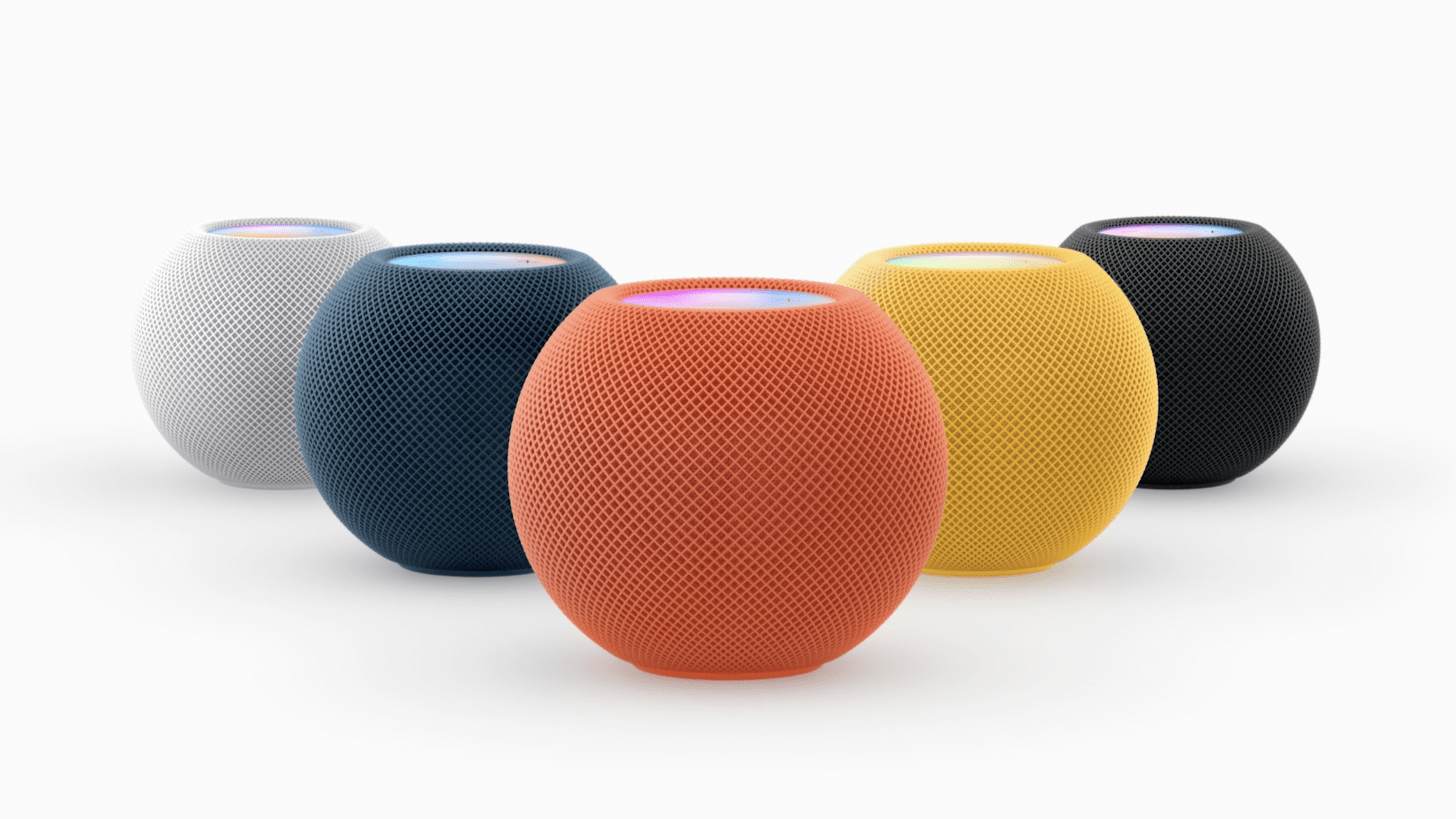 Apple Music Voice Availability: Later this fall.
Apple Music Voice Price: $4.99 per month.
Apple Music now offers a monthly subscription option called the Voice Plan. For $4.99 a month, you can access Apple's curated playlists and genre mixes from their extensive library of over 90 million songs. The catch? You can only access these playlists through Siri voice commands, and you can't request specific songs or artists. The inability to play songs on demand (such as that favorite T-Swift album) significantly lowers the value of the plan from the regular $9.99 monthly subscription, which allows you to play any song, playlist, and radio show included in Apple's library. The Voice Plan is compatible with any Siri-enabled device, including AirPods, CarPlay, iPhone, iPad, Apple Watch, Apple TV, Mac, and the HomePod mini (which will come in three new colors: yellow, orange, and blue starting in November). In the end, the Apple Music Voice Plan seems geared toward two groups of users: HomePod mini owners who are required to operate Apple Music with Siri and those who simply want an ad-free audio experience for ambient background music.