By

Dig Om
Sat, 12/03/2016
I have seen the future of online mobile gaming, and it is MOBA. Multiplayer Online Battle Arena is a term familiar to any core, hardcore, or professional gamer. If it's not already a common term in your vocabulary, popular iOS MOBA titles like Vainglory and Ace of Arenas plan to change that, as they help usher in a new renaissance of mobile gaming.
Have you played any of the amazing MOBA games available in the iOS App Store? Well you're certainly not alone if you haven't spent time playing any of these capture-the-flag-style, real-time battles. As popular as they are, many people are not even aware of the massive popularity of the genre and the high-stakes, professional-level gaming environment that surrounds breakout PC hits like DotA 2 and League of Legends. MOBA are the next "big thing," and we are already seeing mobile titles like Vainglory competing on the world stage for the attention, the fans, and the massive prize awards that its PC predecessors currently enjoy. Some of these games have competitions that play out on the international stage and attract millions of spectators to events that can be viewed live at major sporting arenas, or online at sites like Amazon's video game streaming service, Twitch. There are potentially hundreds of thousands of dollars to be won on the professional circuit for those who are extremely proficient at MOBA games, and this emerging breed of action-packed iOS MOBA games can definitely compete with the best of the PC titles.
This genre is really taking off on mobile platforms, as evidenced by the fact that Apple called upon the popular iOS MOBA, Vainglory, to show off its newest (at the time) iPhone's Metal software. Apple obviously took into consideration the staggering numbers of spectators who watch live eSports (MOBA in particular) on sites like Twitch, Mobcrush, Kamcord, and ESPN. Without further ado, the following are our top seven mobile MOBA games.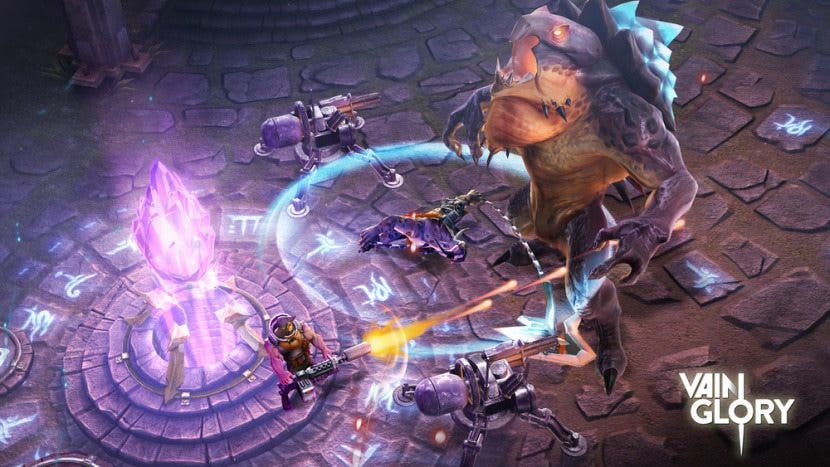 Vainglory is by far my favorite of the MOBA featured here. This game has been doing extremely well, riding on the initial momentum of Apple's iPhone 6 introductions. It's a relatively new game, barely over two years old, but in a relatively short period of time Vainglory has managed to amass a strong following. It's a mobile-only MOBA that has been making huge waves within the international competitive gaming (eSport) community, and from the awesome gameplay footage below you can see that it's a MOBA to be reckoned with.
Vainglory is perfectly poised to capture the hearts and minds of MOBA fans worldwide - especially those migrating to the game from PC MOBA - and with good reason. Vainglory effectively does away with the argument that iOS MOBA games are somehow not as good as PC or console games. Along with its balanced and intuitive gameplay and phenomenal and highly detailed graphics, Vainglory also features touchscreen-friendly controls to support its capture-the-flag gameplay. This game is the complete package and I expect to hear many more great things about it over the years to come.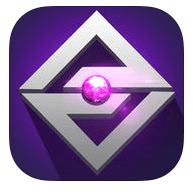 I love the gameplay and user interface of this game. The graphics aren't of the same caliber as Vainglory's (Vainglory really has set the bar high) and it doesn't have the same level of a global competitive scene as Vainglory, but it's still one of my favorite iOS MOBAs. It features fast-paced, head-to-head battles and innovative controls for clear target distinction. It also has an extremely helpful shop system for in-game power ups and an uncluttered but complex lane and jungle system, allowing for lots of strategic battles and team fights.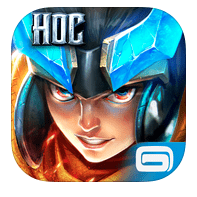 Heroes of Order and Chaos (HOC as it's often referred to) has sharp and vibrant graphics; with tree branches that sway and water that ripples and heroes that are colorful and intriguing. It's a game that, in my opinion, favors the pay-to-play approach of freemium games, but not so much that it becomes unplayable like some other freemium games with imposed time outs or other pay-to-play tactics. I would have to say that of the the MOBA featured here, HOC has the most active competitive scene built up around it, second only to Vainglory. If you are interested in being professionally competitive with a mobile game, HOC would be a good one to check out. HOC also has full Twitch integration, allowing users to directly stream their video gameplay directly from their iOS devices.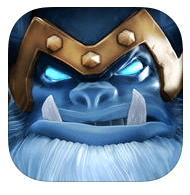 If you are looking for a great iOS MOBA that can be enjoyed in short bursts, then this is the one for you. CoC has built its game with the keen awareness that many mobile gamers appreciate a condensed, quick-fix game that can be played on the bus, on a coffee break, between chores, etc. Its matches are about five minutes in duration and feature a streamlined mobile MOBA experience that delivers exciting, live gameplay in a condensed, mobile-friendly format.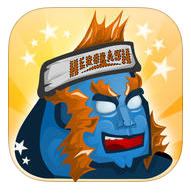 This iOS MOBA strikes me as being best suited for a younger audience or fans of a more lighthearted style of MOBA. Tha battles are fast-paced and short in duration. The graphics are cartoonish, busy, and campy—perfect for the youngest and newest of mobile MOBA fans. You can play in solo, PvP, or co-op mode. If I had one main critique of Hero Bash, it would be that it literally just throws you into the action, with little in the way of tutorial. Fortunately it's a fairly simply and straightforward game, geared toward younger gamers so that's not a huge problem; however, if you are looking for a beefier, more substantial mobile MOBA, I'd suggest a game more along the lines of Vainglory or Heroes of Order and Chaos.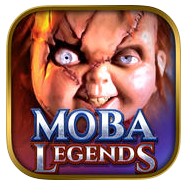 MOBA Legends brings a uniquely hyrbrid gaming experience to iOS, with both live action, multiplayer battles as well as single player, dungeon crawler-esque campaigns. It has several maps to eventually choose from, and offers contests  for teams of up to 5 combatants per team. It's graphics didn't impress me as much as some of the other titles on this list, and its controls weren't as snappy as Vainglory's but it's worth taking for a test drive for a change of pace and to see if it resonates with you.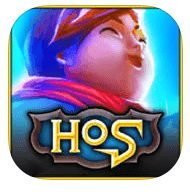 This is perhaps my least favorite of the popular iOS MOBA. For starters, its App Store description is a somewhat cheesy rip off of click-bait keywords borrowing from just about every other popular iOS MOBA. The gameplay itself isn't bad, with decent graphics and gameplay, although playing the game was a bit confusing at first, and not as explanatory as other iOS MOBA.