The rumblings are that next Apple event will be March 2021, and we may finally see AirTags. Here are possible dates and the new Apple products we might be seeing.
By

Amy Spitzfaden–Both
Updated 03/10/2021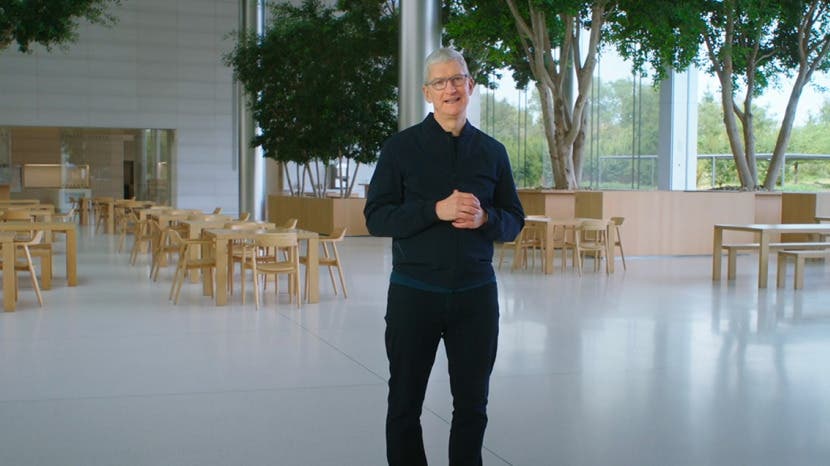 When is the next Apple keynote? Sources say it could be as soon as March. We've been tracking rumors of the first Apple event of 2021, and it looks like we could be seeing AirTags, AirPods 3, a new iPad Pro, the iPad mini 6, Apple TV 6, a new iMac design, and AirPods Pro. So let's dive into these possibilities and see what, if anything, we're looking at for a March 2021 Apple event.
When Is the First Apple Event of 2021?
As of now, nothing has been confirmed, but Apple leaker Jon Prosser said back in October that the next Apple event after the one in November would be March 16, 2021. However, in that same tweet he predicted the November event would be November 17, and it ended up happening November 10. However, Mark Gurman of Bloomberg tweeted there won't be a March 16 event. While this doesn't rule out there will be a March event at all (or even the March 16 event, entirely), it is the first significant source to cast doubt on these rumors.
A Possible AirTags Debut
AirTags is the buzzword around all the March event rumors, probably because Jon Prosser said the March event would center around them in his October 2020 prediction, and doubled down on that claim just a few days ago. AirTags are supposedly small devices you can attach to your valuables that enable you to track them via BlueTooth through your Find My app. Apple has yet to officially confirm the existence of AirTags, but a video posted in the spring of 2020 on the Apple Support YouTube channel showed a screen with AirTags listed under the Find My section in Settings. AirTags are far from groundbreaking technology, with the company Tile already offering similar devices and Samsung's SmartTag newly available, so it's a little puzzling to see Apple dragging its feet on this. iOS 14 introduced an expanded Find My network, allowing supported non-Apple devices to participate in the location services, but AirTags would presumably offer a much wider range of devices—even perhaps non-electronic ones—to track.
Master your iPhone in one minute a day:
Sign up to iPhone Life's Tip of the Day Newsletter and we'll send you a tip each day to save time and get the most out of your iPhone or iPad.
New iPads
The 2021 iPad Pro
Going beyond Jon Prosser's tepid "As far as I know" tweet about if there will be a 2021 iPad Pro announced in March, Apple analysit Ming-Chi Kuo seems confident we'll be seeing the new iPad Pro announcement soon. Rumors seem to heavily favor a 12.9-inch iPad Pro with a mini LED display and maybe even a 5G chip, but other rumors suggest an 11-inch model may also be in the works. Apple did announce the 2020 iPad Pro in March of last year, so there is precedent here.
A New Budget iPad
Rumors of a new low-cost iPad and a new iPad mini began circulating last spring when analyst Ming-Chi Kuo mentioned Apple was working on both. We didn't see either of them in any of the 2020 announcements, which means this could be the year we see one or both. The low-cost iPad is rumored to have a 10.2-inch display and be thinner than the current basic iPad model, perhaps more along the lines of the discontinued 3rd-generation iPad Air.
A Bigger iPad mini
The Japanese site Mac Otakara, which seems to have information sourced from Apple's supply chain, gives March as a release date for the 6th generation iPad mini, and claims it will be bigger than its predecessor, sporting an 8.4-inch display instead of a 7.9-inch. A new render by Pigtou shows an all-screen front that includes in-display Touch ID, and notibly smaller bezels. If even some of these rumors are true, 2021 could be a big year for the iPad mini.
A Big Year for AirPods?
Pumped-up AirPods 3
Last year, Ming-Chi Kuo promised us the next generation of AirPods by summer 2021. The design is rumored to be similar to the AirPods Pro, but lacking Active Noise Cancellation, which makes room for a lower price point. Other design features are still hush-hush, but in the theme of a similar Pro design but with a lower price, some believe the new release will be called AirPods Pro Lite.
More Compact AirPods Pro
Not to be outdone by its potential new younger sibling, the AirPods Pro 2 is running through the rumor mill. Bloomberg claims the AirPods Pro 2 will have a more compact design than its predecessor, with Apple removing the stick at the bottom, leaving only what goes in your ear. There's also talk of a longer battery life and a lower price point, both of which sound good, but raises the question of overlap with the new AirPods 3 design. It seems unlikely both of these models will make their debut without some serious differences, so we'll have to see what, if anything, comes down the line this season. 
An M-Series iMac
Related: Should You Buy a 2020 Mac? Apple's New M1 Processor Is a Gamble
Ever since the new Apple Silicon chip was announced last year, it's only been a matter of time until we see them in the iMac. Some were expecting them as early as late 2020, so it makes sense all eyes are on the apocryphal March 2021 event. We're also due for some big design changes; so in addition to the new processors, we may be looking at thinner bezels, a flat back, and 23- to 24-inch sizes. There are also rumors about MagSafe chargers staging a comeback. While we're not exactly sure when these new iMacs will be available, we're ready for them and we can't wait.
Apple TV
One of the things we were most anticipating during the 2020 announcements was the new Apple TV. Each time, we were greeted with silence. Could we finally be closing in on the new Apple TV announcement? It's impossible to know for sure, but let's just say we'll be on the lookout. The new Apple One subscription service does make it seem like this would be a logical time to release a new Apple TV box, and Apple leakers have been making noises that the new Apple TV box would bring big changes to the gaming experience. But whether or not this is finally the time for this long-awaited upgrade is yet to be seen.
iPhone SE
We got an announcement of the 2020 iPhone SE last spring, so it's a natural course of thought that we might be seeing the new model this spring. Or, if Apple follows their set course for SE releases, we could be waiting until 2024. Mac Otakara claims Chinese suppliers have indicated an April 2021 release date for the iPhone SE 3, while Macworld is expecting the launch to be in the fall, alongside the iPhone 13 line. With such doubt as to when we'll see the iPhone SE 3, it's hard to predict any of its features. Sure, we'll likely be seeing the new A13 chip and 5G capabilities, but a phone released this year will be pretty different than one held off for another three years. The release of the iPhone 12 mini might disincentive Apple to release another SE so soon, but at this point it's anyone's guess. Stay tuned!
Follow us for more info on the next Apple event date of 2021. We'll post all Apple event dates of 2021 on here as we learn them. We'll also post the Apple event times and how to watch Apple events. What are you most excited for this year? Let us know!