Don't miss a single detail from the Apple announcement on April 20! Follow our coverage on Facebook and the iPhone Life Podcast
By

Elisabeth Garry
Thu, 04/15/2021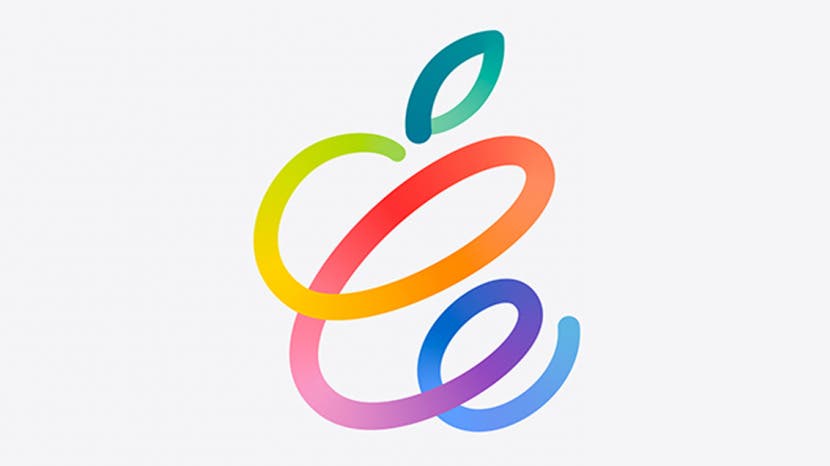 Apple will hold its spring event on April 20, and we'll get a chance to see what new goodies Tim Cook and company have cooking for us. Will the existence of the elusive AirTags finally be confirmed? Will we get a 2021 iPad Pro and one or more new low-cost iPads? A new generation of AirPods? What about an M1 iMac or new Apple TV? Our editorial team will be watching the Apple event live stream, and we'll host a conversation in our private Facebook group as the event happens; you're invited to join in, ask questions, and share your opinions. We'll record a special podcast episode immediately after the announcement, where we'll discuss everything just announced. Below we'll cover how to be a part of our event coverage. 
During the Spring Announcement
Join us in the private iPhone Life Facebook group during the Apple event livestream on April 20 at 10 a.m. PDT. We'll share our reactions, ask and answer questions, make jokes at Apple's expense, and interact with our readers throughout the event. If you're not already a member of our Facebook group, make sure to sign up before the keynote so we have time to add you to the group.
After the Apple Announcement
After the announcement ends, we'll record a special podcast episode, where our Editor in Chief Donna Cleveland and CEO and Publisher David Averbach will unpack everything Apple just unveiled. If you want to get up to speed on all the rumors before the April event, subscribe to the iPhone Life Podcast and check out our recent episodes, in which David and Donna discuss all the Apple rumors circulating.
Whether via our Facebook group, our follow-up podcast, or both, we look forward to having you join our conversation on April 20 during and after the Apple spring event