By

Olena Kagui
Updated 11/07/2023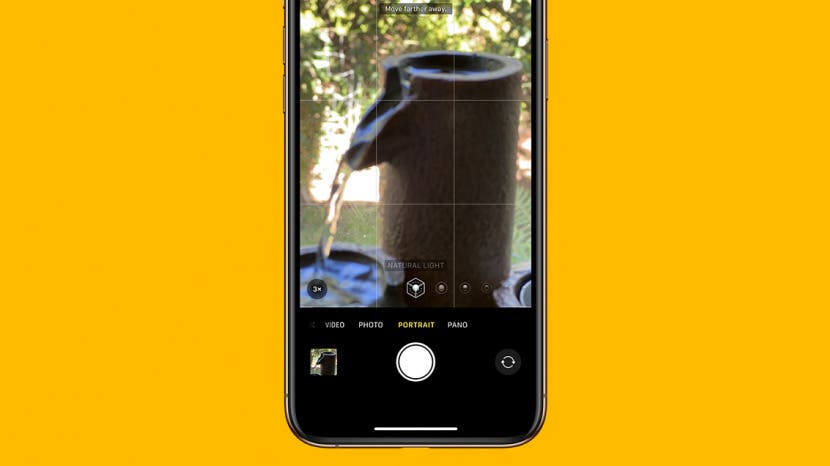 The iPhone 13 Pro and iPhone 13 Pro Max have some of the best smartphone cameras on the market. Despite the impressive features, many users are experiencing problems with their new iPhone cameras. One common issue is that photos taken in Portrait mode are too zoomed in. This is easy to fix!
What's in This Article:
How to Zoom Out of iPhone 13 Pro Portrait Mode
If you open your camera and Portrait mode shows 3x zoom, you might think that your iPhone is stuck on zoom. You cannot pinch your fingers while in Portrait mode to zoom in and out. Instead:
Open Camera.


 
Select Portrait.


 

In the corner near the shutter, tap 3x.


 
Now you will be shooting at 1x zoom.


It's possible that with upcoming iOS updates, the Camera app will be updated and the Portrait mode settings will return to default like they do in Photo and Video modes. Luckily, it is easy to switch back and forth between 1x and 3x zoom.

Discover your iPhone's hidden features
Get a daily tip (with screenshots and clear instructions) so you can master your iPhone in just one minute a day.
Pro Tip: Curious what 3x zoom means? It doesn't necessarily mean that the image is magnified three times as many may think. 3x zoom means that the longest focal length is three times the shortest. Here's what the difference between 1x zoom and 3x zoom looks like on an iPhone 13 Pro Max in Portrait Mode:
For more iPhone tips, such as how to prevent shaking or blurry photos on your iPhone 13 Pro and Pro Max, sign up for our free Tip of the Day newsletter.
iPhone 13 Pro Portrait Mode Cameras Explained
When you take a photo on your iPhone 13 Pro or Pro Max, you can change the zoom, exposure, set a timer, and make other changes every time you take a photo. Once you exit the app, most camera modes return to their default settings, including 1x zoom. Portrait mode, on the other hand, returns to the last used zoom setting. This means that if you use 3x zoom then close the Camera app, it will still be extremely zoomed-in when you open it again.
The only two zoom options for Portrait mode on iPhone 13 Pro and iPhone 13 Pro Max are 1x and 3x. This is because the iPhone 13 has three lenses; each lens only offers one optical zoom level. These are 0.5x, 1x, and 3x zoom, and 0.5x cannot be used to take portrait photos because Portrait mode focuses on the subject, generally a person, and blurs the background with a simulated Bokeh blur. 
Most iPhones don't offer any zoom options for Portrait mode because they only have one lens that can take quality portrait photos. The iPhone 12 Pro has 1x and 2x zoom options, and the iPhone 13 Pro Max has 1x and 2.5 zoom options. If you upgraded from one of these phones, it is understandable that a jump between 1x and 3x zoom seems excessive, but it works great once you get accustomed to it.
When you take photos in Photo mode on iPhone 13 Pro and Pro Max, you can pinch your fingers to zoom anywhere from 0.5x to 15x. However, your image quality is lower because it is no longer optical zoom when you aren't shooting using the pre-set 0.5x, 1x, or 3x options. Even 1.1x or 2.5x zoom on iPhone 13 Pro and Pro Max will use digital zoom. While digital camera magnification is an excellent tool, it lowers megapixels to enlarge the area of an image. It still looks good when done right, but pictures taken using optical zoom look significantly better. 
It can be frustrating to get used to all the new features on your iPhone 13, especially since Apple is misleading about the iPhone camera zoom and doesn't use precise mm measurements despite comparing the iPhone 13 Pro Max camera to a DSLR. But don't be too quick to give up and go back to your old iPhone. This new phone has a fantastic camera if you know how to use it. Also, check this out to get tips on how to zoom in while in regular Photo mode on iPhone 11 and newer models. You can also learn the difference between optical zoom and digital zoom.