By

Olena Kagui
Updated 06/30/2022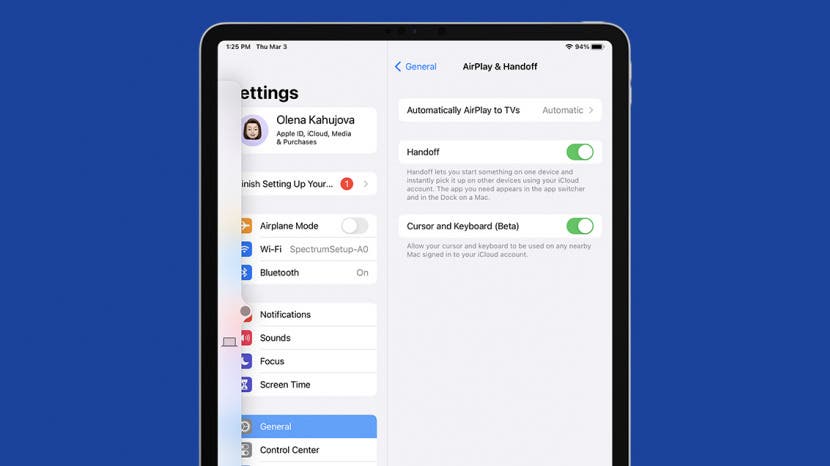 Apple announced Universal Control back in June 2021. Users had expected to start using it once macOS Monterey was released later that year, but the feature was delayed. Finally, Apple released the official software updates for your iPad and Mac that let you use Universal Control. Like many new features, Universal Control doesn't always work properly. Here's how to troubleshoot Universal control.
Universal Control Not Working: Troubleshooting Tips
Before we dive into some basic troubleshooting tips, it's important to note that Universal Control is only available on beta software at the moment, which means it is in its testing stage. We can't expect it to work perfectly off the bat, but some common issues are easy to fix. You should also make sure that you have devices that are compatible with Universal Control.
Also, it's essential to keep in mind that Mac's multitouch gestures may not work on an iPad, for example, Mission Control (the F3 button.) It can take a while to get comfortable using a trackpad or mouse on your iPad. If a gesture doesn't work, it might not be an error at all.

Discover your iPhone's hidden features
Get one daily tip each day (with screenshots and clear instructions) so you can master your iPhone in just one minute a day.
If you can't get Universal Control to work, it is vital to double-check your settings.
If your settings seem to be correctly enabled, try opening and closing your Mac's Control Center by clicking on the Control Center icon in your Menu Bar. 
This works for me anytime I have issues reconnecting to a recently controlled device. If you have trouble initially, try toggling Handoff off and back on again on your iPad:
Open Settings on your iPad.


Tap General.



Select AirPlay & Handoff.


Toggle Cursor and Keyboard off and back on again.


It should work immediately! If not, it is always a good idea to restart your devices and check for any software updates. You can also try turning WiFi and Bluetooth off, then back on again. However, Apple's next software update may be your only hope.
Hopefully these troubleshooting tips fixed your Universal Control troubles. Now that all is working as it should, learn how to customize Universal Control and add display settings to your Mac's Menu Bar. If you get sick of it and want to turn Universal Control off, read this. Don't forget to listen to our Why We're Wild for Universal Control podcast episode.