By

Olena Kagui
Tue, 03/15/2022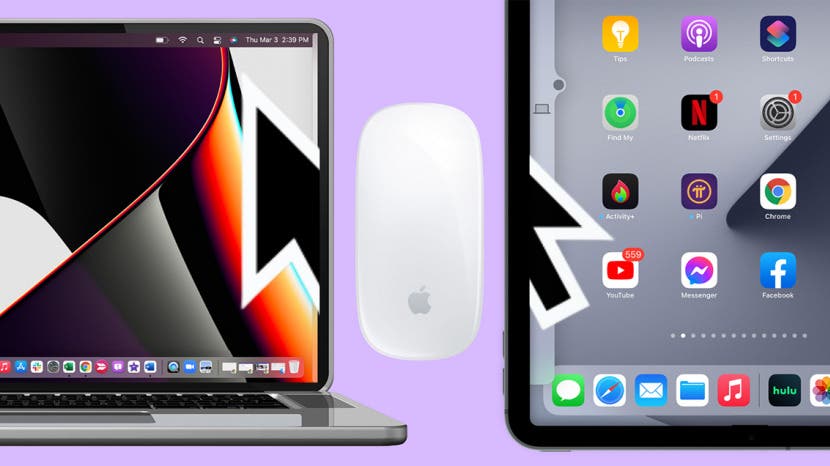 Apple announced Universal Control, a feature that lets you control other Macs or iPad with your Mac, back in June 2021. Users had expected to start using it once macOS Monterey was released later that year, but the feature was delayed. However, Apple finally just released the official software updates for your iPad and Mac that let you use Universal Control. I will tell you how to enable it, explain how it works, and cover practical ways to use it!
What's in This Guide:
What Is Universal Control
Universal Control is a macOS feature that lets you use your Mac to control another Mac or iPad. This means that the Mac's mouse, trackpad, and keyboard can be used on the other devices. You can also drag files between up to three devices that are connected via Universal Control. This eliminates the need for other forms of file sharing, including AirDrop or connecting the devices via cables.
Universal Control is an excellent tool for multitaskers and those who want a clearer workspace while using multiple Apple devices simultaneously. For example, you'll only need one set of keyboard and mouse or trackpad for three devices. Since Universal Control is compatible with third-party accessories, you can use your favorite ergonomic keyboard connected to your controlling Mac to navigate other Macs and iPads. Find out which devices are compatible with Universal Control here.

Discover your iPhone's hidden features
Get a daily tip (with screenshots and clear instructions) so you can master your iPhone in just one minute a day.
iPad & Mac Universal Control Settings Checklist
Before you can start using Universal Control, you need to double-check that the right settings are enabled. Make sure that:
You have the latest versions of iPadOS and macOS installed on both devices. 
Both devices are signed in to the same Apple ID. You can check by selecting your name in the Settings app and confirming that the email addresses match.
Two-factor authentication is enabled. Follow these steps to do so on an iPad. On a Mac, you can enable this in the Password & Security section within Apple ID in Settings.
WiFi and Bluetooth are on. You can check these in the Control Center of your Mac and iPad.
Handoff is enabled for wireless use. You can check the box at the bottom of your Mac's General settings to do this. On an iPad, you can toggle it on in the AirPlay & Handoff section of the General settings.
The Mac and iPad are not sharing cellular and/or internet connections, including tethering.
The devices are within 30 feet of each other. However, you'll probably want them a lot closer to actually see what you are doing.
If you are connected via USB cable, the Mac must be trusted on the iPad. You can do this by selecting Trust this Device when you initially connect them.
Once all these settings are correctly enabled, you are ready to start using Universal Control. The next section will teach you how.
How to Use Universal Control on Mac
Once you confirm that you have the correct software and device model, then review the settings checklist, you can start using Universal Control. 
Click on your Mac's Apple icon.


Select System Preferences.



Click Displays.


Click Universal Control....



Make sure that all three boxes are checked. On my Mac, the first two were automatically checked, but the third was not, preventing Universal Control from working.


Click Done.



Bring the devices you wish to control near each other. While Universal Control works within 30 feet, you'll want both devices on hand to actually use this feature.
On your Mac, drag your cursor to the edge of your display until you see a boundary-breaking animation. Sometimes you have to try both sides before it shows up on one. Keep moving your cursor, and you will see it appear on your iPad!


Pro Tip: Once these are on, you may find yourself losing your Mac cursor anytime your iPad is nearby. Check out this article on how to disconnect your Mac or turn off Universal Control completely.
Now you are controlling your iPad! The steps are the same to control another Mac, a second iPad, or two Macs! For best results, use your most powerful Mac to control the other devices. Next, I'll tell you various ways to take advantage of Universal Control! For more tips like these, sign up for our free Tip of the Day newsletter. Next, check out this article on how to customize it and add Universal Control settings to your Mac's Menu Bar.
What Can You Do with Universal Control
The average user may find themselves wondering, "what can I actually do with Universal Control?" There are various ways that this new feature can be valuable in your daily life.
Multitasking
Multitaskers are super excited about this new feature because it lets you use multiple devices simultaneously. You can drag files between devices and use your Mac trackpad, mouse, and keyboard on your iPad.
File Sharing
Universal Control offers a new way to share files between devices that's even easier than AirDrop. You simply click and drag the file between the two devices for instant transfer. Even though there are other methods, including AirDrop and shared folders, this is by far the easiest way to do it.
Pro Tip: If you are doing file transfers between two Macs, you can just drag between folders or desktops. If you are using a Mac and iPad, it can be a little trickier. For example, if you are transferring a Word doc from your Mac, you need to open the Files app on your iPad. If you are dragging a photo from your Mac's desktop onto your iPad, you'll need to open the Photos app.
Keyboard & Trackpad or Mouse for iPad
Although this is an overly-simplistic way to use this powerful feature, I find it super handy to use my Mac's keyboard and trackpad on my iPad. I don't like using my iPad without a keyboard or trackpad, and Universal Control is a clutter-free and money-saving way to have a keyboard and trackpad or mouse for your iPads! 
I go as far as leaning my iPad on my MacBook screen (be careful or use a case to avoid scratching it) to type on my iPad. I plan on doing this any time I'm using an app that isn't available on Macs or just for easier iPad navigation using the controlling Mac's trackpad instead of relying on iPad keyboard shortcuts. 
Pro Tip: Even if you are using an app like Procreate to create art, you could use your Mac to undo a mistake. There are many ways to use Universal Control to navigate your iPad.
Copying & Pasting Across Devices
Another cool Universal Control feature is being able to copy text from one device and paste it into another. As with file transfer, it can only be done between compatible apps. Some users report that this feature still doesn't work yet on Safari and other apps. Since this is still in its beta version, these bugs will likely be fixed before it rolls out officially this spring.
Universal Control FAQ: All Questions Answered
Let me answer some frequently asked questions about Universal Control.
Does Universal Control Work with Intel Macs?
Yes! It works with both Intel and silicon Macs; check the compatibility list to see if your Mac is compatible.
Does Universal Control Work with PCs or Android Devices?
Unfortunately not. Apple is keeping this exciting feature within the Apple ecosystem; it doesn't even work on devices beyond the Mac and iPad, which takes us to our next question.
Does Universal Control Work with iPhone?
Nope, Universal Control is exclusive to iPads and Macs. I'm hoping that Apple will extend this feature to the iPhone in the future. However, there don't seem to be as many functions for using Universal Control with an iPhone.
Does Universal Control Work with Apple Pencil?
That depends on what you mean. You can use your Apple Pencil on your iPad even while controlling it with your Mac. However, you cannot use the Apple Pencil to drag anything onto your Mac or on your Mac's screen or trackpad.
Does Universal Control Work without a Mac?
No, Universal Control requires a Mac to control another Mac or iPad. Two iPads cannot control one another or be used to control a Mac.
Does Universal Control Work with a Third-Party Keyboard, Trackpad, or Mouse?
Yes. As long as the third-party keyboard, trackpad, or mouse works with your Mac, it will work with Universal Control. 
What Is the Difference between Sidecar & Universal Control?
While Sidecar lets you use the other device as a secondary display, you cannot control the other device, share files between devices, or use your Mac keyboard on the iPad.
Sidecar is a Mac and iPad feature that lets you use your device as a secondary display. You can do this by mirroring content from Mac to iPad and vice versa or using it as an extension of your display. To learn how to do this and maximize your Mac's potential, check out our macOS Monterey Guide.
Related: How to Unlock Your Mac with Your Apple Watch
Universal Control Supported Devices & Requirements
If you have a newer Mac or iPad, they are likely Universal Control compatible; however, it is best to check before you get your hopes up. Don't forget that you also need to be running the latest software for this to work. At the moment, only those running beta software can use Universal Control.
Universal Control Compatible Macs:
The following devices running macOS Monterey 12.3 (beta) are compatible. You can learn how to install beta software for Mac here.
MacBook (2016 and later)
MacBook Air (2018 and later)
MacBook Pro (2016 and later)
iMac (2017 and later)
iMac (5K Retina 27-inch, 2015 and later)
iMac Pro
Mac mini (2018 and later)
Mac Pro (2019)
Universal Control Compatible iPads:
The following devices running iPadOS 15.4 (beta) are compatible. You can learn how to install beta software for iPad here.
iPad (6th generation and later)
iPad mini (5th generation and later)
iPad Air (3rd generation and later)
iPad Pro
Don't forget that you need two devices from the lists above to use Universal Control. You should select your best Mac to control the other device or devices. You can use up to three devices at once, but a Mac must be the one controlling the others. Check out the Q&A section at the end of the article for more compatibility information. If you have these devices but experience issues with Universal Control, check out these troubleshooting tips.
Now you know all the ins and outs of Universal Control. Although this feature is a little intimidating with the number of settings required to enable it, it is a fantastic way to multitask and make the most of your Apple ecosystem. Will you be trying Universal Control? What are you most excited to use it for? Don't forget to listen to our Why We're Wild for Universal Control podcast episode!