Use Sidecar to set up your iPad as a second display for your Mac. Apple's Sidecar feature gives you more screen space; here's how.
By

Cullen Thomas
Updated 11/28/2022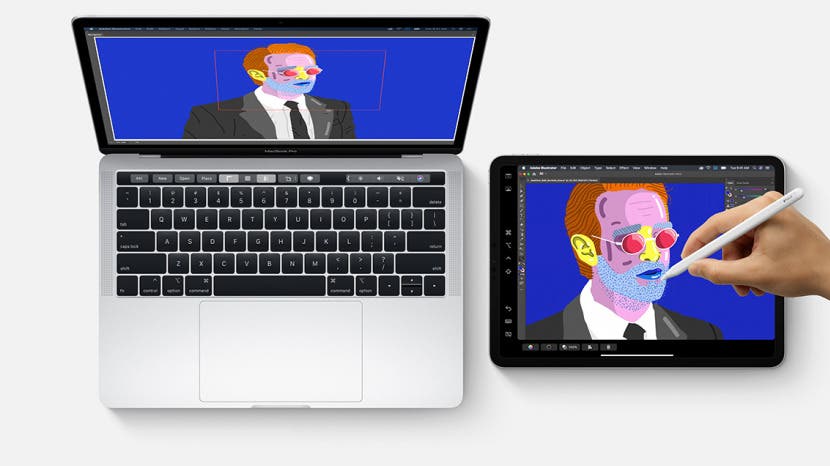 * This post is part of iPhone Life's Tip of the Day newsletter. Sign Up. *
Want to use your iPad as a second monitor for your Mac? Apple's Sidecar has you covered! You can use your iPad as a second screen for your Mac to extend or mirror your display. 
Why You'll Love This Tip
Mirror your Mac screen or extend your Mac display, so you have more room to work.
Use your iPad as a second monitor instead of purchasing a new monitor. 
Turn Your iPad into a Second Monitor with iPadOS Sidecar
Want to see your iPad mirroring your Mac's display?  Sidecar is easy to set up, and your iPad is a good tablet to use as an external monitor! The ability to use an iPad as a second monitor for an iPad dual-screen setup has been possible with the third-party Duet Display app for a while. Now an even better way to do it is available to everyone, built right into the operating systems. Read on to find out how to use an iPad as a second screen. First, check what requirements need to be met before you can use your iPad as a second monitor.
Once you've met the requirements, Sidecar is remarkably easy to use.
Open System Settings.


Click Displays.


Click on the arrow by the plus sign.


Select the iPad you want to use as a second monitor. 


Choose Mirror Built-In Display or Use As Separate Display.


Here's what your iPad looks like when you use Sidecar.  You have a variety of controls available to you directly on the iPad display. When you use iPad as an extended display, you can drag windows straight from your Mac to your iPad. When you use it as a mirror of your Mac, anything you do on your Mac will be reflected on your iPad display.


When you're ready to turn off Sidecar, you can tap the box with a line through it on your iPad display.


Alternatively, you can click the Airplay icon again and deselect your iPad by clicking on it again.


Have fun with the extra screen space!
Sidecar System Requirements
There are a few things you need to get in order before Sidecar will work. Here's a quick checklist.
Your iPad must be one of the following: iPad Pro, iPad (6th gen or later), iPad mini (5th gen or later), iPad Air (3rd gen or later). If you're not sure which iPad you have, check out our iPad generations guide.
Your iPad must have iPadOS version 13 or higher.
Your Mac model must be one of the following: A MacBook Pro or MacBook introduced in 2016 or later, an iMac introduced in 2017 or later or iMac (Retina 5K, 27-inch, Late 2015); A MacBook Air or Mac Mini introduced in 2018 or later; An iMac Pro; a Mac Pro introduced in 2019 or later, a Mac Studio.
Your Mac must have macOS Catalina or later.
Both your Mac and iPad must be logged in to the same Apple ID using two-factor authentication.
Bluetooth, Wi-Fi, and Handoff must be turned on for both devices.
Neither device may be sharing its internet, either through a personal hotspot or an ad-hoc wireless network.
The two devices must be within 30 feet (10 meters) of each other. 
Related: iPad Multitasking: The Complete Guide to Split Screen, Slide Over & Picture in Picture
Pro Tip: When an iPad is paired with a Mac using Sidecar, you can use the Apple Pencil or Apple Pencil 2 as a stylus in Photoshop or any other advanced drawing software. Just run the app on the Mac, then move the app's window onto the iPad screen, and pencil away. Neat huh?