By

Emma Chase
Updated 01/17/2023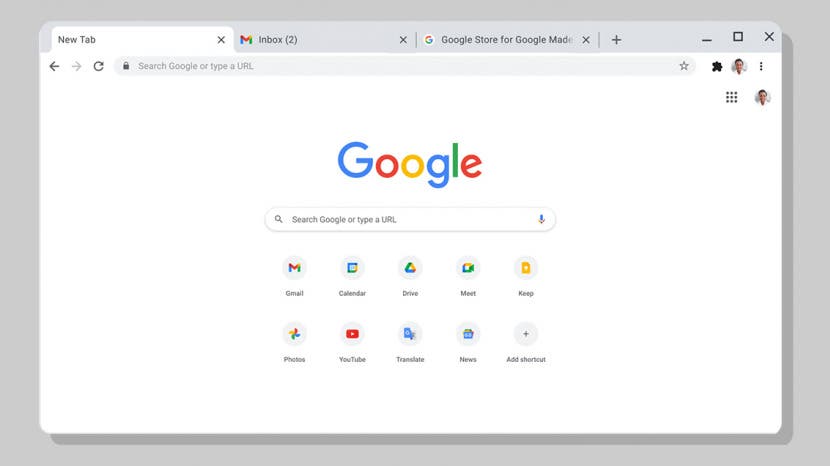 Does using Google Chrome for Mac computers make sense? Or should you go with the default Safari web browser? Since most of the time users spend on a Mac involves browsing, the Safari vs. Chrome debate is a big one! I'll cover the pros and cons of each browser and I'll teach you how to download Google Chrome on MacBook Pro, MacBook Air, and iMac!
What's in This Article?
Best Browsers for Mac Computers
Is Safari better than Chrome? It depends. The best browser for Mac depends a lot on your experience. Safari comes pre-installed on your Mac and on your other Apple products. Recently, it was completely upgraded with the macOS 12 Monterey update. Safari offers many great features, and it is the most power efficient browser for your Mac. However, Google Chrome is also an excellent option.
Google Chrome does not come pre-installed, and many users won't find it in their App store, which leads to questions like, "Can I download Google Chrome on MacBook Air, MacBook Pro, and iMac?" The answer is yes! 

Discover your iPhone's hidden features
Get one daily tip each day (with screenshots and clear instructions) so you can master your iPhone in just one minute a day.
Google Chrome is a popular browser for Mac users because it has an abundance of powerful extensions and many ways to customize your browser. Additionally, Chrome is made for all kinds of devices, not just Apple. This comes in handy if you use Macs at home but PCs at work or vise versa. 
Safari Browser Review
Safari is the default browser on all Apple devices, including on Macs. The recent updates make Safari a fantastic browser with lots of new customization options, security features, and so much more. One of the most exciting upgrades is iCloud Plus Private Relay, only available on Safari and gives the browser a notable privacy boost.
Since Apple designed Safari to work with its devices, it is obviously better integrated into the Apple ecosystem than a third-party browser. This has its perks, such as having the new Shared With You section built into the browser. Also, Safari is the more energy efficient browser, so using it instead of Chrome can help extend battery life and Mac performance in general.
Related: How Do I Upgrade My Browser on My Mac with macOS 12 Monterey
Chrome for Mac Review
Like many users, I have used Google Chrome as the default browser on my Mac for years. My favorite feature is having multiple profiles logged in to switch between work and leisure content with a click. Plus, Google Chrome offers invaluable extensions that are either not provided or have been discontinued on Safari, such as TubeBuddy. 
On the other hand, Chrome uses ridiculous amounts of CPU, which can slow down your computer, make it overheat, and drain your battery faster. In fact, when I updated to macOS 12 Monterey, I couldn't use Google on my 2020 MacBook Air without experiencing frequent system crashes. So is Google Chrome worth it? Below are some pros and cons that can help you decide!
Safari vs Chrome: Pros and Cons
There is no clear to answer to which web browser is best, as this is highly subjective. The following pros and cons can help you device for yourself:
Pros: Google Chrome for Mac Computer
Google Chrome has significantly more extensions than Safari; these can help improve privacy, save you money online shopping, and more.
Google Chrome can run on all operating systems, while Safari is not an option for Linux users.
Chromecast or Google TV users can enjoy direct casting from Google Chrome.
It is fast, although not necessarily quicker than Safari. Both beat other third-party browsers such as Microsoft Edge.
Google Chrome gets more frequent security and privacy updates than Safari to minimize security breaches.
Many consider Google Chrome easier to navigate than Safari, although both browsers are relatively easy to use.
Cons: Using Google Chrome Browser for MacBook
Google Chrome uses significantly more CPU than Safari and is less energy efficient to the point of causing issues on older or slower Macs.
Google Chrome has openly stated that it collects and uses browsing data, while Apple has minimized app-tracking and improved users' overall privacy experience.  
Google Chrome doesn't support all macOS operating systems, only newer ones, so not all Mac users can download and use it.
Although it has its own password management, Google Chrome can't be synced to the iCloud keychain.
Google Chrome doesn't automatically offer the Hide my Email feature like Safari does, resulting in more spam and potentially dangerous emails. 
Google Chrome doesn't work in countries where Google is banned, such as China, so if you live there or are planning a trip, you'll have to use Safari or another browser.
In the past, Google Chrome was considered more customizable. However, with the new updates to Safari, including tab groups, Safari is now the more customizable of the two browsers, which complicates the Safari Chrome debate.
How to Download Google Chrome on MacBook Pro, MacBook Air, or iMac
Even though Safari is a great browser, there are many reasons why you may consider trying a different browser. Some, like Google Chrome, may not be available in the App Store, but you can still download it. Here's how to download a new browser on Mac:
Go directly to Google to get a secure Google Chrome IPA download link or click here.


 
Click Download Chrome. Your download should begin automatically.


 

If it doesn't, select download Chrome manually and click Save.


 
You will see the download now; click the small arrow.


 

Select Open in Finder.


 
Drag it into Applications; you may need to enter your password to confirm.


 

Follow the on-screen directions to finish the installation.
Once you've installed Google Chrome on your Mac, it still won't be your default browser. Here's an article that will teach you how to change browsers on MacBook Pro, MacBook Air, or iMac.