If you need your hands free, iPhone Auto-Answer Calls can help and now you can activate it with a spoken command.
By

Brian Peters
Updated 11/30/2022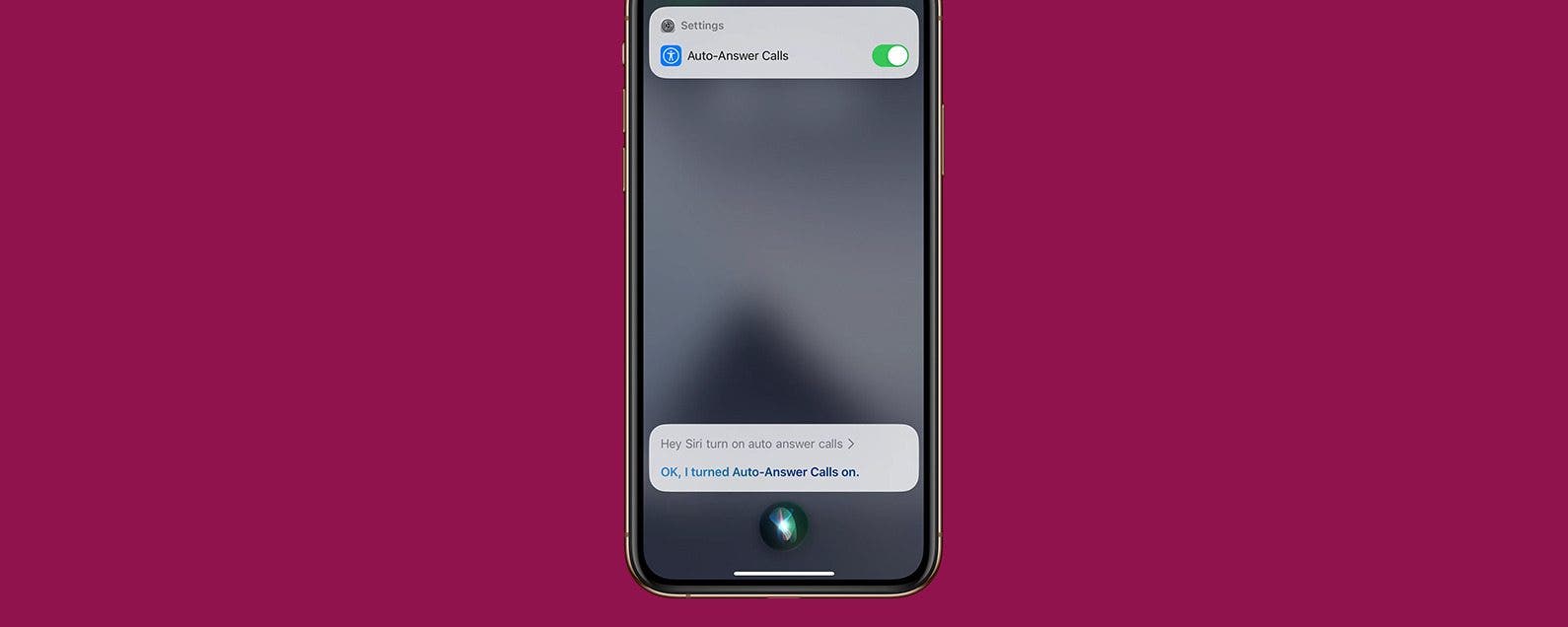 Auto-Answer Calls is an accessibility feature you can enable to make your iPhone automatically answer or route your calls after a certain amount of time. Now, with iOS 16, you can turn this setting on or off with a quick voice command to Siri.
Turning on Auto-Answer Calls can be helpful if you're expecting an important call while you won't be in a position to quickly answer, such as while working with your hands with headphones on, or simply if you have mobility issues that make it hard for you to answer calls with your hands. The Auto-Answer Calls feature is buried fairly deep in the Accessibility settings if you want to enable it normally; but luckily, if you're someone who finds it useful to turn the feature on and off regularly, it's very simple to do so with the help of Siri! One important thing to note is that you cannot use Siri to adjust the time before calls will be automatically answered. To do this, you must access the Auto-Answer Calls settings normally. For information on how to find these settings, see our guide on how to set your iPhone to automatically answer calls. For more information and guides about new iOS 16 features, be sure to sign up for our free Tip of the Day newsletter.
How to Use Siri to Turn On Auto-Answer Calls
If Siri is already enabled and set up for voice activation, using it to toggle Auto-Answer Calls on and off is very simple. If you need any help getting Siri set up, check out our guide on what to do if "Hey Siri" isn't working.
First, get Siri listening to you by saying "Hey Siri" or pressing and holding the Side or Home button, if that Siri option is enabled.


With Siri waiting for your input, just say, "Turn on Auto-Answer Calls."



That's all there is to it! If Siri recognizes your command, it will confirm it by telling you, "OK, I turned Auto-Answer Calls on," and it will show you a notification at the top of the screen picturing the setting toggled on.


Once you've had enough of every call being answered automatically, you can turn it off just as easily. Just say, "Hey Siri, turn off Auto-Answer Calls."



Your iPhone will confirm that it's been turned off with the voice message, "OK, I turned Auto-Answer Calls off," along with the notification at the top of the screen again.


That's all there is to it. With Siri's help, you can quickly and easily turn this convenient feature on and off without needing to navigate through three different settings menus. If you find yourself accidentally hanging up when on a call, you may be unintentionally pressing the power button.