Respond to messages with Memoji videos or send a Memoji Sticker to your friends and family.
By

Leanne Hays
Updated 02/02/2023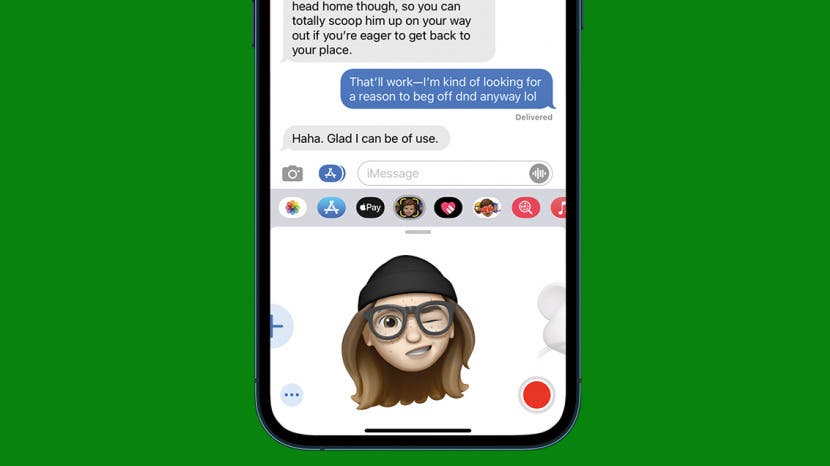 * This post is part of iPhone Life's Tip of the Day newsletter. Sign Up. *
If you're like me, you spend a good chunk of your day texting. But did you know you can break up the routine by recording a message using animated Memojis, also called Animojis? Your friends will receive a video of your voice coming out of your animated likeness! This tip may not change your life, but it will bring a bit of fun to your texting routine. We'll show you how.
Related: How to Create a Memoji on iPhone & iPad
Why You'll Love This Tip
Make a quick voice message fun by recording it with your Memoji.
If you're tired of the same old emojis, you can spice up your texts with emojis that look like you!
How to Send an Animated Memoji with the Messages App
Before you begin, make sure you've created your Memoji. It's fun and easy to do! If you have a TrueDepth front-facing camera (iPhone X and later), you'll be able to use your Memoji in animated messages up to 30 seconds long in the Messages app, or as a filter in FaceTime calls.
To use your Memoji to send an animated message, open the Messages app.


 
Select the conversation you'd like to send an animated Memoji in.


 
Tap the Memoji icon.


 
Scroll to your Memoji, then tap the red record button next to it.


 
Record your message, and be sure to have fun with facial expressions to take full advantage of your Animoji's capabilities!
Tap the record button again to stop recording and listen to your message before sending.


 
Tap the send icon and your animated Memoji will be sent to your contact, along with the audio.


Send Your Memoji as a Sticker
If your iPhone or iPad isn't compatible with Animoji, you can send still images of your Memoji using the Sticker Sheet.
To send a Memoji sticker, tap the Sticker Sheet icon from an open message.


 
 Select the sticker you'd like to include. 


 
Compose your message and tap the send icon.


 
You can also use your Memoji Sticker to react to text messages; just drag and drop the sticker onto the message you're reacting to.


Now you know how to use your Animoji and Memoji Stickers to personalize your text messages. Did you know you can also add all kinds of customization options to your Memoji? Check it out for even more ways to feel represented by your Memoji!