By

Emma Chase
Updated 08/17/2023
What to Know
You can customize an emoji by turning a photo into a sticker in iOS 17.
Just long press on a photo, tap Add Sticker, then choose your effect.
Third-party apps like Top Sticker can also help you create your own emojis.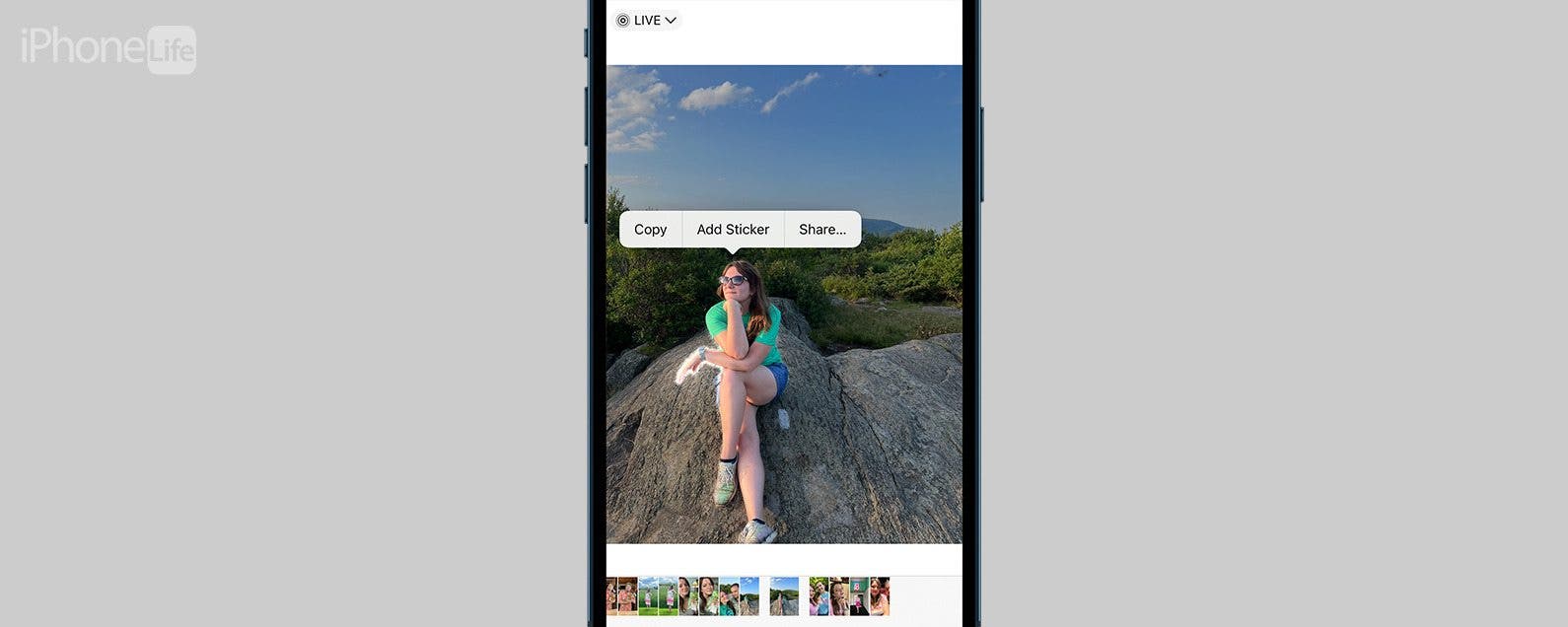 Have you wondered how to make your own emoji images? Apple lets users create Memojis, and as of iOS 17, it now lets you make emojis from pictures! Below, we lay out how convert an image to an emoji and how to make your own emoji using a third-party app.
Related: How to Create a Memoji on iPhone & iPad
Jump To:
How to Make an Emoji from a Photo
If you're like us, the appeal of an emoji picture is strong! After all, a picture is worth a thousand words. With iOS 17, available as a public beta since July and expeted to be officially released in September, you can create a custom emoji from one of your photos. This is the easiest way to make a personalized emoji and you'll be able to access it in your new Stickers drawer in your Messages app and elsewhere. Here's how to do it:

Discover your iPhone's hidden features
Get a daily tip (with screenshots and clear instructions) so you can master your iPhone in just one minute a day.
And there you have it! If you haven't updated to iOS 17 or want the option to be more precise in cropping the image you're using for your emoji, keep reading to learn how to use a third-party app to create a custom emoji.
Apps to Make Your Own Emoji
There are several apps on the App Store that help you make a personal emoji. You can pick the one that will give you the type of emoji you want. For this project, we used the app called Top Stickers because it offers the photo-based emojis we wanted.
Other popular apps to make your own emoji are Bitmoji and Moji Maker. Bitmoji allows you to make an emoji likeness of yourself or someone else in a cartoon style. You can use a selfie or Bitmoji's design elements to create your own character. Moji Maker allows you to get a result that is much closer to Apple's native emojis for your personal emoji. You can customize and animate nearly any emoji you can imagine with this app. 
How to Make Emoji Pictures
It may seem like a lot of steps to achieve the perfect custom emoji, but stick with us—it will be worth it! We'll demonstrate the steps in the Top Stickers app, but the steps will be similar in almost any app you choose. Be sure to also check out our article to get the scoop on all the new emojis that dropped in 2022. And, to learn more about fun ways to jazz up your texts in the Messages app, sign up for our Tip of the Day newsletter.
Open the App Store.


Search for Top Stickers (the name may appear slightly different in the App Store listing).

Tap Get.
Once the app is downloaded, tap Open.



If prompted, tap Allow Access to All Photos and move on to Step 10.
If you do not receive a prompt, tap Enable Library Access.



Tap Photos.


Tap All Photos.



Return to the Top Stickers app.


Tap Create.



Choose the picture you want to turn into an emoji picture.


Tap Magic Wand to select the object in the image you want to turn into an emoji. (If there is a clear subject in your photo like our example, the magic wand will automatically select it.)



If you need to edit the borders and background of your selection, use the Eraser Tool.


Tap Done when you are satisfied with your selection.



Use pinch or reverse-pinch motions with your fingers to increase or decrease the image size.


Utilize any of the other tools to edit your image. (Some tools require in-app purchases).

Adjust the crop of your emoji picture so that it's cropped more closely to the image, then tap Done.


Select an existing pack to put your sticker in or tap Create a New Pack.



If you created a new pack, give your pack a name. Packs are automatically private and available only on your iPhone. To allow anyone to find and use your new emoji, change the status to public.


Tap Save.



You may now need to sit through a few ads.
Tap Send Stickers.



Tap Send to iMessage. This makes your stickers available in the Messages app.


Close Top Stickers, open the Messages app, and select the conversation in which you want to send the sticker.



Swipe left or right through the apps at the bottom of your screen to find the Top Stickers icon.


Select Top Stickers.



Select the sticker you want to send.


Tap Send.


FAQ
What is the sticker feature on iOS 17? The sticker feature is new to iOS 17 and lets you make a sticker out of a photo to send in Messages and other places.
Where can I find my stickers in iOS 17? In your Messages app, tap the Plus icon to the left of your text field and tap Stickers.
Can I make a custom emoji for free? Yes! With iOS 17, you can make custom emojis for free, and many apps also offer this feature for free.
Why isn't my Live Sticker working? You might need to tap Add Effect and under Original make sure Live is toggled on in the top left corner.