Your Apple Health app hasn't been deleted, only hidden.
By

Sarah Kingsbury
Updated 12/01/2021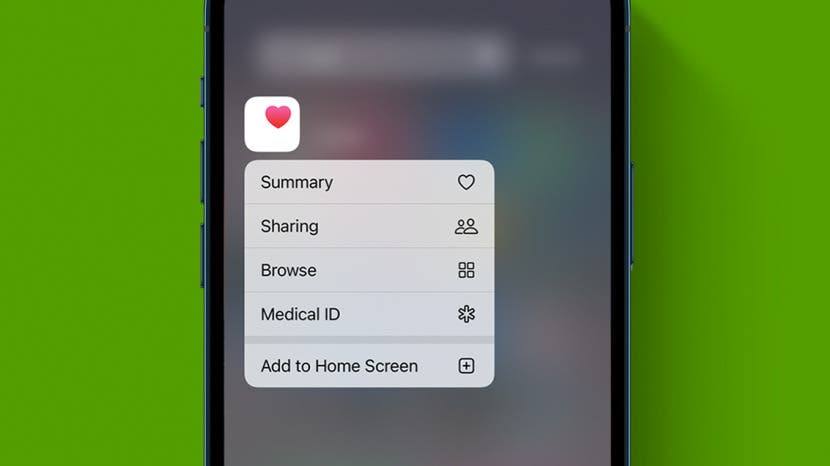 The Health app on your iPhone and iPad is not among the Apple stock apps that you are able to delete. There are a couple of reasons why your Apple Health app might have disappeared: it was accidentally removed from your Home screen or you have it hidden in Screen Time settings. We'll walk you through how to check this setting and get this vital app back on your Home screen!
Jump To: 
How to Add Health App Back to Home Screen
If your Apple Health app has suddenly disappeared, there's no use trying to download it from the App Store. The Health app cannot be deleted from your iPhone, but you may have accidentally removed it from your Home screen or folder. Follow the steps below to learn how to find the Health app on your iPhone and get it back where you like it. 
Swipe to the last page of apps on your Home screen.


Swipe to the left one more time.
Now you're in the App Library. Tap the Search bar at the top of your screen.


You can swipe down to scroll through the alphabetical list of your apps. 


You can also type in the name of the app you're looking for.


To add the Health app back to your Home screen, press and hold the Health app. 


Select Add to Home Screen. 


Now your Health app should be back on your Home screen! If you didn't find your Health app in the library, follow the steps in the section below. And if you want to learn how to make the most of your Health app, consider signing up for our free Tip of the Day. 
Related: My Mail App Has Disappeared from My iPhone. How Do I Get It Back?
How to Get the Health App Back If Restricted in Settings
While this issue is less common, we occasionally see an app "disappear" because it has been accidentally disallowed in the Screen Time feature. A part of Screen Time is a set of parental controls, allowing you to disable certain apps. Once disabled, the app will seemingly vanish into thin air, and will not appear on your Home screen or in your App Library. If this is the case, follow the steps to learn how to get the Health app back on your iPhone.
Open the Settings app. 


Tap Screen Time. 


Tap Content & Privacy Restrictions. 


Tap Allowed Apps. 


Enter your 4-digit Screen Time passcode. 
Tap the Health app toggle to enable the app. 


Once the Health app is enabled as an allowed app in Screen Time, it will appear in your App Library and on your Home screen. We hope this helps you to find your missing Health app so you can get back to viewing your health data and fitness tracking.