Send a personalized, automatic text explaining that you're unavailable while Focus mode is enabled.
By

Elisabeth Garry
Tue, 09/07/2021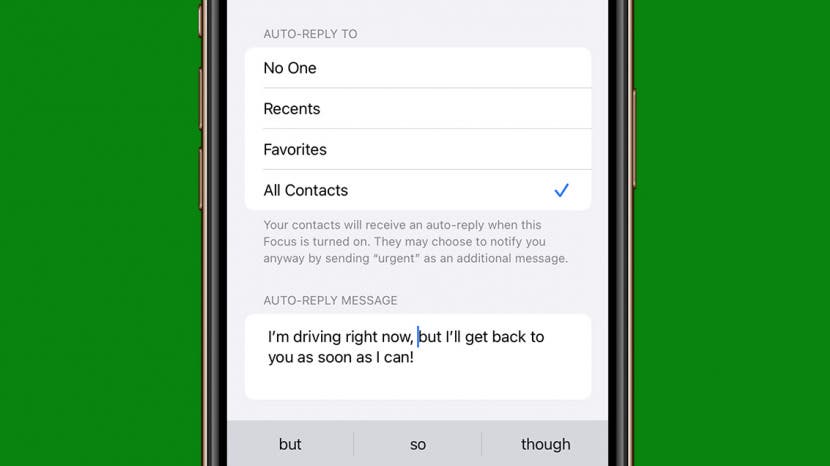 iOS 15's Focus mode lets you set up notification filters so you can work, drive, sleep, and more without being disturbed. It also lets you customize automatic text replies to send to friends and family explaining that you're unable to respond right now, but in a friendly way without relying on cold, scripted replies. Let's dive into how to set up a Focus mode auto-reply text on your iPhone!
Related: How to Know If Someone Blocked Your Number on iPhone
Why You'll Love This Tip
Set an auto-reply message on your iPhone so you never have to worry about leaving someone hanging when they text you while you're busy.
Apple's scripted auto-reply messages can sound terse, but with Focus mode auto-replies you can personalize your message to sound more like you!
How to Use iPhone Focus Mode Auto-Reply Messages
Important: Since this Focus mode tip is specific to iOS 15, if you have an earlier software version you will need to update to iOS 15 before using these steps. To learn more about what's new in iOS 15, sign up for our Tip of the Day newsletter!
Here's how to use Focus on iPhone to send auto-reply messages:
Open Settings.


 
Tap on Focus.


 
Tap on the Focus mode filter for which you want to enable auto-replies. For this example, we'll use Driving.


 
Don't see the Focus filter you want? You may need to create a custom Focus filter first, then come back to these steps.
Next, tap Auto-Reply.


 
Choose who will receive your auto-replies: No One, Recents, Favorites, or All Contacts.


 
If you select No One, Auto-Reply will be disabled.


 
If you select Recents, contacts you've responded to within the last day will receive an auto-reply text when Focus is enabled.


 
If you select Favorites, contacts in your Favorites list will receive an auto-reply text.


 
If you select All Contacts, all of your contacts will receive an auto-reply text.


 
Edit the Auto-Reply Message to say whatever you would like it to say.


Now you can exit Settings, and whenever you turn on Focus mode for this filter, the group of your contacts you selected will receive your personalized auto-reply message when they try to contact you.