Quickly translate text directly in the Camera or Photos app.
By

Devala Rees
Updated 03/29/2023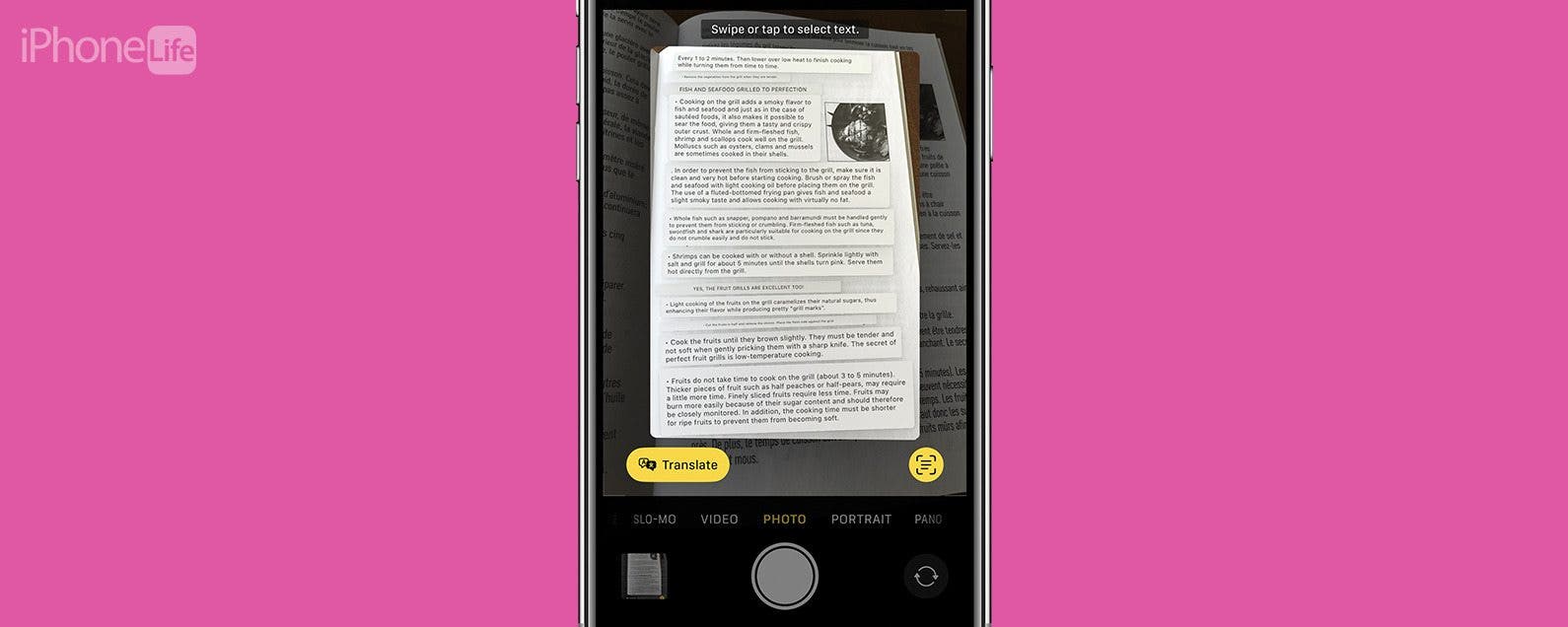 * This post is part of iPhone Life's Tip of the Day newsletter. Sign Up. *
If you want to translate text from an image, there is actually an app that can translate pictures already built into your iPhone. It's the Camera app! This also works in Photos too, as it utilizes the Live Text feature to read the text in a picture and translate it from an image into your phone's preset language. Here's how to translate from a picture on your iPhone or iPad.
Why You'll Love This Tip
Translate faster with Live Text than with the Translate app or other methods.
Translate any text that your phone camera can see, without having to type it in—especially useful if it's written in a foreign alphabet.
Translate Text on a Picture on iPhone or iPad
You can use Live Text in either the Camera app or the Photos app. These steps will use the Photos app, but the Live Text feature is identical in both. To learn more about what Live Text can do, check out our Tip of the Day newsletter.
Note: 
the Translate feature is still being improved and, currently, can be kind of finicky. Some of our staff members have had trouble translating text in Cyrillic script or Chinese characters. If you're unable to translate the text you wish to, try taking a clearer picture of the text or even highlighting less text. If you have persistent problems, don't hesitate to report your problems to Apple. Your feedback can help improve the feature for all users.
Open the Camera app on your iPhone.


Focus the camera over the text you want to translate. When it's focused, it should outline the text with four yellow highlights around each corner. Tap the Live Text button in the bottom left.



Tap Translate in the bottom left corner.


If it is your first time, you will get a permissions menu clarifying that you will be sending the text to Apple's AI and will therefore be sharing that information. This poses no threat to your security, it just allows you access to Apple's technology. Once you tap accept, the text will automatically translate to whatever language you are already using on your iPhone.


New languages are being added all the time, so check with Apple for currently available languages. Now that you know how to use Live Text to translate text in the Camera app, find out how to transfer photos from iPhone to PC or Mac.