By

Ashleigh Page
Updated 06/02/2021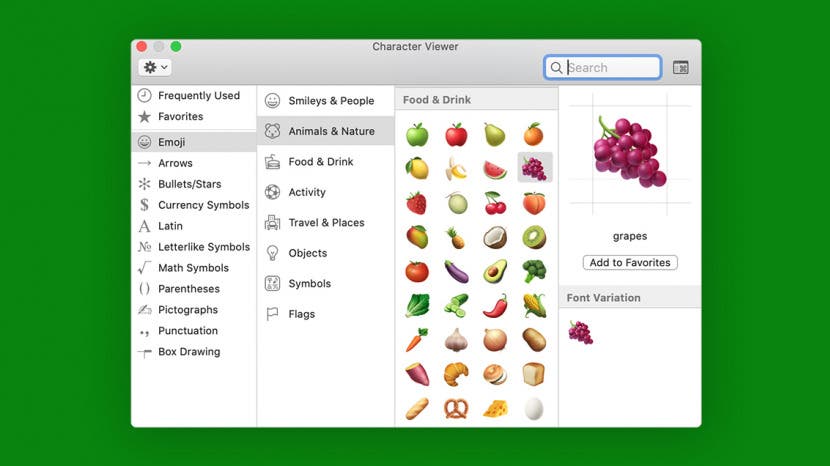 * This post is part of iPhone Life's Tip of the Day newsletter. Sign Up. *
Want to add some flair to your emails and documents? Adding emoji icons is a fun way to do this! We'll show you how to access the emoji keyboard for Macs with an easy shortcut, how to find the hidden full-size emoji menu, and how to add emojis to documents and other emoji-friendly windows.
Related: How to Find & Use the Emoji Keyboard on an iPhone
Jump To: 
How to Use Emojis on Mac
In this section we'll show you how to open the emoji keyboard (including the hidden full-size emoji menu), plus how to insert emojis on a Mac.
Use the command-control-space Mac keyboard shortcut.


 
The smaller emoji keyboard for Macs will appear.

To open the hidden full-size Mac emoji menu, click the button in the top-right corner.


 
Click on each section in the second column to see different emoji categories, such as Food & Drink.


 

Double-click an emoji to insert it into your document. 


 
If you want to change the size of an emoji, you can simply highlight the emoji and change the font size. Note: The text file you're working in must allow different font sizes for this to work.


 

To more easily find the selected emoji next time, you can also click Add to Favorites.
This will add the emoji to the Favorites category on the left-hand side of the emoji menu.


Where the Apple Emoji Keyboard Won't Work
Some programs, such as Google Sheets, will not allow you to insert emojis through the emoji keyboard on Mac. You can sometimes copy them in once they've been inserted into another text file, though! 
Google Sheets is the only exception I've found to this so far (even Microsoft Excel allows you to insert emojis through the emoji keyboard), but there may be others that are not compatible. In this case, an easy workaround is to insert emojis through the Special Characters menu on the specific program.