By

Rhett Intriago
Updated 09/27/2023
What to Know
Use the iPhone Photos app to add emojis to your favorite images.
With Markup, you can now add emoji as stickers to your photos.
You can easily adjust the emoji size, rotate the emoji, and shift its position on the image.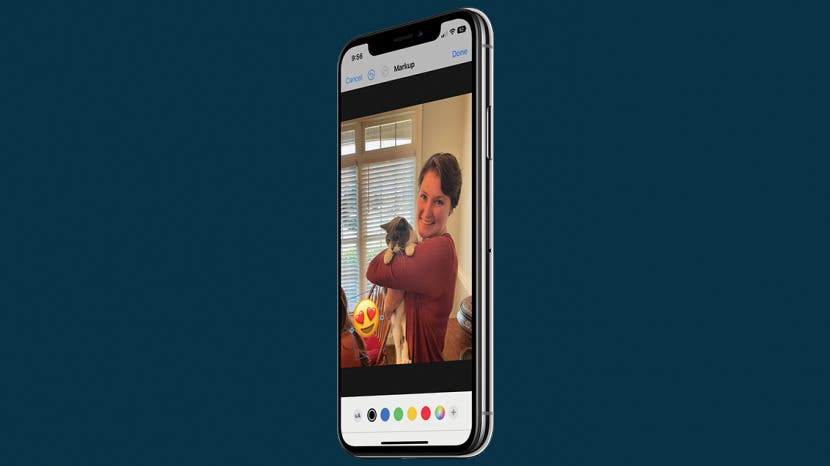 If you want to add some fun flair to your photos, adding emojis is a great way to start! As an added benefit, you can also use emojis to hide the face of a friend or child when you want to protect their privacy in photos shared online. In this article, we'll show you the hidden trick how to put emojis on pictures using the iPhone Photos app.
Jump To:
How to Add an Emoji to a Photo on iPhone
Wondering how to add an emoji to a photo in the Photos app? It's easy, and the trick is that you just need to add an emoji as a sticker. Then, you can add any emoji you like, rotate it, and change the emoji size. For more fun iPhone photography and photo editing tips, sign up for our free Tip of the Day Newsletter. Now, let's cover how to add an emoji to a photo:
That's how to put emojis on pictures on iPhone. Now, you can easily add some flair to your images! If you have an overwhelming number of photos on your iPhone, check out these easy ways to transfer photos from your iPhone to your computer.

Discover your iPhone's hidden features
Get one daily tip each day (with screenshots and clear instructions) so you can master your iPhone in just one minute a day.
FAQ
Why can't I rotate the emoji? To rotate the emoji, you'll need to tap and hold the emoji with two fingers. You can then bring your fingers close together to make the emoji smaller or spread your fingers to make it larger. If you're having trouble, try zooming in so that the emoji is bigger and easier to touch with two fingers.
Why don't I have the Add Sticker button? The Add Sticker button is only available on iOS 17 and newer. If you don't see it, you are probably still on iOS 16. You can still add emojis to your photos, though. Instead of the Add Sticker button, tap Text Box. Then, just type an emoji into the text box. You can then drag, resize, and rotate the text box the same way as a sticker.