By

Conner Carey
Updated 09/13/2018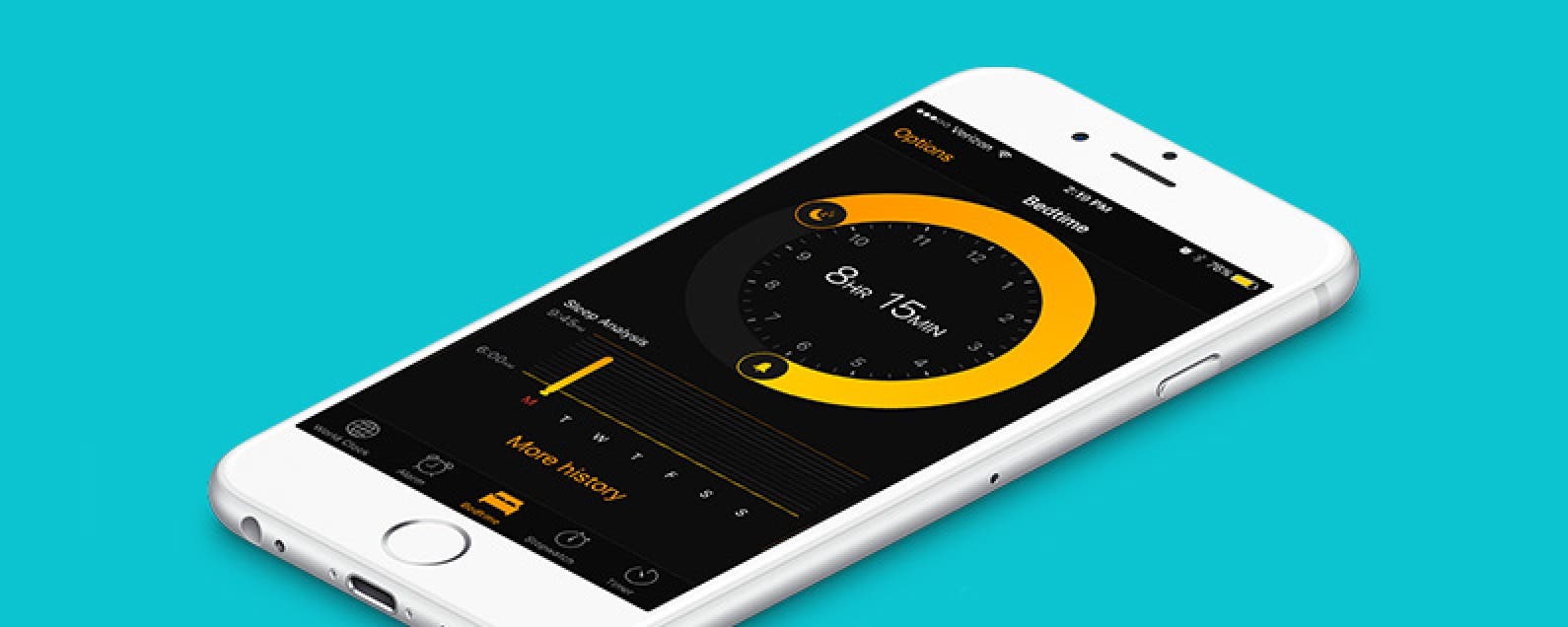 * This post is part of iPhone Life's Tip of the Day newsletter. Sign Up. *
The iPhone's Bedtime feature is a sleep app, an alarm clock app, and a sleep tracker app all in one. Best of all, since Apple wants to help us all get a better night's sleep, Bedtime has been included in the Clock app since iOS 10. Now, don't panic; Alarm is still very much alive within the Clock app too, but Bedtime has the added benefit of allowing you to see how much sleep you'll get with the sleep schedule you have, and it will also remind you when it's time for bed each night. If you're like me, you want to see "just one more" episode of that show you're obsessively watching, which means you're also going to be tired at three in the afternoon tomorrow. Let the Bedtime feature in the Clock app help you set a better schedule. Here's how to use Bedtime on your iPhone to help you improve your sleep health.
Related: How to Add a Location to World Clock on iPhone
Another benefit of the Bedtime feature in the Clock app (one of my favorites) is that you have different ringtones available for waking you up. The tones found in Bedtime are meant to slowly lull you out of sleep instead of startling you awake. The Health app will also use the information gathered from Bedtime in the Clock app to show your sleep analysis. You can set Bedtime to go off every day or only on specific days. Let's jump in, and we'll go over all of your options.
How to Enable Bedtime in the Clock App  
Open the Clock app on iPhone.

Tap the Bedtime tab at the bottom of the screen.

At the top, toggle on Bedtime.

From here, you can drag each end of the circle to change your Bedtime and Wake time easily. At the center, it tells you how much sleep you will get if you go to sleep and wake up at the times you've set.

For example, I've set the Bedtime to 10:25 pm and the Wake time to 6:40 am, which means I would get 8 hours and 15 minutes of sleep.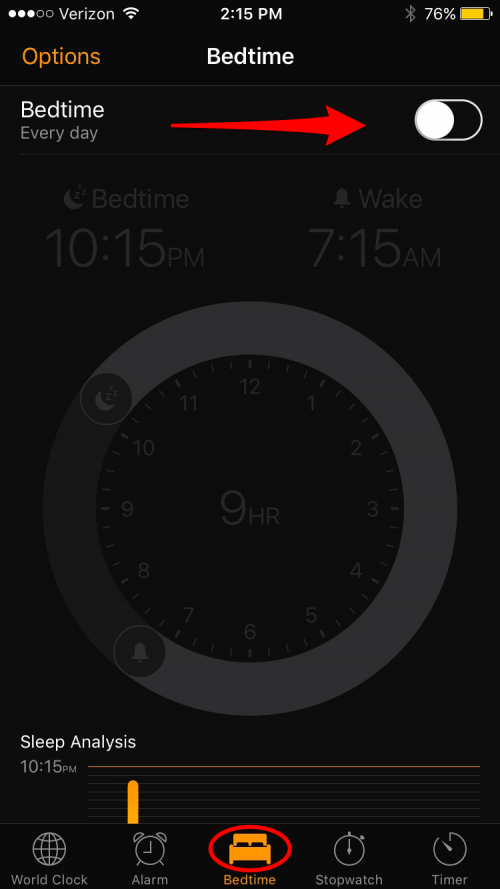 Below this circle, you'll see Sleep Analysis. This lets you look at your week of sleeping at a glance. To see how you've slept in the past, tap More history. The Health app will open.
How to Change Settings: Set Alarm, Cancel Alarm, Change Alarm Clock Sound, Set Bedtime Reminders
This part will teach you how to change what days of the week Bedtime and Wake goes off, when you're reminded to go to sleep, the Wake Up Sound, and Volume. To access this:
Tap Options in the upper left corner of the main screen in Bedtime.

The first option you'll see is Days of the Week. Tap each day of the week to turn Bedtime on or off for that day.
Next is Bedtime Reminder. Tap this to change when it will remind you about your Bedtime. It can alert you at Bedtime, or 15, 30, 45 minutes, or 1 hour before.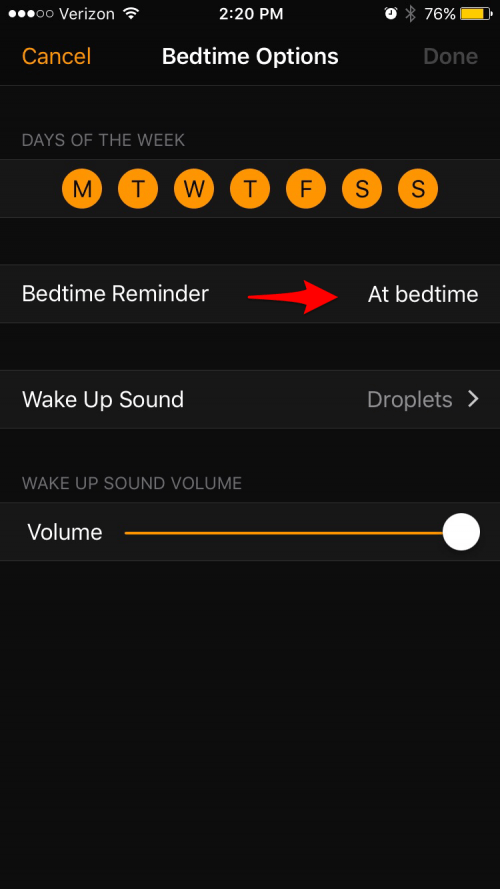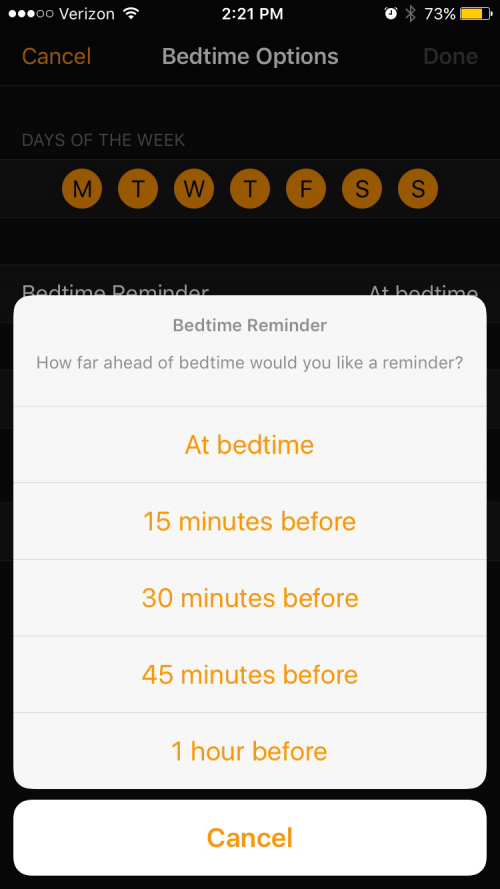 Below that is Wake Up Sound. Tap this to change the sound that wakes you up.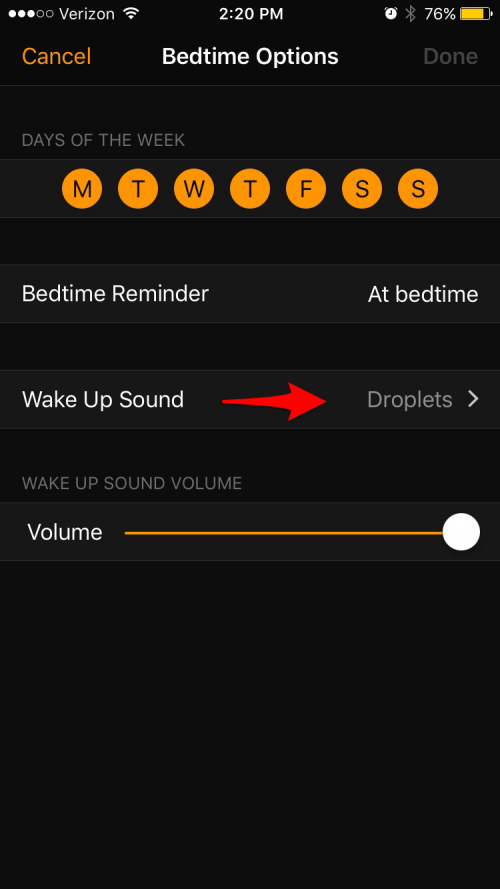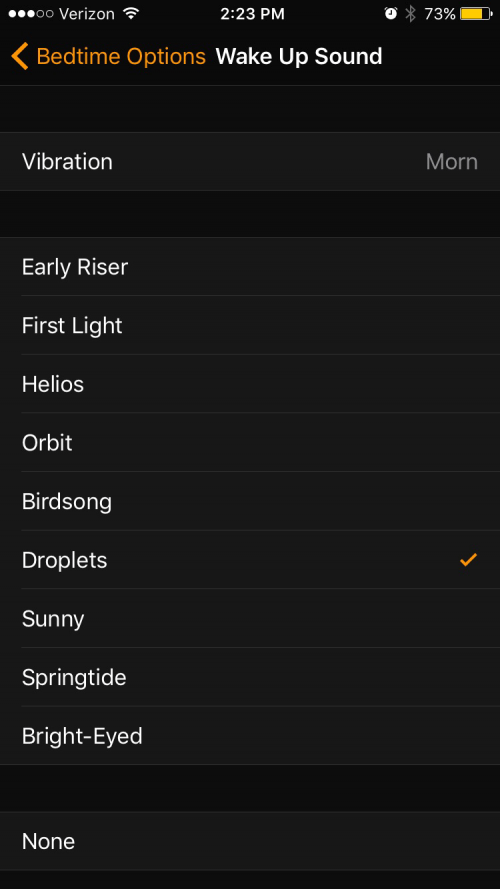 Go back to Bedtime Options. The last option is Volume. If you're a heavy sleeper, turn the volume all the way up.

Tap Done.