By

Olena Kagui
Updated 09/14/2022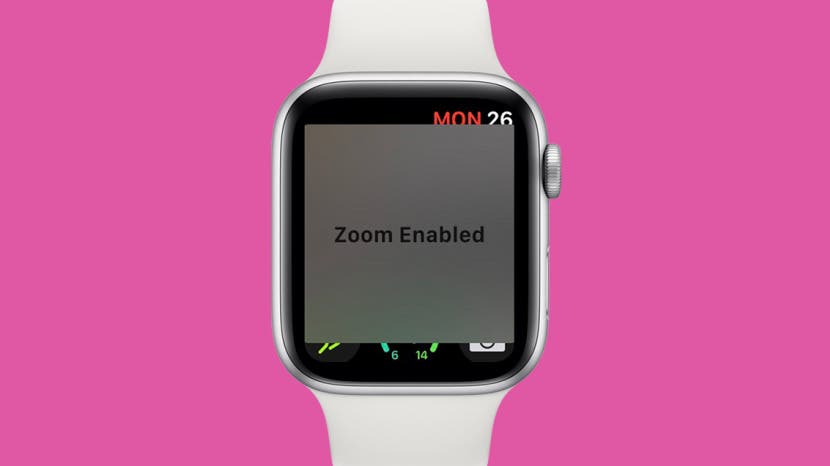 Your Apple Watch display is more sensitive than you think! In these Apple Watch tips and tricks, I will explain the different ways to tap, drag, swipe, and hard press to make navigating your Apple Watch easier. You will learn various touch-sensitive controls and how to turn off zoom on Apple Watch!
Related to: Taking a Photo on the Apple Watch Got Even Easier with watchOS 9
Jump To:
Using gestures is a great way to navigate your Apple Watch. Learning to use them can make it easier for you to access everything you need. Different gestures offer unique Apple Watch controls and sometimes even app-specific functions.

Discover your iPhone's hidden features
Get a daily tip (with screenshots and clear instructions) so you can master your iPhone in just one minute a day.
Basic Gestures
Tap to Wake Gesture
Tapping is the most common gesture on your Apple Watch. Tapping selects a button or opens an app. Tapping your watch display will also bring the screen to full brightness on watch models with Always-On.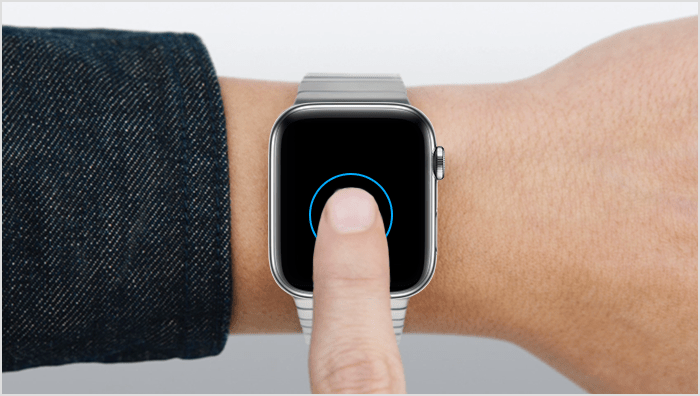 Tap & Hold for Hidden Features
The tap and hold gesture is also known as 3D Touch or Haptic Touch on later models. You can do it to see the options or settings in an app. Not all apps have tap-and-hold actions, but some use them to reveal hidden features.
In the Maps app, you can tap and hold to put down a pin.


 
In the Messages app, tapping and holding a message allows you to post a reaction. 


 

On your watch face, this lets you edit your watch face, share it with a contact, or change between watch faces.


 
On your Home Screen, this lets you reorganize or delete your apps.


Drag to Adjust Gesture
Dragging your finger across the screen allows you to adjust a slider, scroll, move across a map, or browse app icons on your Home screen. To learn more about navigating your Apple Watch, sign up for our free Tip of the Day newsletter.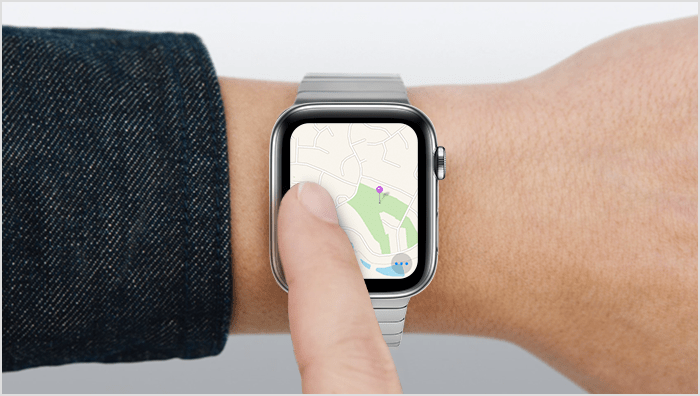 Swipe to Change Faces Gesture
Swiping is similar to dragging but is generally a quicker motion. You can swipe up, down, left, or right. You can swipe on your watch face to switch between watch faces.
Swiping up from the watch face shows you the Control Center.


 
Swiping down from the watch face shows your notifications. You can swipe left on the notifications to close them.


AssistiveTouch & Quick Actions
What is AssistiveTouch?
AssitiveTouch is an accessibility feature that has been available on the iPhone and iPad for some time, but with the release of watchOS 8 in 2021, AssistiveTouch became available on the Apple Watch. The feature uses the built-in gyroscope, accelerometer, and data from the heart rate sensor to detect the position of your wrist and hand, and allows you to control your Apple Watch completely touch-free. You can navigate your watch with actions like pinching or clenching your fist. The pinch gesture acts as a general "next" button, while the clench gesture typically acts as a "select" button. 
Basic AssistiveTouch Navigation Gestures
Pinch - Bring the tip of your thumb and pointer finger together for a pinch. This will navigate forward or to the next item in the list or button on the screen.
Double Pinch - Bring the tip of your thumb and pointer finger together twice in quick succession for a double pinch. This will navigate backward or to the previous item in the list or button on the screen.
Clench - To clench, make a fist with your hand. Making a fist is like tapping or clicking to select.
Double Clench - To double clench, make a fist with your hand twice in quick succession. This will launch the Action Menu, where you will be given additional options for navigating your Apple Watch hands-free.
Action Menu - When you launch the Action Menu, you will have the option to use these gestures to do things like press the crown, access system preferences and shortcuts, and even customize the watch face. 
How to Use AssistiveTouch
When you first get started using AssistiveTouch, it can be a bit tricky to perform all the gestures correctly and have everything working smoothly until you get the hang of it. But anyone can do it; you just need a little bit of practice! I'll give you some helpful instructions to make it a bit easier to figure out.
After activating AssistiveTouch in Settings (which we'll show you how to do below), when you first lift up your wrist, you will see your watch face outlined in a blue square. This is how you know you have turned on AssistiveTouch. To wake up AssistiveTouch once it has been activated in your Settings, raise the watch to see the blue outline and double clench your fist. I recommend double-clenching as quickly as possible when you see the blue outline, otherwise the watch will go back to sleep and not recognize your gestures. Next, you can start navigating your Apple Watch with these gestures. A very common gesture I use every day is double clench to wake up, double clench to launch the Action Menu, clench to launch the Apple Watch menu, and scroll to my desired app via the pinching gestures. When I pinch once, I move forward through my apps, and when I pinch twice, I move backward through my apps. You can also easily access the complications on your watch face. Simply raise and double clench to wake, and then pinch to move around the watch face. Clench when the blue circle highlights the complication you want to select. 
How to Activate Assistive Touch
Open the Settings app on your Apple Watch.


Tap Accessibility.



Tap AssisstiveTouch.


Toggle AssistiveTouch on. It will be green when enabled.


Quick Actions
Quick Actions is essentially a few, fun, hands-free shortcuts that, if enabled, will allow you to perform simple gestures for more complex commands like taking pictures in the Camera app by double pinching, pausing and un-pausing workouts in the Workout app, and answering or declining calls in the Phone app. You can enable Quick Actions on its own, or have it linked to turn on when AssistiveTouch is enabled. Having AssistiveTouch and Quick Actions linked means you will still be able to perform the Quick Actions gestures in addition to the basic AssistiveTouch navigation gestures. Having Quick Actions enabled on its own means you will be able to perform some cool gestures in certain apps with your watch hands-free, but you don't have full control over your watch like you do with AssistiveTouch. Here's how to turn on Quick Actions on the Apple Watch.
Open the Settings app on your Apple Watch.


Tap Accessibility.



Tap Quick Actions.


Choose whether you'd like it turned on or linked to AssistiveTouch.


Hidden Apple Watch Gestures
Cover to Silence Gesture
To silence your watch, you can cover the display with your palm for three seconds. This is an excellent discreet option if you are in a meeting and cannot take the time to silence your Apple Watch using buttons. This can be disabled or enabled in your Apple Watch settings, and it only works if you do it right after you receive a notification.
Touch with Two Fingers to Hear or Feel the Time
You can enable a feature in the Clock settings of your iPhone's Watch app that allows you to place two fingers on the watch face to hear the time or have it tapped out in morse code. Learn how to make your Apple Watch speak time or tap it here.
How to Enable Zoom on Apple Watch
You cannot zoom using the regular pinching motion that you can use on your iPhone and iPad. However, you can magnify the entire screen as long as you set up your Zoom settings.
Open the Watch app on your iPhone.


Tap Accessibility.



Tap Zoom.


Toggle to turn Zoom on and choose the maximum zoom level. You can zoom from 1.2x up to 15x.


Once you toggle on Zoom, you can use the following gestures:
Double-tap two fingers on the screen to zoom in and out.
Drag two fingers to move around the screen after zooming in.
Double-tap two fingers, leaving your fingers on the screen after the second tap, and drag to change the zoom level.
How to Turn Zoom Off on Apple Watch
Zoom is a great function, but it can get annoying to have Apple Watch zoom enabled permanently. Plus, you can't use other double-tap gestures while this is enabled. To disable it:
Using your iPhone, open the Watch app.


Tap Accessibility.



Tap Zoom. 


Toggle to turn Zoom off.


Bonus: Apple Watch Touch Screen Not Working?
If any of these Apple Watch tricks or gestures aren't working, it may be that something isn't enabled. If double-checking your Apple Watch settings doesn't help, you might need to restart your watch. You can do this by pressing and holding the Side button and then selecting Power Off from the menu. Once your watch is off, press and hold the Side button to turn it back on.
If this still doesn't help, you can try to force-restart your watch. To do this, you need to press and hold the Home button on the Digital Crown and Side buttons simultaneously. Keep holding them in until you see the Apple logo; this will usually take around 10 seconds. Apple warns that this should only be done in an emergency as it can cause loss of data.
Return to top
I hope this Apple Watch user guide to gestures has taught you something new about your smart device! Different gestures can take a while to master but will make Apple Watch navigation much smoother. You should also know how to take zoom off Apple Watch to enable the other two-finger gestures instead. Next, learn to understand Apple Watch icons and symbols and the different ways to use Apple Watch buttons, including Apple Watch emergency SOS!