Use the Double Pinch gesture on your Apple Watch to start & stop a workout without having to tap the screen.
By

Rachel Needell
Updated 10/05/2022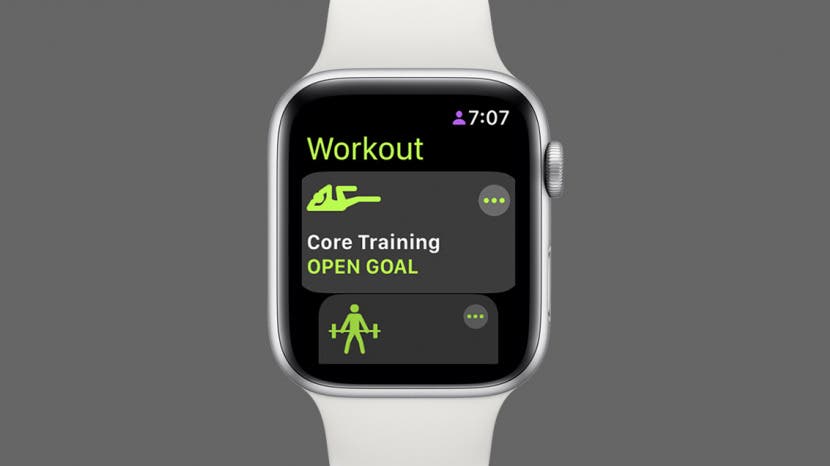 * This post is part of iPhone Life's Tip of the Day newsletter. Sign Up. *
In 2021, watchOS 8 brought with it the addition of AssistiveTouch, an accessibility feature to help make the device easier to navigate for those who have difficulty using the small touchscreen. With watchOS 9, Apple expands on its gesture control. One of the coolest new gestures is the ability to double-pinch to start and stop your workout. This means you don't need to be able to touch the screen to pause or restart your workout.
Related: Apple Watch Series 8 Release: What's the Next New Apple Watch for 2022
Why You'll Love This Tip:
Learn how to turn AssistiveTouch on and off to make your Apple Watch more accessible.
Use the Hand Gestures on Apple Watch to pause and unpause a workout completely hands-free!
Feel like a futuristic wizard and tell people you've learned to control your Apple Watch with your mind!
How to Turn On AssistiveTouch on Your Apple Watch
This is such a convenient feature, and I'm so excited for you all to try it out! Before you can use Hand Gestures with your Apple Watch, the first thing you will need to do is turn on Quick Actions and AssistiveTouch on your Apple Watch.
Note: To perform the double-pinch gesture necessary, bring your index finger and thumb together and squeeze twice.
Open the Settings app on your Apple Watch.


Tap Accessibility.


Then, tap Quick Actions.


Select either On or When AssistiveTouch is Enabled, depending on your preferences. If you select On, the gestures will work all the time whether or not AssistiveTouch is on. If you select When Assistive Touch is Enabled, you will not accidentally perform any Quick Actions, but you will have to enable AssistiveTouch whenever you want to use a Quick Action.


Then, tap the back button. 


Tap AssistiveTouch.


Then, tap AssistiveTouch to turn it on. It will be green when activated.


How to Use Hand Gestures on Apple Watch to Pause a Workout
Now that you've enabled AssistiveTouch on your Apple Watch, you can use the double-pinching gesture to control your workouts. With the new hand gestures that were made available with watchOS 9, there are a lot of things you can do on your watch completely hands-free. To learn more cool tips and tricks like this, be sure to sign up for our free Tip of the Day! To use the double-pinch hand gesture to pause and unpause a workout on the Apple Watch:
Open the Workout app on your Apple Watch.


Choose a workout to begin. The workout will automatically start. 


Then, while the workout is open, lift up your wrist to wake the Apple Watch, and simply double-pinch to pause the workout. You will see a blinking pop-up reminding you how to Pause.


This doesn't end the workout, but it certainly makes taking a break or getting your times as accurate as possible a lot easier. Hopefully this also makes tracking your workouts with the Apple Watch easier as well! Happy sweating! Have you ever accidentally left your Apple Watch somewhere? If so, check out what to do if your Apple Watch is lost or stolen.