The haptic Apple Watch features allow your watch to discreetly tap hours by enabling taptic time, or you can have your Apple Watch announce time out loud!
By

Olena Kagui
Tue, 06/08/2021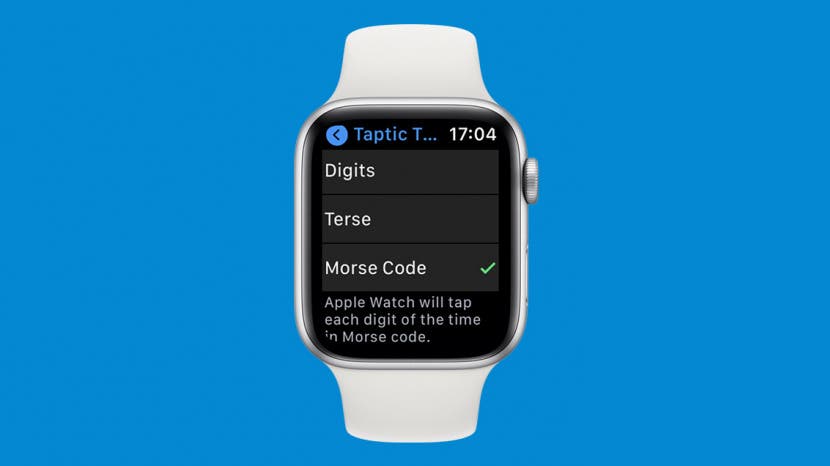 The Apple Watch may be a wrist-sized supercomputer, but it also fulfills the standard watch function of telling time. There are several ways to tell time on the Apple Watch: you can see it, hear it, or feel it. I will also teach you how to set time on Apple Watch and change it when needed.
Related: How to Use Apple Watch Gestures for Easy Navigation
Jump To:
How to Enable Apple Watch to Speak Time
To hear the time, you need to raise your wrist or tap the screen. Then, place two fingers on your watch face to hear the time. This has to be enabled to work.
On your Apple Watch, open Settings.


 
Tap Clock.


 
Toggle to turn Speak Time on or off.


Pro Tip: You can also hear the time by asking Siri. Just raise your wrist and say, "What time is it?" Learn more about the different ways you can use Siri on Apple Watch here.
Return to top
How to Make Mickey Talk on Apple Watch
There are many Apple Watch faces to pick from, and one of the more fun ones is the Mickey Mouse or Minnie Mouse Apple Watch face. Not only do their hands point to the time on an analog clock, but they can also speak the time! To do this:
Open the Watch app on your iPhone.


 
Tap Face Gallery.


 
Tap on Mickey Mouse or Minnie Mouse; I will use Minnie Mouse for this example.


 
Tap Add.


 
Enable Speak Time on your Apple Watch if it isn't already enabled.


 
Place two fingers on your lit-up watch face, and Minnie will tell you the time.


How to Enable Taptic Time to Feel the Time
What are haptics on Apple Watch? They are the vibrations and taps that alert you of notifications or communicate other information kinetically to your wrist. The haptic Apple Watch features make it possible to feel the time by having the watch tap hours and minutes. 
This is great if you want to discreetly know the time without having to look at your wrist or have it read aloud. It can also be a great option for those hard of seeing and/or hearing. To do this, Speak Time needs to be toggled off, next:
On your Apple Watch, open Settings.


 
Tap Clock.


 
Tap Taptic Time.


 
Select between Digits, Terse, and Morse Code.


If you don't disable Speak Time, Taptic Time won't work.
Return to top
Different Ways to See the Time on Your Apple Watch
You can see the time by raising your wrist or tapping the screen to see the time on the watch face. Most Apple Watch faces show time digitally. 
If you use a different watch face, such as Color, Chronograph, or Infograph, just to name a few, you will see an analog clock.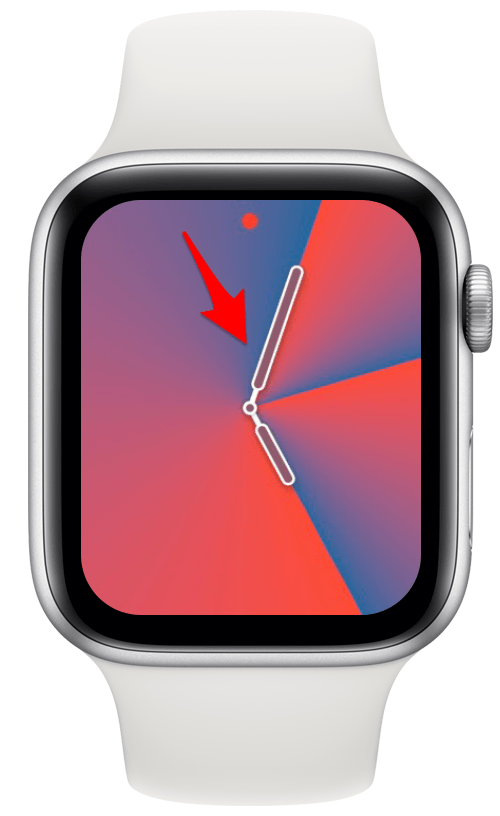 If you organize your apps in grid mode, you will see the time in the small analog clock that is the icon for the Clock app. To learn how to change your app view to List mode, read this.
When using most apps, you will be able to still see the time digitally in the top-right corner.
How to Set Time on Apple Watch
Your Apple Watch will automatically show you the time in whatever time zone you are in. It will mirror your iPhone's location and time preference. If you want to switch your Apple Watch to military time, for example, you will need to switch to a 24-Hour clock on your iPhone.
Return to top
How to Change Time on Apple Watch
You can set your Apple Watch to run fast, which can be useful if you tend to run late. To do this:
On your Apple Watch, open Settings.


 
Tap Clock.


 
Tap on +0.


 
Use your Digital Crown to add between 1 to 59 minutes.


 
Tap Set.


Pro tip: If you want to display time from multiple time zones, you can use a complication and add it to your watch face.
Now you know how to see time, feel time, and hear it! There are so many different ways to tell the time on your Apple Watch, perfect for every preference and physical ability.