By

Rachel Needell
Updated 09/27/2022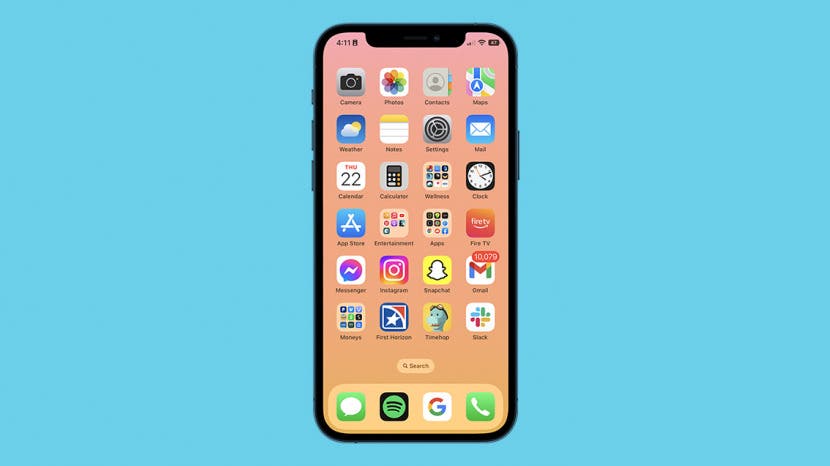 While there's been a lot of buzz about the new iOS 16 Lock Screen features, you may have noticed Apple added a new search bar to the iPhone's Home Screen as well. While this feature definitely makes it easier for folks who aren't familiar with pulling down on the center of the Home Screen to open Search, it also hides the Home Screen dots that allow you to quickly swipe through all your pages of apps. But if you want to get the old iPhone Home Screen layout back, we'll show you how to remove the Home Screen search button in Settings. 
Related: How to Control Your Apple Watch with Your iPhone (2022)
How to Get Rid of the Search Button on the Home Screen
If you just want to know what happened to the dots at the bottom of your Home Screen, they're still there. The Home Screen dots will reappear once you start swiping left or right between Home Pages and then be replaced by the new Search button after a moment of inactivity.  If you like tips like this about how to use your iPhone Home Screen, be sure to sign up for our free Tip of the Day!

Discover your iPhone's hidden features
Get a daily tip (with screenshots and clear instructions) so you can master your iPhone in just one minute a day.
Here's how to remove the search bar from your iPhone Home Screen:
To get rid of the new Search bar on your Home Screen, go to Settings on your iPhone.


Tap Home Screen.



Under Search, toggle Show on Home Screen to off. The feature will be gray when disabled and the Search Bar will no longer appear on your Home Screen


And that's all there is to it! I know not all of us love change, and iOS 16 brought with it a fair amount of new features. This feature, while helpful to some, can seem a bit pointless for others. Plus, some of us like to keep things the way they were before!