Use screenshots, email, or a stitcher app to print text conversations you'd like to save.
By

Tamlin Day
Updated 02/21/2022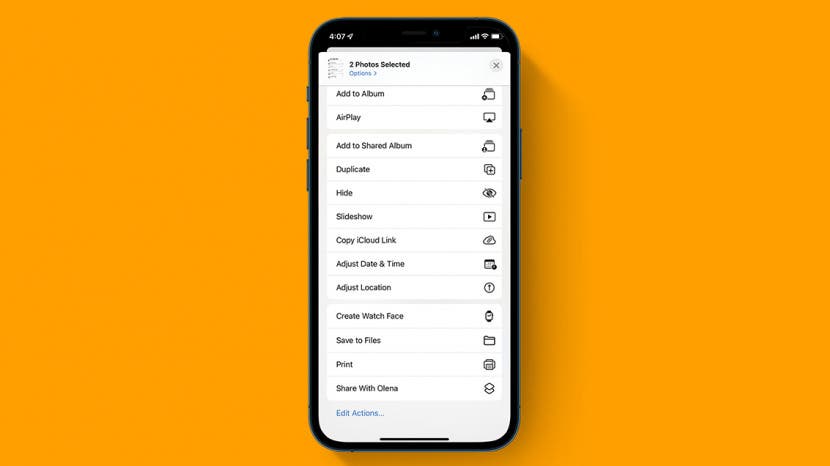 Have you ever needed to know how to print text messages? Sometimes you get an important text that you need to save or document, for legal reasons or to keep a paper trail of important communications, and saving and printing your texts from a Mac is not an option. In this article, we'll cover how to print text messages from iPhone using screenshots, your Mail app, and third-party apps.
Related: How to Save a Text Conversation on Your Mac
You'll need an AirPrint-enabled printer to print out your text messages. Check out Apple's list of available printers to see if your printer is AirPrint compatible, or if you need to choose a printer to purchase.
Jump To:
Print Text Messages from iPhone Using Screenshots
Open the Messages app and tap the conversation you'd like to print.


 
Next, take a screenshot. You might need to take multiple screenshots in order to capture the whole conversation.
Now, open the Photos app.


 
Tap one of the images you'd like to print.


 
Tap the Share icon.


 
From here, you can tap multiple images to add to your selection; you'll see a check mark in a blue circle in the bottom-right corner of photos you've selected.


 
Scroll to the bottom of the page and tap Print.


 
Designate how many copies you'd like to print with the plus and minus buttons.


 
Now tap Printer to select your printer.


 
Tap the printer you'd like to use.


 
Tap Print.


To make sure your images are in order, I recommend either numbering the screenshots via markup by editing each one before printing, or after printing going back through the text message on your iPhone and laying out your printed pages to match the thread of the text. Then, you can number your pages with a pen so that your pages stay in order. Now you can staple, file, and share the document as needed.
How to Print Text Messages from iPhone with the Mail App
Another free option for printing text messages from your iPhone is to use email. This method is best used when you have only a few messages you'd like to print, since you have to copy and paste each individual message into an email, rather than taking a screenshot of your iPhone's display and capturing multiple texts at once. To do this:
Open the Messages app and select the conversation you'd like to print.


 
Long press the message within the message thread that you'd like to print.


 
A menu will pop up; tap Copy.


 
Open the Mail app and tap the new email icon.


 
Long press a space in your message body.
Then choose Paste.


 
Your copied text message will now be in the body of your email, which you can send to yourself by entering your email address in the To field and tapping the Send icon.


 
Open the email in your Mail app.


 
Tap the Reply icon. 


 
Tap Print from the menu; you'll be given the same print options as in the screenshot tutorial.


And that's it! If you're interested, you can also learn how to print photos from your iPhone. 
How to Print Text Messages from Your iPhone Using a Stitcher App
If you have a long text message thread that you'd like to print out and would rather have your screenshots smoothly combined into one file, there's an app for that! There's more than one option, of course, but I'm going to feature just one. Feel free to browse the App Store if you'd like to try an alternative app. The app I've chosen, Messages & SMS Export to PDF, is free but does have in-app purchases. If you want to use the process below, you'll need to purchase Messages Export Pro for $2.99.
To begin, download the app and open it.
For this exercise, we'll be using the PDF option, so tap that.


 
You can watch the offered tutorial, or go ahead and tap the plus icon at the lower-right of your display.


 
Allow permission for the app to access your photos.


 
Tap the screenshots you'd like to combine and convert to PDF and tap Select.


 
You'll see a preview; tap Convert to PDF.


 
Enter a file name and tap Create file.


 
Tap on the completed PDF, then tap the Share icon.


 
Choose PDF (Multiple Pages - Perfect for printing).


Now that you know how to print text messages, you may be interested in learning how to print emails from your iPhone or how to print without ads from Safari!