Need to leave a Shared Photo Library to join or create a new one? Just don't like it any more? We'll show you how to leave a Shared Library.
By

Brian Peters
Thu, 08/25/2022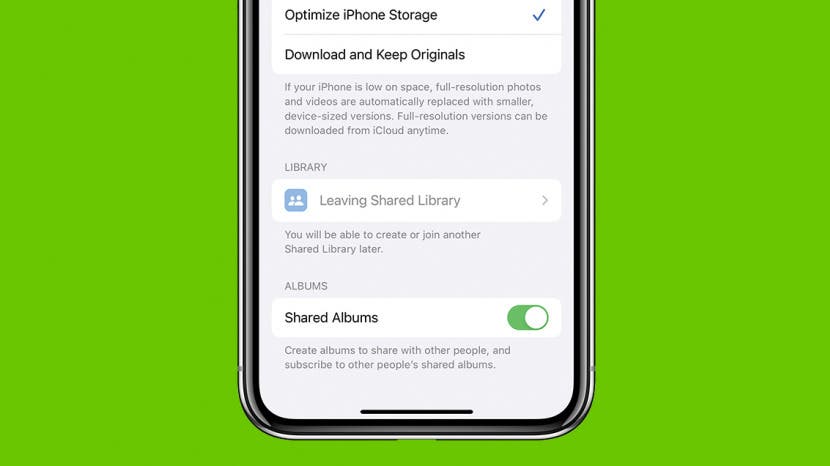 Shared Photo Libraries are an interesting new feature in iOS 16 (available currently as beta software and as shipping software starting in September), but you can only join one at a time. If you've joined one and want to leave it so you can join or create another one, finding where to do so can be a little confusing. Whether you joined a Shared Library by accident, need to start your own, or just aren't finding the feature useful, we'll show you how to easily leave or delete a Shared Photo Library.
Related: How to Add People to an iCloud Shared Photo Library
How to Leave a Shared Photo Library
Leaving or deleting a Shared Photo Library is quick and easy, but the option is a little hidden in menus you might not immediately guess at. For more information on how to use new features in iOS 16, be sure to sign up for our free Tip of the Day newsletter.  Follow these steps to see where to go. 
Open Settings.


Tap your Apple ID at the top of the menu.


Tap iCloud.


Tap Photos.


Tap Shared Library.


Tap Leave Shared Library.


Select your preferred option for what to keep, then tap Leave Shared Library.


Tap Leave Shared Library in the confirmation message.


At this point, if you return immediately to the iCloud Photos settings screen you will likely see a message indicating that you are currently leaving the shared library. Shortly after this you should be able to join or create a new Shared Photo Library if desired.


If you created the Shared Library yourself, the process is basically identical except that instead of "Leave Shared Library" the various buttons and options will say "Delete Shared Library," but aside from this it works the same way.