Learn how to invert the camera on FaceTime so you can show your friends and family more than just your face.
By

Hallei Halter
Updated 08/04/2022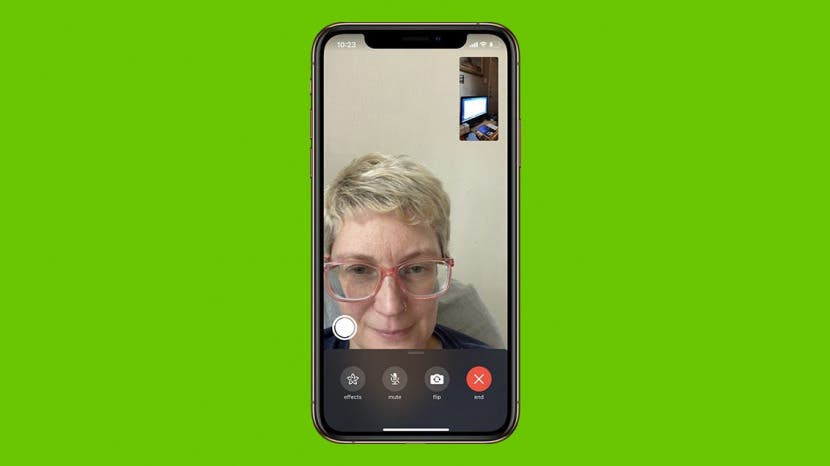 * This post is part of iPhone Life's Tip of the Day newsletter. Sign Up. *
FaceTime can be tricky, and you may have found yourself wondering, "why is my FaceTime camera flipped?" FaceTime video calls automatically use the front-view camera, but sometimes you may want to use the back camera. Sure, you can flip your iPhone around, but it's hard to tell where your camera is pointing when you do that. Here's how to flip the FaceTime camera during a call instead.
Related: FaceTime Guide for iPhone & iPad: Calling Android Users, Apple SharePlay & More
Why You'll Love This Tip
Easily switch back and forth between the front-facing and back-facing cameras.
Be able to see what you are filming with the back camera on your FaceTime screen.
How to Flip the FaceTime Camera
Now that you know why inverting your camera on FaceTime is useful, let's show you how. To learn more FaceTime and other iPhone tips, sign up for our Tip of the Day newsletter.
During the FaceTime call, tap anywhere on the screen.


Tap the flip icon that appears over your own image.


Now, you will be able to film from the back camera and use the screen as the viewfinder.


To go back to the front-facing camera, just tap the flip icon again. It's that easy! Flipping the camera allows the person you're calling to see either you or what you are looking at. Now, you can share moments, give and get opinions, and interact more seamlessly with the world around you while on FaceTime. This tip also works during group FaceTime calls. Want to learn other cool stuff about your iPhone's Photo and Camera App? Read through this article about how to take a time-lapse photo!