By

Conner Carey
Updated 09/16/2021
Need to learn how to transfer from your Android device to an iPhone, eh? Welcome! So glad you could come to your senses and join the world of iOS. Apple created an app that's designed to make it easy to transfer pictures, contacts, photos, and more from an Android to your iPhone. We'll cover each step in the full process so that you can easily migrate to iOS. We're delighted you've decided to move from Android to iPhone, and we'll do our best to make your first iPhone experience a seamless one. Here's how to transfer from an Android device to the iPhone.
Related: How to Turn off iPhone without Using Buttons in iOS 11
During the process of transferring from Android to iPhone, you'll have the opportunity to choose which data to migrate. You can transfer contacts, photos, videos, message history, web bookmarks, mail accounts, and calendars. If you have any free apps on your Android device that are also available for iPhone, they may also transfer. Okay, before we go step-by-step on how to transfer from your Android to the iPhone, let's quickly go over some things to do before your get started.
Read This First
For this method of transferring from Android to iPhone, you'll need an Android device running version 4.0 or later and an iPhone 5 or later that's running iOS 9 or later.
During the transfer from your Android to the iPhone, make sure you leave the Move to iOS app open on your Android device; don't close the app to view something else or the transfer will be interrupted and fail to work.
Plug both devices into power and make sure your Android device has its Wi-Fi turned on.
On your Android, make sure that all of your content will fit on the iPhone. For example, if you have 72 GB of data on your Android and you're transferring to an iPhone with 64 GB, you'll need to get rid of at least 8 GB before starting the transfer.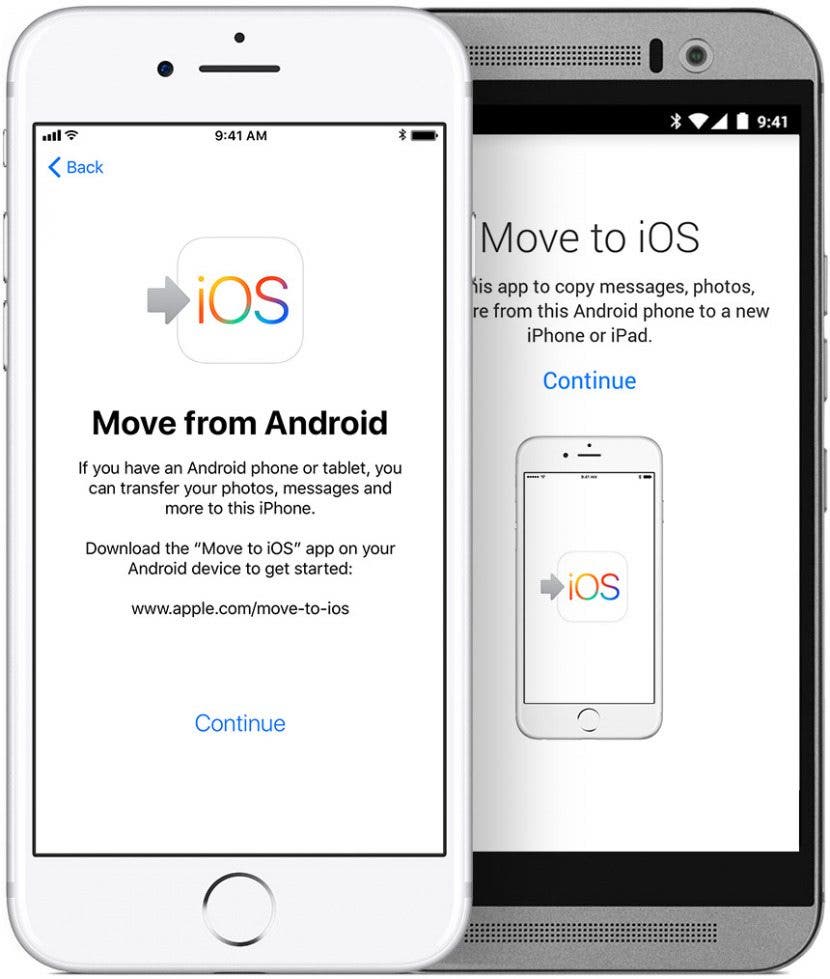 How to Transfer from Android to iPhone
On your Android device, visit the Google Play store and download the app Move to iOS.
Meanwhile, power up your new iPhone. Follow the on-screen start up instructions until you come to the Apps & Data page. Tap Move Data from Android.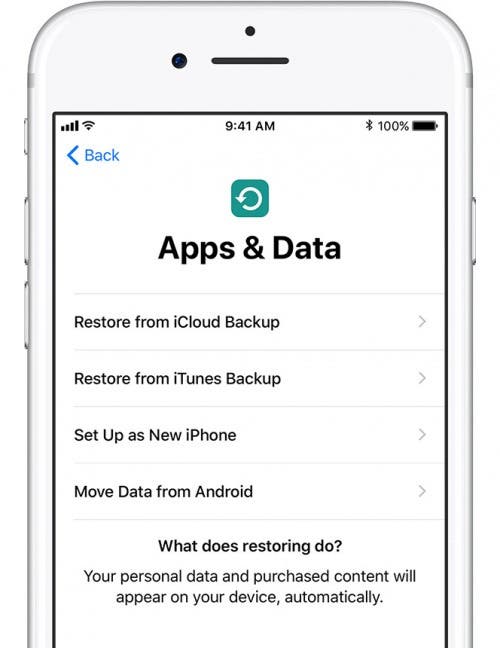 Back on the Android, open the Move to iOS app. Tap Continue; read the Terms & Conditions. Tap Agree. This should bring you to the Find Your Code screen; tap Next. Now the app will ask for a code, which we need to get from the iPhone..
Back on your iPhone: from the Move from Android screen, tap continue and wait for a numerical code. Once it appears, enter that code on your Android device. Now, after a few moments, the Transfer Data screen will appear on your Android.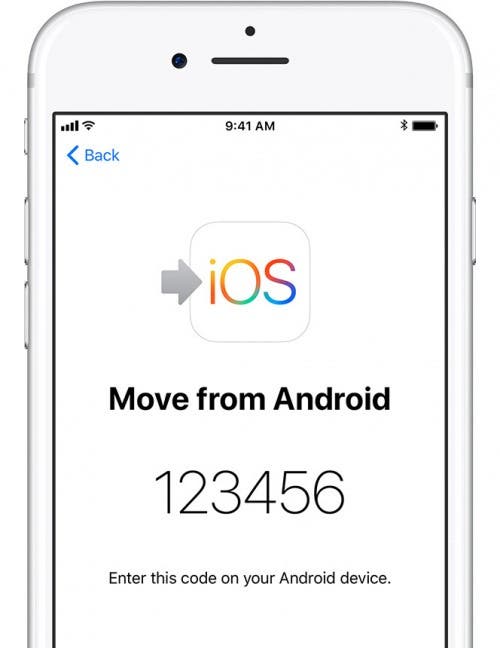 Once the Transfer Data screen appears, select the content you want to move, then tap Next.
The transfer will begin. It's very important you leave both devices alone until it's completely done. Even if the Android finishes the transfer, don't do anything with it until the iPhone is also done. This process can take quite a while, depending on how much data you're transferring.
Once the iPhone has completed its transfer, you can tap Done on the Android. Now tap Continue on iPhone and follow the on-screen instructions to finish setting up your device.
Once you've reached Home screen on iPhone, you can go to the App Store and start downloading any apps you want that didn't transfer automatically. You may also be prompted to enter passwords for email accounts that you transferred from Android; do so and you're done.
Congratulations! You've officially learned how to transfer from your Android device to the iPhone. If you're ready to become an expert on iPhone, sign up for our free daily tips (iphonelife.com/dailytips) and we'll teach you something new in a minute each day. Cheers! Next, learn more on how to set up your new iPhone!