Are you looking for someone's wish list on Amazon? We'll explain how to find and view shared lists!
By

Belinda Sanmiguel
Updated 02/28/2022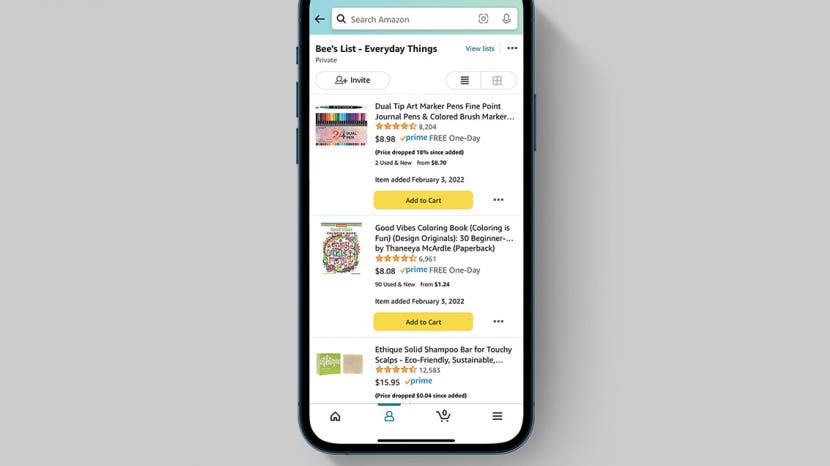 When someone creates an Amazon wish list, they can add items they'd like to receive to help others know what they want for Christmas, their birthday, or other special occasions. Those wish lists can then be shared with friends and family to take the guesswork out of gift shopping! Below, we'll show you how to find someone's Amazon wish list so you can get them the perfect gift.
Related: How to Share an Amazon Wish List with Friends and Family
How to Find Someone's Wish List on Amazon
Below, we'll cover how to find a wish list on the Amazon app, but you can also view wish lists by logging into Amazon and clicking Account & Lists in the top-right corner. For either method, finding and viewing a wish list is pretty simple! For more handy tips, consider signing up for our free Tip of the Day Newsletter. Now, here's how to view someone's Amazon wish list:
Open the Amazon app.


Tap on the hamburger menu (the three lines in the lower-right corner).


Tap on Lists.


Tap on Your Friends' Lists.


If no lists have been shared with you or you don't see your friend's name, tap Send a message to request access to a wish list.


Otherwise, you will see a drop-down menu displaying the names of people who have shared Amazon lists with you. Tap the menu and select your friend's name. 



You'll see the names of lists this person has shared with you. Tap on the name of the list you wish to browse.



Now you can scroll through and see the products added to the Amazon wish list! 


Now you know how to find someone's wish list on Amazon. The next time you're looking for gift ideas for a friend or relative, remember to check their Amazon list first! Wish lists are convenient and help you get the gifts your friends and family really want. What's better than that?