Clean out your iPhone's cobwebs with a digital spring cleaning!
By

Amy Spitzfaden–Both
Tue, 05/24/2022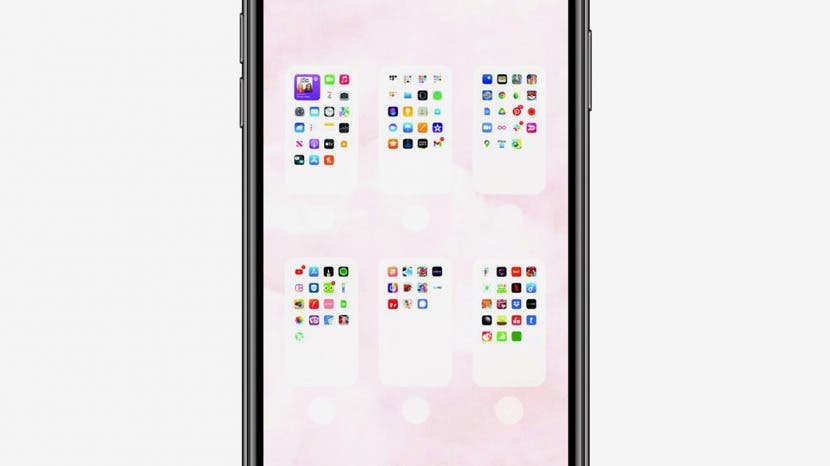 When springtime comes, we all love to throw open our windows, grab a cloth and some cleaner, and make our living spaces sparkle. So, why not do this with our devices?
So much can accumulate in our digital lives that we might not be aware of that can hinder us when we're trying to find the app or photo we want or slow down our device and even make it crash. Phone cleaning can be a daunting task, so here are some quick tips you can follow to clear out your digital space and make room for that which actually serves you. Be sure to sign up for our free Tip of the Day newsletter for more guides on making the most of your Apple devices.
Jump To:
Organize Your Home Screen
Your Home screen is an important place to start the process of digital decluttering. Too many apps can not only lose you time when you're endlessly swiping to find the right one, but it can also cause distraction and make you lose any train of thought or momentum. Just yesterday, I was swiping through my multitude of Home screen pages, trying to find an app that would actually help me focus, only to be derailed by messages, social media apps, and games I'd forgotten about. Here are three great ways you can organize your Home screen so you can find what you're looking for.
Create app folders.


Creating folders helps by cutting down on what you see on your Home screen, and allowing you to group your apps in ways that make sense to you, so you know where to look when trying to find something. All you have to do to create an app folder is drag one app icon onto another on your Home screen. You can add to that folder by dragging and dropping additional app icons onto it.
 
Hide Home screen pages.


If you feel like you have too many Home screen pages to swipe through, you can hide them without removing the app icons. Just long-press on a blank part of any Home screen page, tap the bar with the dots toward the bottom of the screen, and tap on any page you want to hide. You can repeat this to reverse it and show the Home screen pages again.
 
Move app icons to the App Library.


Still want an app but don't want it on your Home screen? Just press and hold the app icon, tap Remove App, then tap Remove From Home Screen. You'll still have the app downloaded and available, but only through your App Library, so the icon won't show up on your regular Home screen pages.
Clear Out Your Storage
Having too much taking up your storage space poses all sorts of problems. Your device can slow down, your iCloud can fill up and stop offering backups, and your apps can start crashing for apparently no reason. Here are some easy ways to clear up storage.
Delete photos and music you don't need.


Music especially takes up a lot of space if you have a decent collection, and if you have a music streaming subscription such as Apple Music or Spotify, there's no need to keep everything downloaded on your phone. If you have Apple Music, consider removing downloads but keeping the song in your My Music collection. You'll get the best of both worlds: extra storage and lots of music. Photos also take up space. Do a quick check of photos and delete any you don't want to keep.
 
Offload unused apps.


Offloading unused apps means they get uninstalled from your device, but the icon stays on your Home Screen for easy re-download options. I use this for things like Uber, which I only use when I'm traveling. Just go into Settings > App Store and toggle on Offload Unused Apps to enable this feature to happen automatically.
 
Clear your browser cache.


To provide faster load times, Safari collects information on websites you often visit and saves data in the cache. But if you need some extra storage, this is an easy thing to clear. Open your Settings, and tap Safari. Then select Clear History and Website Data. This will remove history, cookies, and other browsing data.
Keep Out Unwanted Guests
Privacy and security are two major parts of your digital safety, but they're ones we can easily let slip. From forgetting who we gave our credit card numbers to, to not changing our passwords enough, there are many mistakes even seasoned iPhone users make. As part of your digital spring cleaning, go around and check your locks to make sure you're still safe and secure.
Review Security Recommendations.


Sometimes our passwords are bad and we don't know it. Luckily, our iPhone does. Go into Settings > Passwords, and tap Security Recommendations. There will be a list of passwords you reused, passwords that are easily guessed, weak passwords, and even compromised ones. Change all of those to keep your data safe.
 
Update your device and apps.


Updates often have crucial security patches, so it's important to stay on top of them. Go into Settings > General> Software Update to see if there's a system update available. In Settings go to App Store and under Automatic Downloads toggle on App Updates.
 
Silence Unknown Callers.


Unknown callers make our digital lives messy in more ways than one. At a minimum, they disturb our flow and bother us when we're trying to do something else. At worst, they can scam us. Go to Settings > Phone > Silence Unknown Callers and toggle Silence Unknown Callers on. If it's important, they'll leave a message!
Give Your Device a Makeover
Part of spring cleaning is the aesthetic! We'd be remiss not to mention this part. Here are some ideas to put the last shiny touches on your digital spring cleaning.
Wash your case and disinfect your device.
These things get dirty! I won't give you any stats about iPhones and public toilets, just know that these bad boys carry a lot of bacteria. So take your case off your device, and clean both of them, but make sure to do your iPhone cleaning safely with approved methods.
 
Change your wallpaper and lock screen.


Sometimes when we look at the same image over and over again we stop seeing it. Try updating your background with seasonal pictures, recent photos, or just a different color to give you that little kick of excitement when you look at your device.
Happy cleaning!