By

Amy Spitzfaden Both
Wed, 03/02/2022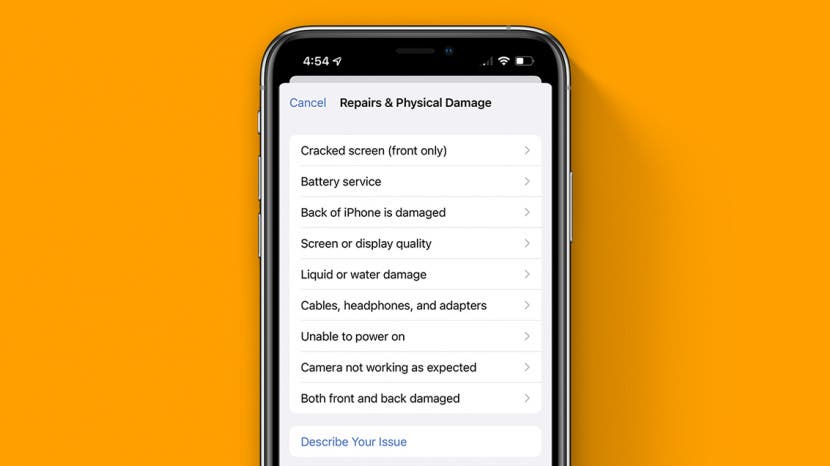 If your iPhone or iPad touch screen is not working, it can present all kind of trouble for you. Luckily there are a few things you can try to get your touch screen working again that are minimally disruptive to your life and device. If none of this works  or your device is entirely unresponsive to touch without even sporadic connection, it might be a hardware issue; but before we jump to that option, let's look at everything to try when your iPad or iPhone is not responding to touch.
How to Fix iPhone Touch Screen Not Responding
When your touch screen is not working on your iPhone or iPad, it can bring your device usage to a screeching halt and create panic in any Apple device user. While there's always the chance it's a hardware issue, there are several things you can try to get it working again yourself. Here's what to do if your touch screen on your iPhone is not working. For more quick device repair ideas, check out our Tip of the Day.
Restart Your Device
This is the first step in almost every tech troubleshooting process, but that's because it tends to work. If your system is glitching and that's keeping your iPhone or iPad from responding to your touch commands, restarting your device may very well fix this.

Discover your iPhone's hidden features
Get one daily tip each day (with screenshots and clear instructions) so you can master your iPhone in just one minute a day.
Related: How to Know If Someone Blocked Your Number on iPhone
Disconnect Accessories from Lightning Port
If your device is plugged in or you have any accessories in its lightning port, disconnect. It's not too common, but sometimes devices connected through the lightning port can mess with the touch screen; so if your touch screen has stopped working on your iPhone or iPad when something is plugged in, unplug it.
Take Off Your Gloves
Even gloves that promise to be touch screen-compatible can cause problems when you're trying to use your device. If you're wearing gloves or something else that covers your hands, take them off and see if this resolves the problem.
Clean the Screen
Dirt or debris on your screen can interfere with touch screen signals and cause issues when you're trying to use it. If your touch screen is not working, clean your screen and make sure it dries fully before trying the touch screen again.
Cool Down or Warm Up
Depending on the kind of device or screen you have, heat can affect your touch screen's responsiveness. If you left your phone in a hot car and now the touch screen isn't working, try letting it cool down and seeing if that fixes the problem. Alternately, sometimes if your hands are too cold, a touch screen won't register your touch.
Update Your iPhone
If your iPhone touchscreen is not working due to what appears to be a software glitch and restarting it doesn't help, try updating your device if there's an update available. Sometimes a new OS will come with bugs, and subsequent updates will address them.
Remove Screen Protector & Case
Removing your screen protector is a pretty big step, as they're expensive and virtually impossible to put back on once taken off. So if you reach this step make sure that the other options aren't working, or at least that you have an extra screen protector you don't mind using up. If your screen protector is too thick or otherwise incompatible with your touch screen, it can cause issues. However, it's unlikely that one day your screen protector will suddenly be causing problems, and more likely to show up right when you put it on. Still, even if you've had it for a bit, it's worth taking off when you're really stuck and trying to figure out why your iPhone touchscreen is not working. Your case can also interfere with a touchscreen, so try taking that off too and see if anything resolves.
Factory Reset Your iPhone
If this problem just won't quit, it might be time to factory reset your iPhone. This resets your iPhone back to its original settings, with all the changes you made to it gone. If there's a bug or software issue causing your issue, this might fix it. However, this will wipe everything you have saved on your iPhone, so be sure to back up your iPhone first, if it's at all possible.
Contact Apple Support
If none of this works, you might have a hardware issue. Contact Apple Support to see what the next steps are and what your options are for repair or replacement.